For complete online access to
new issues of Touchstone, subscribe today!
---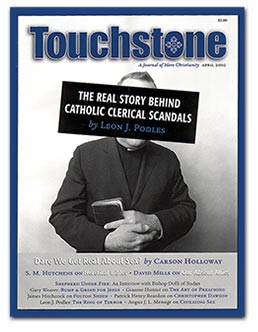 Looking for Truth in Dangerous Places
by James Hitchcock

Heretical Bibles
by S. M. Hutchens



The Matter At Hand
The Ring of Terror
by Leon J. Podles

As It Is Written...
The Silence of Zachary
by Patrick Henry Reardon

Practical Christianity
A Seal on the Wax
by Thomas S. Buchanan



Sojourn to the Center
Has Religious-Left Activist Jim Wallis Gone Moderate?
by Mark Tooley



Vessel of Clay
America?s Bishop
by Thomas C. Reeves
A review by James Hitchcock

Dawson Revisited
Christianity and European Culture
edited by Gerald J. Russello
Dynamics of World History
by Christopher Dawson
A review by Patrick Henry Reardon

Sex & the Civilized
Civilizing Sex by Patrick Riley
A review by Angus J. L. Menuge

Good Grief?
Searching for Raymond
by Rene Kollar
A review by Richard J. Mammana, Jr.



Catholic Scandals
The Real Story Behind Clerical "Pedophilia" & What It Means for Clerical Celibacy
by Leon J. Podles

Dare We Get Real About Sex?
"Pedophilia Chic" & the Challenge to Conservatism
by Carson Holloway



Absent Allies
David Mills on Conservative Avoidance

Aground off Laodicaea
Francis Gardom on Lukewarm Clergy

That Elusive Peak Experience
Graeme Hunter on Disappointing Worship & The Art of Preaching

Bump & Grind for Jesus
Gary R. Weaver on Redeeming the Culture



Shepherd Under Fire
An Interview with Bishop Bullen Dolli of Sudan



Every issue of Touchstone also contains short commentaries by our editors, notices of books you should know about, and our spirited letters section.