Sojourn to the Center
Has Religious-Left Activist Jim Wallis Gone Moderate?
by Mark Tooley
Six years ago I wrote about Jim Wallis and his then new movement, "Call to Renewal." It was advertised as a coalition of religious activists that transcended old categories of left and right. But at that time it seemed a barely repackaged coalition of religious left fixtures from the National Council of Churches, left-wing Catholic orders, and the liberal fringes of the Evangelical world.
The emphasis of the Call has changed. The "prophetic" denunciations of capitalism are almost all gone. Republicans, and the Democrats who dare to seek alternatives to liberal orthodoxy, are no longer excoriated, at least not loudly.
Instead, Wallis and the Call have vigorously embraced President Bush's faith-based initiatives proposal. John DiIulio, who first headed the White House initiative, was the featured speaker at the latest Call rally in Washington, D.C. DiIulio is in fact an endorser of the Call's original manifesto and has been a Call board member.
Wallis, through the Call, has of late focused most heavily on church-guided anti-poverty programs in the inner city, with a special emphasis on black Evangelical clergy. Although his magazine, Sojourners, continues to espouse traditional liberal themes, Wallis himself has become more careful. "God doesn't mind prosperity as long as prosperity is shared," he told the Call's "Poor No More" conference two years ago.
In my interview with him, Wallis said he found "encouraging" the Bush administration's interest in listening to the "faith community" about issues relating to poverty. "My hope is that we will have a partnership," he said.
A Radical Change
Has the now middle-aged former activist changed his stripes, perhaps moderated by age, marriage, and his recent entrance into fatherhood? Or is he simply shrewd enough to keep himself relevant and newsworthy by adopting a new image? Wallis enjoys the spotlight, and the Bush administration has shown interest in working with him and other Call participants. Wallis was included with a group of other clergy involved in inner-city ministry who met with Bush shortly before he took office.
Although professing to be an Evangelical, Wallis's rhetoric and stances over the years have more closely resembled those of radical Catholics and far-left mainline Protestant officials. In the 1960s he was an activist in the radical Students for a Democratic Society. In the 1970s he established his Sojourners organization in the nation's capital to enlist religionists of every theological stripe in the fashionable causes of the secular left.
The Call was founded by Wallis in 1995 to discard the "old political language and solutions of right and left." But its opening salvos were clearly from the left. Its first event was a mass arrest of 55 religious activists, including Wallis, who performed acts of civil disobedience in the Capitol Rotunda in protest against the Republicans' "Contract with America."
In 1996, Wallis alleged that by signing the welfare reform bill, President Clinton had "sacrificed" the most vulnerable upon the "altar of political expediency." Jesus would be demonstrating outside the White House against welfare reform, he assured a crowd of activists. "We're now about to experience a hurricane of human suffering," he said, warning that welfare reform would deluge church soup kitchens and food banks.
The seeming success of welfare reform may have helped persuade Wallis that his Call would have to shift if it were to have any political future. "You can't change Washington by changing one web-fingered politician at a time," he observed at last year's national gathering of the Call.
New Coalition
Wallis reached out to groups outside the religious-left fold, including the Center for Public Justice (a prominent advocate of "Charitable Choice" and faith-based initiatives) and the National Association of Evangelicals (NAE). "The cold war among religious groups over the poor is over," declared Richard Cizik, director of NAE's Washington office, at a Call rally two years ago.
Accepting welfare reform as a given, Wallis launched a "Covenant to Overcome Poverty," which stressed the role of faith-based ministries. Unveiled two years ago at a Capitol steps rally, the Covenant was endorsed by John Carr, Secretary for the Department of Social Development and World Peace of the US Catholic Conference. Other Catholic endorsers were Sharon Daly of Catholic Charities USA and Mary Christine Fellerhoff of the Leadership Conference of Women Religious. So too was Tom Aillio, executive director of the Catholic Commission of the diocese of Cleveland, who serves on the Call's board of directors.
Theologian Bryan Hehir of Harvard Divinity School is another Catholic who is active within the Call. Catholic Bishops Thomas Gumbleton of Detroit, Walter Sullivan of Richmond, Rembert Weakland of Milwaukee, Peter Rosazza of Hartford, and Leroy Mattheson of Amarillo have also endorsed it. Clearly, most of Wallis's Catholic support has come from the left side of the church. But undoubtedly he is working to enlist more moderate Catholics in the same way he has persuaded moderate Evangelicals to join with him.
In my interview, Wallis said some of his supporters have criticized the Call's emphasis on Evangelicals and more traditional Catholics, as opposed to more reliable fixtures of the religious left. But he said he was interested in moving beyond the "same old people and the same old solutions." He insisted that he wants the Call to focus on both personal and social responsibility, incorporating themes from both conservatives and liberals.
Two Presidents
In a January 2001 op-ed for the Washington Post, Wallis described his surprise when he was invited to meet with President Bush. He was delighted that the President-elect was "reaching well beyond his base of conservative Evangelicals." In a subsequent op-ed for the New York Times, Wallis wrote, "I didn't vote for President Bush, but I welcome the new White House office that will coordinate 'faith-based and community initiatives.'"
In still another op-ed at the same time, Wallis wrote in the Washington Times, "I think many of us in the churches are inclined to give Mr. Bush a chance." He further enthused that no president, Republican or Democrat, whom he could remember had devoted so much time in his inaugural address to poverty.
In my interview with him, Wallis contrasted the Bush administration with the Clinton administration, which he said was "very solicitous" of religious groups like Sojourners and the Call but failed to offer "much content." Both the President and Hillary Clinton sent Wallis notes and invited him to White House prayer breakfasts. But Wallis said he was interested in more than photo-ops.
After he condemned President Clinton's endorsement of the 1996 Welfare Reform Act, Wallis said, the White House circulated an internal memo cutting him off from further contact with the administration. Clinton "had no space for critical dialogue," he recalled. "He had no moral compass."
Wallis said it is too early to judge the Bush administration, but he finds signs of promise, including its willingness to endorse a refundable child tax credit for low-income working families. "My friends on the left are suspicious," Wallis said of his relationship with the Bush administration. But he said he is committed to keeping his movement nonpartisan.
Faith-Based Focus
At the Call's Spring 2001 rally in Washington, D.C., Wallis celebrated the nation's "conversation about faith and politics" as no longer dominated by the agenda of the religious right. Now the focus is on faith-based organizations working to overcome poverty, he said. "Many Evangelicals are theological and social conservatives but still concerned about the poor," Wallis said. Poverty is not a "left-wing" issue but a Christian issue, he stressed.
Wallis admitted that some supporters had originally envisioned the Call as a liberal alternative to the Christian Coalition. But in my interview with him, he said it is not "much of a vocation to be opposed to the religious right."
Wallis likes to say that conservatives were right when they said "family breakdown" is a cause of poverty. And he is quick to add that liberals were right to say that personal behavior was not the only cause of poverty.
Faith-based ministries were the real focus of his remarks at the Call's March meeting, though. Wallis warned that government funding for faith-based programs must not compromise the churches' "prophetic voice." He mentioned his concern about Bush's tax cuts, which he alleged favor the rich. But it was the closest he came to any criticism of the Bush administration.
"What Luke Is Getting"
The Jim Wallis of the 1980s and 1990s was defending the Sandinistas, demanding disarmament by the United States, advocating socialized medicine, and tying himself to virtually every major cause of the far left.
Today's Jim Wallis sees himself as a partner with a Republican administration and a defender of organized religion against the extreme secularists who shudder at every perceived government collusion with religion.
And although a pacifist, he has declined to become an outspoken opponent of the war against terrorism. He did help organize a carefully phrased, semi-pacifist statement of concern in the immediate aftermath of September 11, but the strident anti-American rhetoric of two decades ago is almost gone.
The religious left is dying; it failed to gather and retain large numbers. Wallis is trying to align his movement with moderate Evangelicals and Catholics to whom America's religious demographic future will belong.
"I'm pro-life and pretty traditional on family issues," Wallis said in our interview. "I am conservative on marriage," he said, calling it an effective "anti-poverty measure." He supports "civil rights" for homosexuals, which, by his definition, probably include some legal recognitions for same-sex couples that most conservatives would find troubling. But he said, "I don't think we should change the definition of marriage."
When asked whether his marriage and recent fatherhood have affected his personal theology, Wallis acknowledged that changes in his personal life have "deepened my commitment to family values." Of his toddler son he said, "I want for other kids what Luke is getting." Wallis was not referring just to "public policy" issues. He thinks every child merits both a mother and a father who are married to each other, with societal support for the traditional family. "Society needs heterosexual marriage for stability," he said.
Wallis now cites the family, not the state, as the center of society. And his underlying message acknowledges that faith, not government programs, is the ultimate answer to the human condition.
A cynic might suspect that Wallis is simply deploying the language that will appeal to the traditional religious groups that he seeks to recruit for the Call. But even most cynics will acknowledge that age, marriage, and children can change a man. Whether Wallis is sincere or opportunistic in his move to the center, it bodes well that he has moved.
Not a subscriber? Subscribe to Touchstone today for full online access. Over 30 years of content!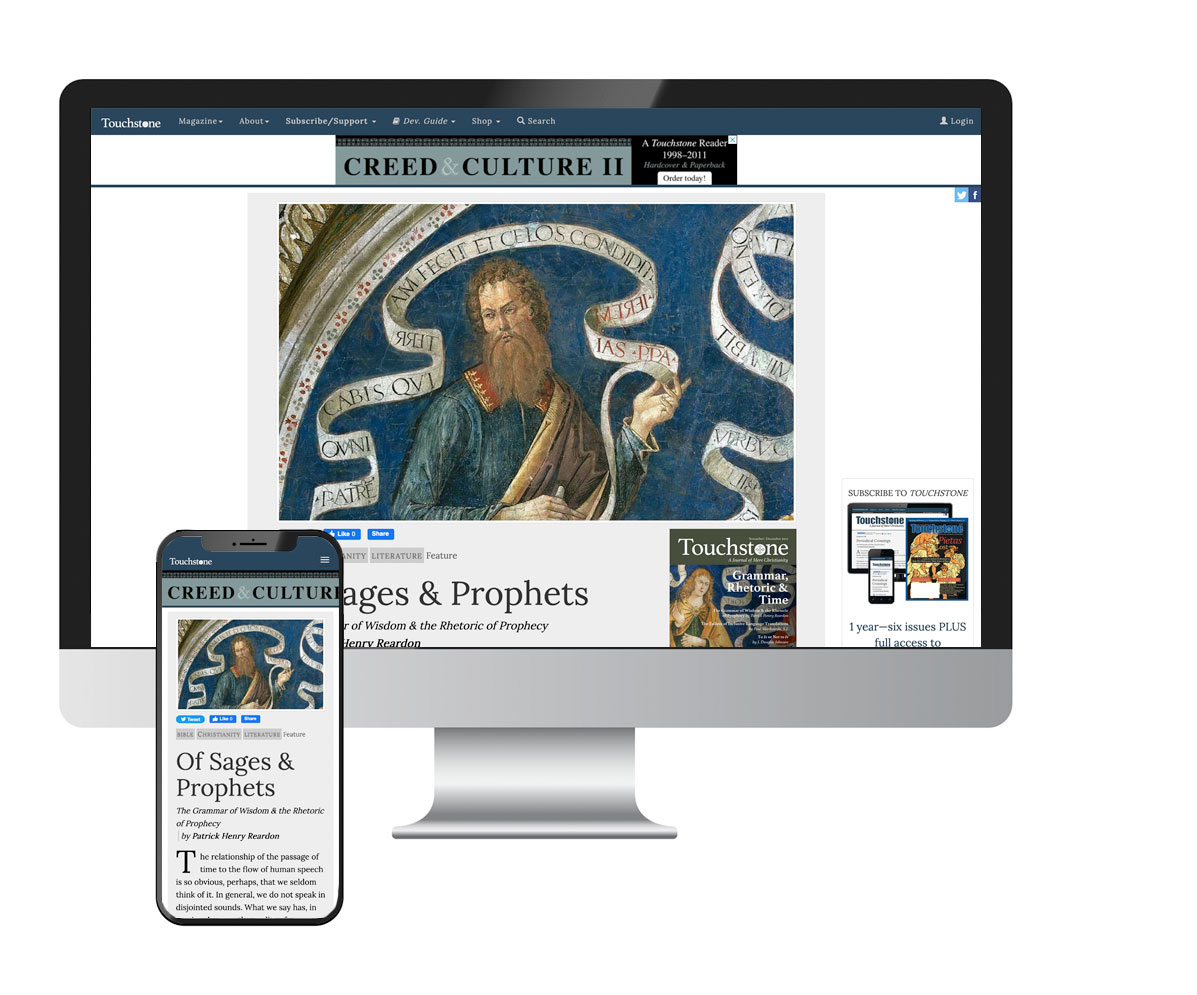 Get a one-year full-access subscription to the Touchstone online archives for only $19.95. That's only $1.66 per month!
Purchase Print &
Online Subscription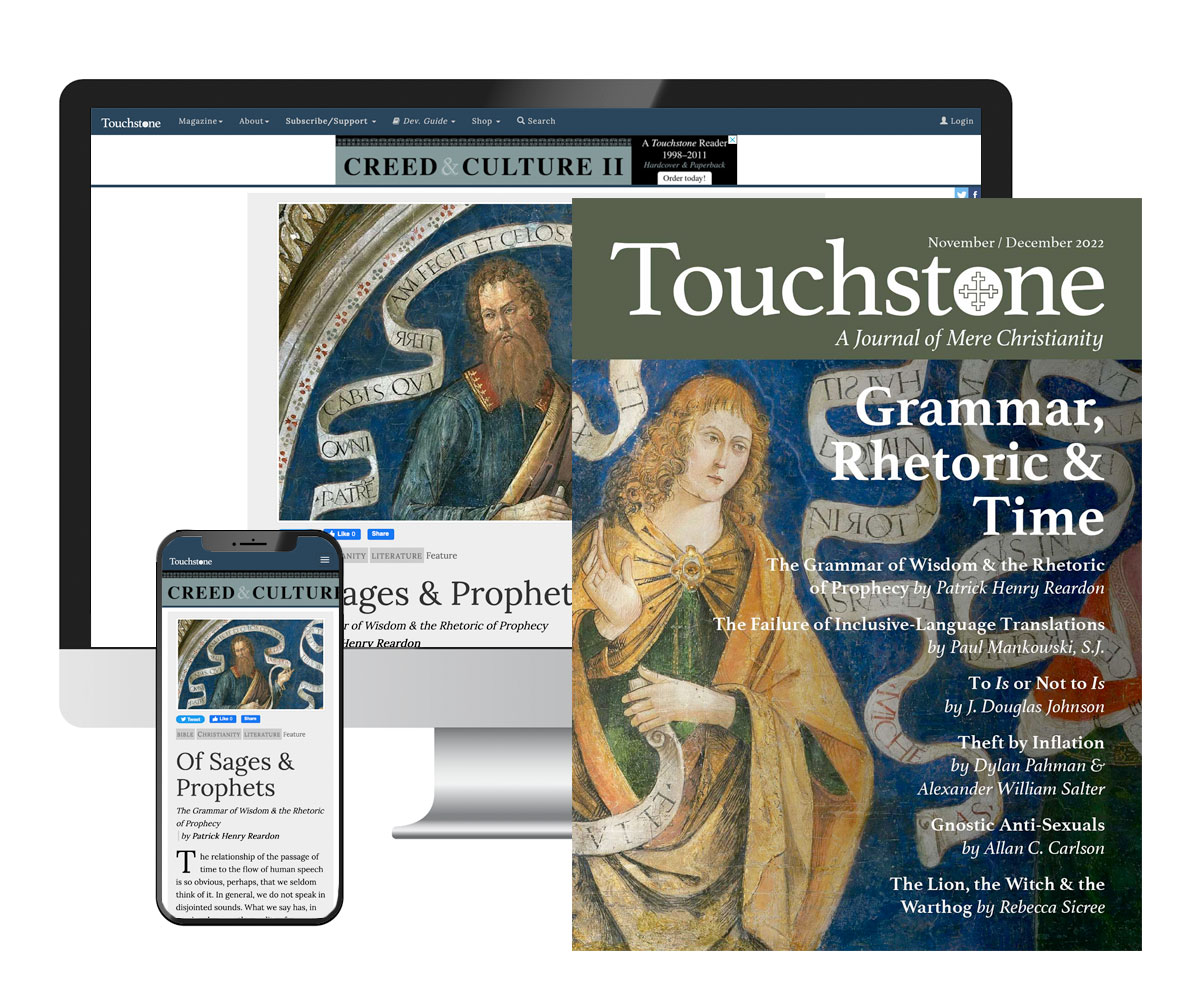 Get six issues (one year) of Touchstone PLUS full online access for only $29.95. That's only $2.50 per month!
Your subscription goes a long way to ensure that Touchstone is able to continue its mission of publishing quality Christian articles and commentary.
*Transactions will be processed on the secure server of The Fellowship of St. James website, the publisher of Touchstone.
from the touchstone online archives