Dawson Revisited
Christianity and European Culture: Selections from the Work of Christopher Dawson
edited by Gerald J. Russello
Washington, D.C.: The Catholic University of America Press, 1998
(262 pages; $24.95, paper)
The Spirit of the Oxford Movement and Newman's Place in History
by Christopher Dawson
London: The Saint Austin Press, 2001
(153 pages; $26.95, cloth)
Dynamics of World History
by Christopher Dawson
Wilmington, Delaware: ISI Publications, 2002
(500 pages; $29.95, cloth; $16.95, paper)
reviewed by Patrick Henry Reardon
Among the many reasons for which we mourn the passing of Russell Kirk in 1994, special mention can be made, I think, of our consequent loss of a new, uniform edition of the works of Christopher Dawson. Such a project was the wise Kirk planning during the waning days of his life. Moreover, his introductions to other significant writers, such as Irving Babbitt and T. S. Eliot, leave no doubt that Kirk's own edition of Dawson, had he lived to accomplish it, would have been one of the more valuable publications at the end of the twentieth century.
Meanwhile, because a very long period must surely elapse before another Russell Kirk passes this way, we are grateful that three other Dawson scholars have taken the initiative to provide new editions of certain Dawson works long out of print and hard to obtain.
The first of these scholars is the young attorney Gerald Russello, who has taken in hand Dawson's small 1960 volume, The Historic Reality of Christian Culture, joining it to a number of other Dawson essays to form the first book here under review, Christianity and European Culture. In this composite work, Dawson argues that the study of Christian culture must be distinguished from the pursuit of those political forms with which it was associated in times past. On the contrary, he contends, the proper point of departure for such study must be the transcendent nature of Christian culture, its properly spiritual claims and inspiration. This transcendence is more than theory. Indeed, Christian culture does not presume or rely upon any a priori philosophy of culture. It consists, rather, in a "continuous succession and alteration of free spiritual movements." Christian culture, because it is a living reality, is not fixed by abstract laws of development or specific political expressions. In this volume, therefore, Dawson encourages Christians to explore the riches of their own cultural history, not in order to copy it slavishly in a modern context, but to address the eternal spiritual questions as they are being asked in modern discourse. This book is recommended with enthusiasm.
Peter Nockles, of the University of Manchester, wrote the helpful introduction to the second book here reviewed, a new publication of Dawson's brief but valuable The Spirit of the Oxford Movement, a contribution to the chorus of works commenting on the centennial of the Oxford Movement in 1933. To this short book is appended another essay, "Newman and the Modern World," rarely seen since its inclusion in an anthology in 1945.
Although it has long been customary to study the Oxford Movement mainly in the light of its later ecclesiastical effects, whether in Anglicanism or Roman Catholicism, Dawson's interest in the movement was at once both smaller and larger. It was smaller, inasmuch as he endeavored to study the major figures of the movement within the limits of their own time-bound self-awareness and sense of vocation. Froude, Keble, Newman, and the others were concerned with certain immediate tasks rising from the circumstances of their own lives and the imperatives of their own convictions. They should not be treated, Dawson argues, simply as forerunners of later developments in the Roman Catholic and Anglican religious systems. They need to be understood within the confines and perspectives of their own time.
On the other hand, Dawson argues, the driving ideas of those men were far larger than their own disciples could appreciate. These disciples became chiefly interested in certain ecclesiastical reforms based on the theological and historical studies of the early great lights of the Oxford Movement. In fact, however, those great lights saw themselves as standing in opposition less to certain objectionable ecclesiastical policies than to the major philosophies of the day, such as naturalism, rationalism, utilitarianism, and aggressive secularism. Dawson read those men, then, less as ecclesiastical reformers than as figures in the much larger march of modern thought.
He contended that Froude and Newman, men of very keen vision, were able to perceive what must be the final outcome of so many of the notions most favored in their own century. Newman in particular was aware of the deeper mental infidelities of his time and the dangers that these posed to the traditional order of Christian civilization. At the same time he believed that a principle of "development," intrinsic to the very composition of Christianity, would in due course assert itself to answer the challenges of the day and to reveal new and unsuspected dimensions in the ancient truths. Dawson's little book on this subject is a marvel to read.
The third Dawson scholar to put us in his debt is Dermot Quinn, who provides an excellent new introduction to this third publication of Dawson's Dynamics of World History, a volume scheduled to appear in April. This magnificent collection of 31 of Dawson's essays, drawn from earlier material published over several decades and first assembled in one volume in 1958, was republished by John J. Mulloy in 1978. Mulloy's very perceptive preface and introduction to this material are once again printed in this latest edition.
It is impossible to describe adequately the massive weight and wide scope of this large book, in which so many essays, originally published over many years and in a variety of contexts, are arranged to create a coherent exploration of three related subjects: a consideration of history's relationship to all aspects of sociological study, a continuous narrative of world history itself, and a critical survey of ancient and modern philosophies of history. The striking symmetry and homogeneity of Dawson's thought, notwithstanding the many years that originally separated these writings, stands as evidence that the author knew relatively little of a personal "development" in either persuasion or methodology. There appear to be no "periods" in Dawson's thought, so to speak. These essays, no matter when written, seem of whole cloth.
Dawson's philosophy of history was solidly empirical in approach, and the present reviewer is especially struck by his sane appreciation of the discipline of sociology as the correct basis for historical study. Not that Dawson was unaware of the pitfalls of sociology. Originally inspired by the rather non-empirical ideology of Comte, and even now serving as lackey to just about any new craze that hits the campus, sociology itself has known some trying times. As a former professor of sociology, the present reviewer has long been struck by the sheer mass of undigested nonsense that goes into much of the average sociology curriculum, where a potentially endless series of carefully selected and judiciously arranged facts are marshaled to advance some of the world's most improbable theories. Dawson knew those weaknesses very well, but he still appreciated the great potential of sociology, once purged of the enervating theories that sap its integrity, to serve as a basis of the entire pursuit of historical studies. Indeed, one of the most impressive aspects of Dawson is his minute grasp of a vast array of sociological detail. Whether examining ancient China or modern Britain, Dawson misses nothing. This reviewer, then, recommends Dawson to the particular attention of sociologists.
Dawson is more than a sociologist, however. He is preeminently a historian and philosopher of culture, understood as "a common way of life—a particular adjustment of man to his natural surroundings and his economic needs." Crucial to human culture, especially in its higher forms, is the experience of reflection, the internalization of experience, the accumulation of memory, and a deepening interrogation of all these things in the light of spiritual experience. Because all of these aspects of culture receive the attention of Christopher Dawson, this book, arguably the finest and most definitive summary of his thought, is recommended without the slightest reservation to historians, philosophers, artists, theologians, and lovers of letters.
In summary, Gerald Russello, Peter Nockles, and Dermot Quinn have put us solidly in their debt.
Patrick Henry Reardon is pastor of All Saints Antiochian Orthodox Church in Chicago, Illinois. He is the author of Christ in the Psalms, Christ in His Saints, and The Trial of Job (all from Conciliar Press). He is a senior editor of Touchstone.
Not a subscriber? Subscribe to Touchstone today for full online access. Over 30 years of content!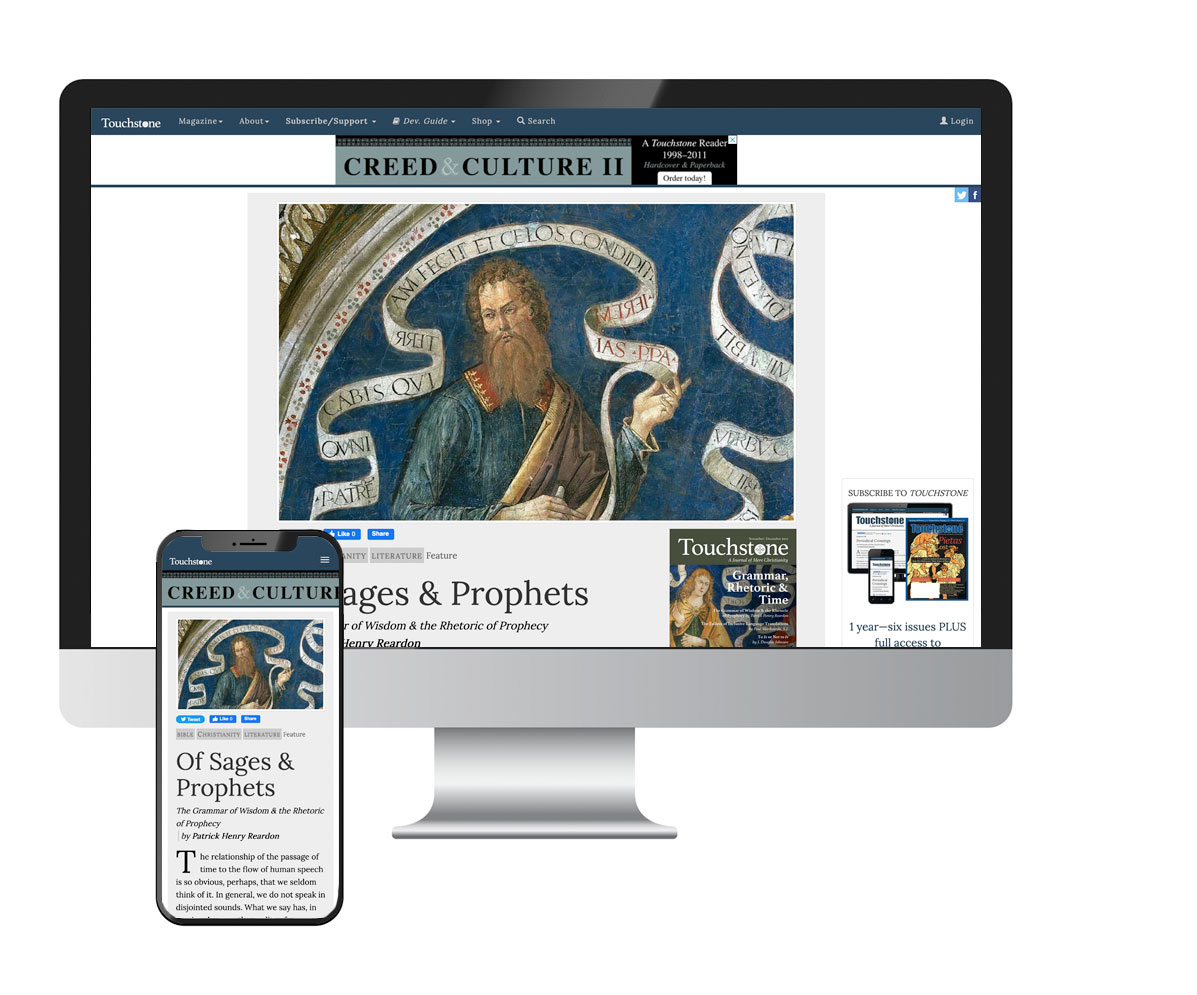 Get a one-year full-access subscription to the Touchstone online archives for only $19.95. That's only $1.66 per month!
Purchase Print &
Online Subscription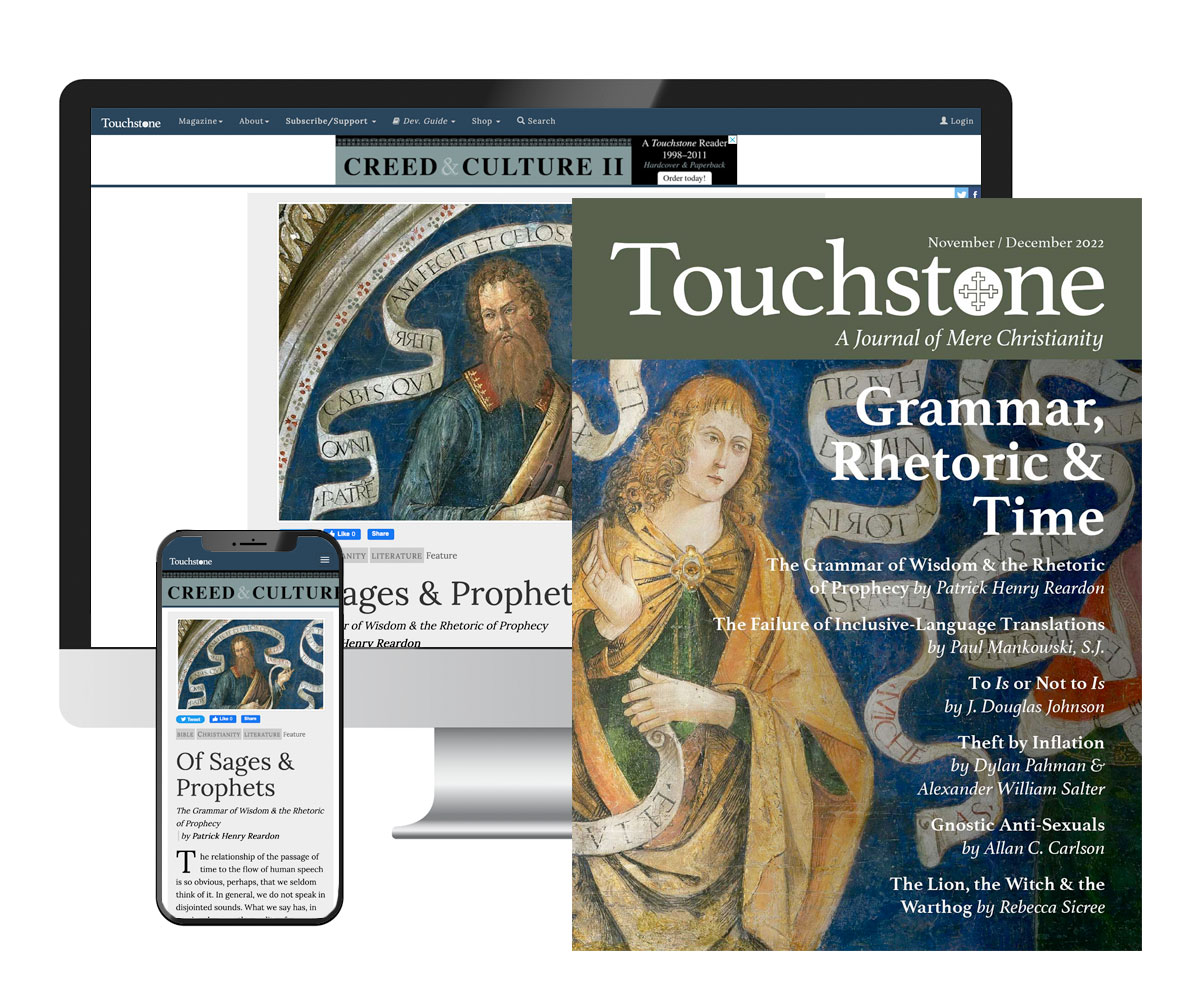 Get six issues (one year) of Touchstone PLUS full online access for only $29.95. That's only $2.50 per month!
Your subscription goes a long way to ensure that Touchstone is able to continue its mission of publishing quality Christian articles and commentary.
*Transactions will be processed on the secure server of The Fellowship of St. James website, the publisher of Touchstone.
from the touchstone online archives