For complete online access to
new issues of Touchstone, subscribe today!
---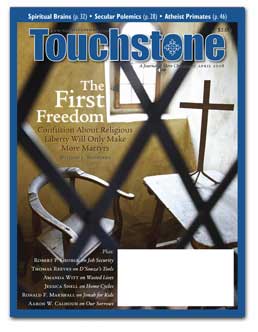 That All May Be Saved
by David Mills



As It Is Written...
The Truth Who Lives
by Patrick Henry Reardon



Atheist Antithesis
Innate Religious Beliefs Are Evidence of God, Not of Evolution
by Logan Paul Gage



Secular Polemics
The Stillborn God: Religion, Politics and the Modern West by Mark Lilla
A review by Mark Winter

The Tool Kit
Whatís So Great About Christianity by Dinesh DíSouza
A review by Thomas C. Reeves

Mind over Matter
The Spiritual Brain: A Neuroscientistís Case for the Existence of the Soul by Mario Beauregard & Denyse OíLeary
A review by Tom Gilson

Never-Ending Fire
The Road by Cormac McCarthy
A review by Robert Elder

Colored by Numbers
Born on a Blue Day: Inside the Extraordinary Mind of an Autistic Savant
by Daniel Tammet
A review by Franklin Freeman



The First Freedom
Why Religions Must Be Free, Not Tolerated
by William L. Saunders

Eaten Alive
In Removing the Fear from the Story of Jonah, Children's Versions Remove the Gospel, Too
by Ronald F. Marshall



Your Place in the Son
Robert P. George on How Vocation Guides Our Choices

The Feast Goes On
Jessica Snell on Living the Church Year at Home

Jesus Wept
Aaron W. Calhoun on Calvary's Answer to Suffering

Life Worth Giving
Amanda Witt on the Immeasurable Value of Wasted Lives



Every issue of Touchstone also contains short commentaries by our editors, notices of books you should know about, and our spirited letters section.