For complete online access to
new issues of Touchstone, subscribe today!
---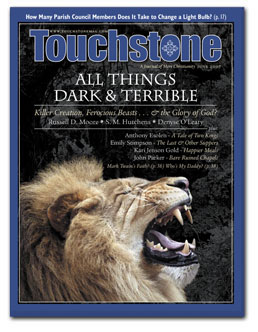 Our Sorry Freedom
by Anthony Esolen

Stationed at the Cross
by Patrick Henry Reardon



Imperial Tales
The Last Pagan: Julian the Apostate and the Death of the Ancient World by Adrian Murdoch
A review by Mike Aquilina

The Heart in Twain
Mark Twain and the Spiritual Crisis of His Age by Harold K. Bush, Jr.
A review by Franklin Freeman

Seed of Doubt
Who Am I? Experiences of Donor Conception foreword and afterword by Dr. Alexina McWhinnie
A review by Anne Barbeau Gardiner



All Things Dark & Terrible
Our Fearful Fascination with Wild Things & Other Monsters of God
by Russell D. Moore

Heaven Knows
Christian Irony & the secrets of Kings & Gods
by Anthony Esolen



Cross Purposes
John Parker on Empty Chapels & Symbols of Faith

Eating Light
Emily Stimpson on the Last & Other Suppers

Happier Meals
Kari Jenson Gold on the Dinner Table as Meeting Place

The Minister's Cabinet
Christopher Bailey reports the Minutes of the April Council Meeting at St. Barnabas Lutheran Church, Blandville



Every issue of Touchstone also contains short commentaries by our editors, notices of books you should know about, and our spirited letters section.