Eating Light
Emily Stimpson on the Last & Other Suppers
A Saturday morning in December. I am in Pittsburgh, writing in a coffee shop. Two women in their early fifties sit at the table in front of me, each sipping something hot. One makes a confession. She sinned last night . . . with a piece of cheesecake.
The other expresses sympathy. But there is condescension in her voice. No cheesecake touched her lips last night. The first one congratulates the second, and declares herself—not her behavior and not the food, but herself—"bad."
She is obsessed. They both are. If they're not eating, they're thinking about it or talking about it. They move from diet to diet, but the more they diet, the more obsessed they become, and the more they define their worth, their virtue, by what they put in their bodies, not by what they do with those bodies.
They are gluttons of a peculiarly feminine and peculiarly Western stripe.
Fast Food Products
A Sunday evening in March. I am in line at the grocery store. The checker moves slowly as she passes the items of the middle-aged man in front of me over the scanner. Soda and sweet cereal travel along the motorized belt. Frozen pizzas, a box of Twinkies, and tomatoes redder than they should be, considering the time of year, soon join them.
Save the artificially grown tomatoes and a bag of frighteningly large frozen chicken breasts, there is not a single item of food on the belt. Only food products.
This man has forgotten how to eat. He no longer knows what he instinctively knew as a child: how to listen to his body and to know what nutrients it needs. He has also forgotten what a balanced meal looks like, just as he has forgotten the taste of fresh vegetables in season and of cakes made by a woman, not machines.
Which is why tonight, like every night, his dinner doesn't nourish his body, but slowly poisons it.
A Wednesday afternoon in April. I am driving to the bank to pay my mortgage. I slow down as the SUV in front of me turns left into McDonalds. A young mother is at the wheel. She has two children in the back seat, both dressed in soccer uniforms.
They go through the drive-through and order four extra-value meals. The children eat theirs in the car. The mother saves hers until after she drops the children off. The fourth goes to the father when he returns from work.
This is their normal routine on Mondays and Wednesdays, when the children have soccer. On Fridays they usually order pizza, and on Sundays they eat out. During the remainder of the week the mother tries to cook, but it's difficult pleasing everybody. On those evenings the children eat while they watch TV; she and her husband eat standing in the kitchen. They talk little and listen even less.
Their dining-room table is permanently covered with piles of papers and bills.
Battle Food
A Monday morning in July, eight years ago. On the treadmill at the gym, I observe a girl I can see in the mirror. She is all bones and concave cavities. Sallow skin stretches over pointy places where curves used to be. I see her here every morning, running with fury, never taking her eyes off her reflection. She is scrutinizing every inch of her frail body, sometimes admiring its angles, sometimes cursing imaginary curves.
Fierce determination courses through this girl's veins—fierce determination and a great deal of fear. She is determined to control her body, her life, and the world. And she is desperately afraid that all the control she thinks she has is just an illusion.
She is also afraid of herself, of her sins and weaknesses, and, strangely enough, of her own strength.
That same morning, one hour later. The girl I watched in the mirror leaves the gym. She walks to the cafe on the corner and orders a large coffee—black. While she waits for her order, her eyes wander to the pastry case. She stares long and hard at its contents, caressing with her eyes what she refuses to taste with her tongue.
That lingering look brings with it a rush of pleasure. She can look and not touch. She is still in control.
Food is not necessarily this girl's enemy, although she fears it as much as she fears herself. Rather, it is her weapon. She wields it in the battle she wages against herself. She measures it out like poison, calculating every calorie in every dose. The less she eats, the more powerful she feels. And the more powerful she feels, the more protected she thinks she is from the demons that live inside her. She deprives herself of food so that she can destroy her fears . . . and destroy herself.
I know she does, because I was the girl I saw in the mirror.
A Tuesday morning in February, six years ago. I am kneeling inside St. Joseph Catholic Church on Capitol Hill. A smattering of Senate staffers and other Hill types surround me. At the altar, the priest elevates the Host. To me, all is both new and familiar. It has only been two months since I returned to the Catholic faith. I was away for six years.
I rise and assume my place in the Communion line. I move forward, arrive at the sanctuary steps, and allow the priest to place Christ on my tongue. As I return to my pew, knowledge becomes understanding for the first time: "For my flesh is true food and my blood is true drink."
The most intimate communion I have with God is that I eat him.
I. Eat. Him. He comes to me as food, as the very thing I have been using as a weapon against myself. He comes to me through the matter I despise and becomes a part of the flesh I seek to master.
At that moment, healing begins.
Eucharistic Eating
Last night, a Thursday in early September. I am cooking dinner for my friends, about 24 of them. I do this every Thursday. I don't know how this gathering grew quite so large. There were just eight of us when it began three years ago.
But then some married, and their spouses joined us. Then there were other friends who returned to town. And still more—strangers then, friends now—who needed a place, a community, where they could belong. I gathered them all in. And I fed them. I feed them.
I feed them because of what I discovered on that day six years ago: that God comes to us as food—blessed, broken, and wanting to be eaten—and that because of that, something of the sacramental can exist in every meal we prepare and every morsel of food we put to our lips. I know now, as the Church has always known, that all eating can and should be eucharistic, an occasion of thanksgiving and grace— eucharistia meaning quite literally "to give thanks."
I also feed them because I want them to know that, too. In the sacrifice of my time and money, in the abundance of the food I set on the table, and in the excellence, or at least attempted excellence, of what I serve, I try in my own little way to show them what contemporary culture makes it so very hard to see.
I try to show them that food, as God intended it to be, is a symbol of love and comfort, celebration and sacrifice, grace and gift. Most of all, it is a symbol of nourishment and life. It was and is the foreshadowing truth to the Eucharist. Love and comfort, celebration and sacrifice, grace and gift, nourishment and life all have their place in the Eucharistic banquet. Every natural truth about food points to and is actualized at the Lord's Table.
But when the meaning of the natural symbol is perverted, so is our understanding of that to which the symbol points. When food becomes an object of lust or weapon of war, when its goodness is compromised, and when the table loses its place at the center of family and community life, food ceases to teach. It ceases to render supernatural truths understandable. And the light that food casts on the meaning of the Eucharist, in all its glorious splendor, grows dim.
This growing darkness comes from a rejection of what always has been. Since the first chapter of man's history was written, food has been at the heart of culture, as well as cult. Gathering together for meals shaped the rhythm of family and community life.
What was eaten and when it was eaten was intimately connected to the hours of the day and the seasons of the year. Local climate, local celebrations, and local traditions all were united at the table. There were times of feasting and times of fasting—the production, consumption, and forsaking of food going hand in hand with rejoicing and mourning, thanksgiving and sacrifice, petition and praise.
The Imitation Feast
But today, millions choose to starve themselves or gorge themselves. Millions more eat thoughtlessly and ungratefully, rejecting a good for a convenience. Disassociated from their bodies and from one another, they know nothing of one of the most powerful occasions for grace and joy the natural world affords. They know even less of one of the most powerful occasions for grace and joy the supernatural world affords.
So I cook. On this Thursday night like all others, I pour my love for my friends into the little feast I prepare for them, in a pale imitation of Christ, who pours his great love for us into the sacred feast of bread and wine, flesh and blood, that he prepares for us.
I give my friends a place to gather and give thanks. I give them a meal. And I hope and pray that as I do, I also give them what God intended them to have at every meal—a foretaste of the Supper of the Lamb.
Emily Stimpson lives in Steubenville, Ohio, where she divides her time between working on her old house and writing for Franciscan University?s magazine Franciscan Way. A refugee from the world of D.C. politics, Emily previously worked for Senator Jim Talent (R-Mo.) and former Attorney General Edwin Meese III.
Not a subscriber? Subscribe to Touchstone today for full online access. Over 30 years of content!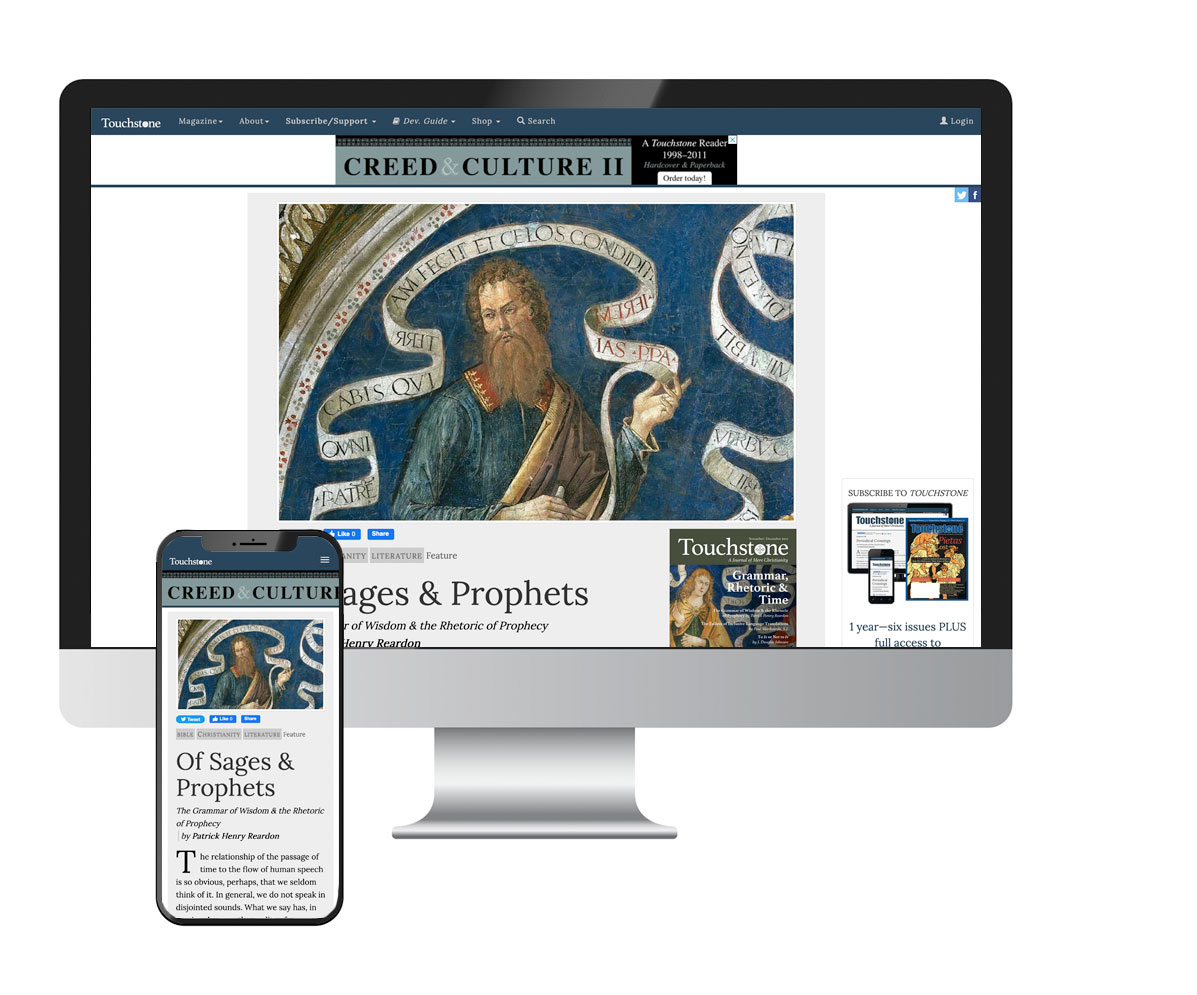 Get a one-year full-access subscription to the Touchstone online archives for only $19.95. That's only $1.66 per month!
Purchase Print &
Online Subscription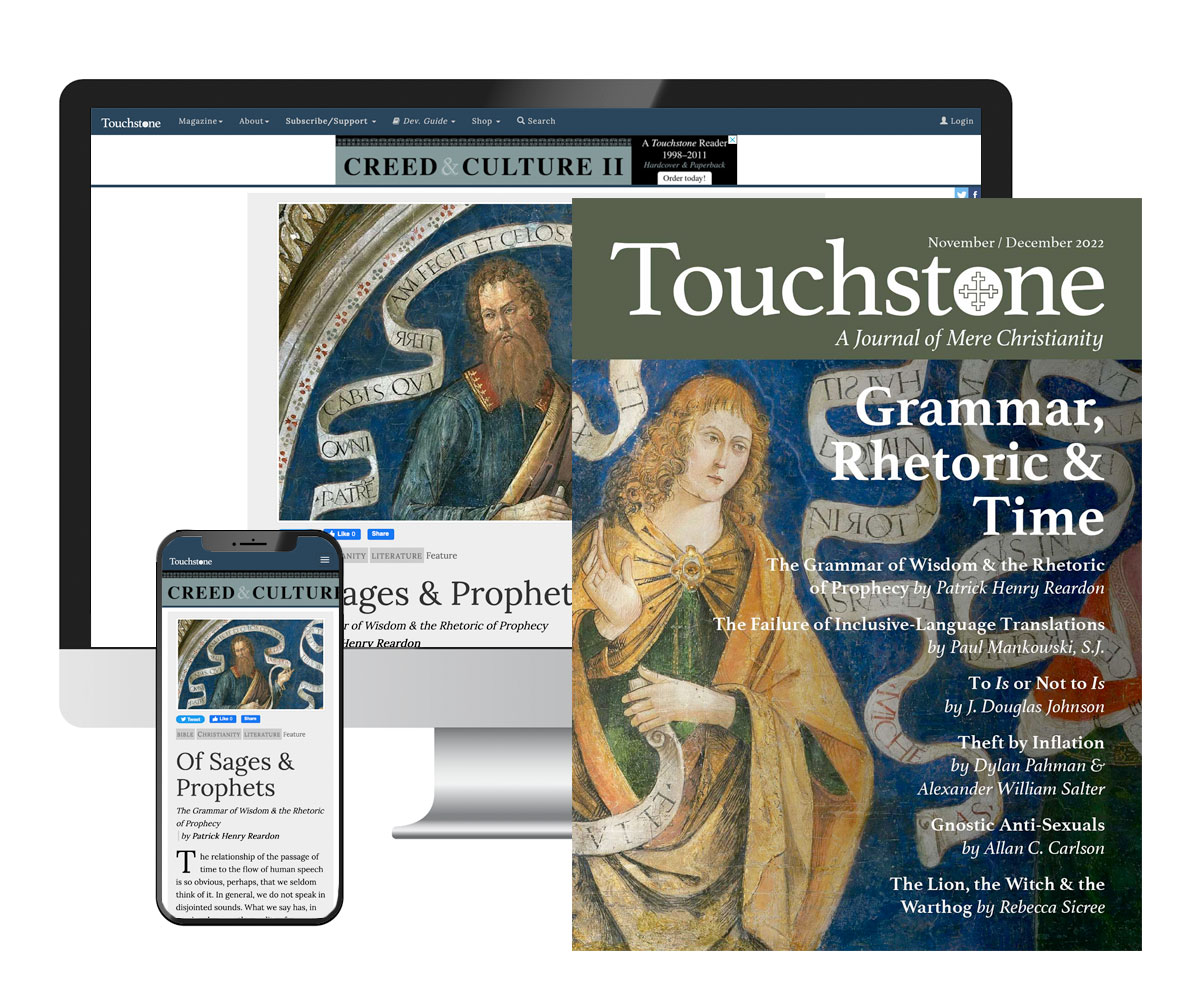 Get six issues (one year) of Touchstone PLUS full online access for only $29.95. That's only $2.50 per month!
Your subscription goes a long way to ensure that Touchstone is able to continue its mission of publishing quality Christian articles and commentary.
*Transactions will be processed on the secure server of The Fellowship of St. James website, the publisher of Touchstone.
from the touchstone online archives