For complete online access to
new issues of Touchstone, subscribe today!
---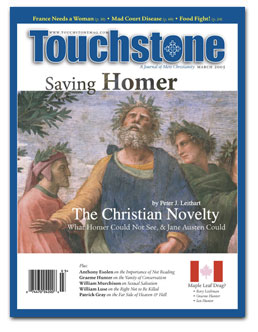 Gifts of the Womb
by The Editors



The Leading Edge
The Power of Joan
by Phillip E. Johnson

As It Is Written...
Thinking in Threes
by Patrick Henry Reardon



Mad Court Disease
Canada's Judicial Virus Will Soon Target Christians
by Rory Leishman



The Ties That Bend
Divorcing Marriage
edited by Daniel Cere
and Douglas Farrow
A review by Graeme Hunter

Greene's True Colors
The Life of Graham Greene
by Norman Sherry
A review by Franklin Freeman



Life in the Fast Lane
How to Fight for the Body While Forgetting About Ourselves
by Adam A. J. Deville

Long Shadows of Eden
On Conservatism as Vexation, Vanity & Near Impossibility
by Graeme Hunter

The Christian Novelty
What Homer Could Not See, & Jane Austen Could
by Peter J. Leithart

Let Live or Make Die?
Terri Schiavo, Christopher Reeve & the Right Not to Be Killed
by William Luse



Dog-Eared Pursuits
Anthony Esolen on the Importance of Not Reading

Comic Belief
Patrick Gray on the Far Side of Heaven & Hell

St. Prok's Gospel
William Murchison on Alfred Kinsey's Good News

Fallen Tortes & Vicars
Ian Hunter on Canada's Legal & Clerical Trials



Every issue of Touchstone also contains short commentaries by our editors, notices of books you should know about, and our spirited letters section.