Mad Court Disease
Canada's Judicial Virus Will Soon Target Christians
by Rory Leishman
Last fall, quite a number of liberals in the United States vowed to emigrate to Canada if George W. Bush were re-elected, but few have shown up. There is better reason to anticipate a flight in reverse—by Canadian Christians -seeking refuge in the United States from the oppressive edicts of Canada's judges.
Canada used to have an exemplary record of respect for human rights. That ended, ironically, with adoption of the Canadian Charter of Rights and Freedoms in 1982. Under the pretense of upholding this Charter, activists on the Supreme Court of Canada have conducted a systematic attack on freedom of conscience, religion, thought, belief, opinion, and expression for Canadians who affirm the traditional principles of Judeo-Christian morality.
A First Victim
One of the first victims was Dianne Haskett, a conscientious Christian and mayor of London, Ontario. In 1995, she refused to proclaim a Pride Weekend in the city at the request of the Homophile Association of London, Ontario (HALO), because she could not in good conscience serve as an advocate for "gay rights." HALO's president,
Richard Hudler, filed a complaint with the Ontario Human Rights Commission, charging that her refusal to issue the proclamation constituted discrimination on the basis of sexual orientation, contrary to both the Charter and the Ontario Human Rights Code.
As usual, the commission referred the matter to an independent Board of Inquiry. Under cross-examination, Haskett acknowledged that her refusal to issue the proclamation was motivated by her beliefs as an Evangelical Christian. To the suggestion by counsel for the commission that she should have separated her religious convictions from the performance of her duties as mayor, Haskett responded that her life was "tied up in my relationship with God" and that she could not separate herself from it.
[A] person who separates themselves from their deeply held beliefs, at the very least, they are a hypocrite and at the very worst, they are turning their back on God. And I can't do that. . . . I think that the people of London have the right to expect that I'm going to be consistent with what I am in what I say and in what I do and if I cease to be consistent with what I am, then I don't know what they have to depend on.
The chairman (and sole member) of the board, Mary Anne McKellar, was unmoved. Following precedents set by the Supreme Court of Canada, she ruled in October 1997 that the mayor's rights to freedom of religion and of expression as purportedly guaranteed in section 2 of the Charter were subordinate to the equality rights of homosexuals in section 15.
McKellar also ruled that the mayor's refusal to issue the proclamation "constitutes unlawful discrimination on the basis of sexual orientation," ordered the mayor to issue proclamations on request by HALO or any other "pride" group, and held her and the city jointly responsible for paying $10,000 in damages to Hudler for mental anguish and the loss of his right under the Charter and the Code to freedom from discrimination.
Haskett's Refusal
With Mayor Haskett abstaining, the City Council unanimously voted to abide by the board's ruling. Haskett issued a public statement noting that she had never advocated discrimination against homosexual people, but insisting that I stand on my right as a Canadian to freedom of expression—and that means choosing what I will say and what I will not say. . . . I am not angry or bitter at HALO or any members of it for what I have had to go through to maintain my right to choose what I will say and what I will not say. I have never interfered with the activities of this group, as evidenced by the Pride celebrations that go on very openly each year. But at the same time, I am not prepared to be, now or in the future, the advocate for this organization or its agenda.
The mayor then announced that she would take an unpaid, three-week leave of absence pending the upcoming municipal election, and asked the city to allocate the money saved from her salary to offset the $10,000 in damages awarded to Hudler. She reaffirmed her intention to seek re-election and to go into strict seclusion for the remainder of the election campaign. Then, three weeks later, having done no campaigning whatsoever, Mayor Haskett was overwhelmingly re-elected.
Meanwhile, human rights tribunals have persisted in ordering elected mayors from Fredericton, New -Brunswick, to Kelowna, British -Columbia, to issue "gay pride" proclamations upon request. In no case have these tribunals shown any regard either for the opinion of municipal electors or the rights of elected mayors to freedom of expression.
Private Victims
Public officials are not the only victims of persecution by Canada's human rights thought police. Private citizens are no less vulnerable. Thus in 1996, Scott Brockie, a Toronto print shop owner, inadvertently touched off a prolonged judicial battle by refusing on Christian principle to print letterhead stationery, envelopes, and business cards for Toronto's Lesbian and Gay Archives. Ray Brillinger, the president of the gay-advocacy organization, promptly complained to the Ontario Human Rights Commission.
The commission referred the matter to a Board of Inquiry. To no one's surprise, Heather MacNaughton, the adjudicator assigned to the case, concluded that Brockie had violated the ban on discrimination on the basis of sexual orientation in the Ontario Human Rights Code, ordered him to pay $5,000 in damages to Brillinger, and directed that he must provide printing services without discrimination "to lesbians and gays and to organizations in existence for their benefit."
MacNaughton denied in her ruling that her orders infringed upon Brockie's Charter rights to freedom of conscience and religion. She argued that Brockie remains free to hold his religious beliefs and to practice [ sic] them in his home, and in his Christian community. He is free to espouse those beliefs and to educate others as to them. He remains free to try to persuade elected representatives, through his involvement in the democratic process, that the Code protections currently granted to the lesbian and gay community are wrong. What he is not free to do, when he enters the public marketplace and offers services to the public in -Ontario, is to practice those beliefs in a manner that discriminates against lesbians and gays by denying them a service available to everyone else.
Brockie appealed to the -Ontario Superior Court of Justice. In a unanimous ruling in June 2002, a three-judge panel of the court upheld MacNaughton's order, subject only to the qualification that Brockie did not have "to print material of a nature which could reasonably be considered to be in direct conflict with the core elements of his religious beliefs or creed." In the opinion of the court, it was unreasonable for Brockie to insist that he could not, in good conscience, print anything for an organization that promotes pride in homosexual behavior. Having spent close to $100,000 on legal fees, Brockie decided against any further appeal.
Unprofessional Speech
At least the board allowed that Brockie had a right to espouse his Christian convictions in public. Chris Kempling was not so fortunate. In February of last year, Mr. Justice Ronald Holmes of the British Columbia Supreme Court warned that Kempling must either stop publishing his Christian beliefs about the immorality of homosexual behavior or forfeit his job as a secondary school teacher.
This case arose out of an article and a series of letters to the editor about homosexuality that Kempling had published between 1997 and 2000 in his hometown newspaper, the Quesnel Cariboo Observer. In response to complaints about these writings, the British Columbia College of Teachers (BCCT) conducted an investigation, found him guilty of professional misconduct, and suspended his teaching license for a month. Kempling appealed.
In ruling on the appeal, Holmes acknowledged that Kempling had "a long and unblemished teaching career, and a notable record of community service." Nonetheless, he found him guilty of professional misconduct solely on the basis of his allegedly "discriminatory and derogatory statements against homosexuals" in off-duty submissions to the Cariboo Record. Holmes charged that in these writings Kempling "consistently associated homosexuals with immorality, abnormality, perversion, and promiscuity. Examples of such statements include: 'Thus my main concern with giving same sex couples legal rights in child custody issues is due to the obvious instability and short term nature of gay relationships.'"
In an aside, Holmes contended that Kempling had also violated the ban on "discriminatory publication" in the British Columbia human rights code. If that is so, it is illegal for anyone, not just teachers, to lament sexual promiscuity among homosexuals in a letter to the editor of a newspaper in British Columbia.
It matters not that homosexual promiscuity is a notorious fact. In 1990 Chief Justice Brian Dickson of the Supreme Court of Canada had stipulated in Canada (Human Rights -Commission) v. Taylor that neither truth nor lack of evil intent is a defense against a charge of making a public statement that is likely to expose a person to hatred or contempt on the basis of sexual orientation or any other prohibited ground of discrimination in a human rights code.
Hate Verses
While Kempling was battling with the province's Supreme Court, Hugh Owens, a Regina prison guard, and Lyle Sinkewicz, the publisher of the Saskatoon StarPhoenix, were embroiled with a Saskatchewan human rights Board of Inquiry over a similar issue: the publication in the StarPhoenix of an advertisement placed by Owens that consisted of a list of Bible passages condemning homosexual behavior— Romans 1, Leviticus 18:22, Leviticus 20:13, and 1 Corinthians 6:9–19—plus a pictograph of two men holding hands, superimposed by a circle and slash.
Three homosexuals complained to the Saskatchewan -Human Rights Commission, charging Owens and Sinkewicz with violation of section 14 of the province's human rights code, which prohibits the publication of any statement "which exposes or tends to expose to hatred, ridicules, belittles or otherwise affronts the dignity of any person or class of persons" on the basis of sexual orientation or any of 13 other prohibited grounds. The Board of Inquiry upheld the complaint, ordered Owens and -Sinkewicz never again to publish such an offensive advertisement, and directed that the two respondents each pay $1,500 in damages to each of the three complainants.
Sinkewicz immediately capitulated to the board's ruling, despite having averred in testimony before the board that freedom of speech is "the most precious right" in a democracy. Owens appealed. Not surprisingly, he lost again. In a ruling in December 2002, the Saskatchewan Court of Queen's Bench declared: "When the use of the circle and slash is combined with the passages of the Bible, it exposes homosexuals to detestation, vilification and disgrace." Owens is now preparing to argue his case before the Court of Appeal for Saskatchewan, and vows to seek vindication all the way, if need be, to the Supreme Court of Canada.
Meanwhile, the judicial imposition of homosexual rights is victimizing ever more Canadians. On May 10, 2002, Mr. Justice R. MacKinnon of the Ontario Superior Court of Justice issued an interlocutory injunction restraining the Durham Catholic District School Board from preventing a 17-year-old student, Marc Hall, from attending a high-school prom at a Catholic -secondary school with his male partner.
In November, the governments of Saskatchewan and Manitoba warned that civil marriage commissioners must marry gay and lesbian couples on request or give up their jobs. Much the same choice faces justices of the peace, caterers, musicians, and virtually everyone else engaged in the provision of secular services for marriage ceremonies: If they choose to stay in the marriage business, they must either make their services available to same-sex couples or risk the same fate as Haskett, Kempling, Sinkewicz, and Brockie—censure by a human rights tribunal for unlawfully discriminating against homosexuals.
The Persecutors
Unelected and unaccountable judges on the Supreme Court of Canada bear primary responsibility for the mounting persecution of Christians in Canada. In one outrageous ruling after another over the past ten years, the activists on this Court have unilaterally imposed their "gay rights" agenda on the Canadian people.
The process got underway in 1995 in Egan v. Canada, when the Supreme Court of Canada read a ban on discrimination on the basis of sexual orientation into section 15 of the Canadian Charter of Rights and Freedoms. This ruling was entirely illegitimate. Not only is there no mention of sexual orientation in section 15 or any other provision of the Charter, the omission was deliberate. During committee deliberations in Parliament before the adoption of the Charter in 1982, a motion to include sexual orientation in section 15 was rejected by a vote of 22 to 2.
In a 1998 ruling— Vriend v. -Alberta—the Court followed up on Egan by reading a ban on discrimination on the basis of sexual orientation into the Alberta human rights act, although the Alberta legislature had repeatedly refused to amend the act to this effect. Then, a few months later, in M. v. H., the Court overturned literally hundreds of federal and provincial statutes by decreeing that cohabiting same-sex couples are entitled to the same rights and obligations in Canadian law as heterosexual common-law couples.
In reaction to M. v. H., the House of Commons adopted a resolution in June 1999, declaring: "It is necessary, in light of public debate around recent court decisions, to state that marriage is and should remain the union of one man and one woman to the exclusion of all others, and that Parliament will take all necessary steps within the jurisdiction of the Parliament of Canada to preserve this definition of marriage in Canada." The motion was approved by the overwhelming margin of 216 to 55. But have the judicial activists in Canada's courts paid any heed?
Not at all. In June 2003, a three-judge panel of the Ontario Court of Appeal led by the Ontario Chief Justice unanimously undertook in Halpern et al. v. Attorney General of Canada et al. to reformulate the common-law definition of marriage as "the voluntary union for life of two persons to the exclusion of all others." As a result, same-sex couples obtained the legal right to marry in Ontario over the objections of both the Parliament of Canada and the provincial legislature.
The Liberal government of Canada, then headed by Prime Minister Jean Chretien, acquiesced in the ruling. Despite having promised that Parliament would take all necessary steps within its jurisdiction to uphold the traditional definition of marriage, Chretien and his cabinet colleagues did not even appeal the Halpern decision. Instead, they introduced a draft bill providing: "1. Marriage, for civil purposes, is the lawful union of two persons to the exclusion of all others. 2. Nothing in this Act affects the freedom of officials of religious groups to refuse to perform marriages that are not in accordance with their religious beliefs."
Then, in an ultimate affront to the legislative process, the Chretien government, with the concurrence of Canada's current Prime Minister, Paul Martin, referred this bill to the Supreme Court of Canada for approval prior to passage. As expected, that Court duly held in a unanimous ruling on December 9, 2004, that Parliament can enact same-sex marriage into law by virtue of its authority over "marriage and divorce" in the Constitution Act of 1867, but it cannot exempt ministers of religion from performing same-sex marriages because the Constitution grants exclusive authority over the "solemnization of marriage" to the provinces.
Canadian Corruption
Such is the corruption of democracy in Canada. Conniving politicians have surrendered the legislative powers of -Parliament and the provincial legislatures to judicial activists who are determined to impose homosexualist ideology on the law and the -Constitution of Canada, regardless of the ex-press wishes of elected representatives of the Canadian people.
For Kempling, the implications are ominous. Unless by some miracle the British Columbia Supreme Court overturns the ruling against him on appeal, he must either renounce the public expression of his Christian beliefs on sexual morality or incur a permanent suspension of his teaching license. The same fate attends teachers in public schools all across Canada. Throughout the country, human rights tribunals and the courts are implacably determined to uphold equality rights for homosexuals.
Perhaps Kempling might try to salvage his teaching career by applying for asylum in the United States. At least in theory, he qualifies for refugee status on the basis of a well-grounded fear of persecution in Canada for the public expression of his Christian convictions.
The loss of a job is not the worst penalty for defying Canada's thought police: Offenders could also end up in jail. That was the fate of John Ross Taylor, a leader of the fringe Western Guard Party. In 1979, the Canadian Human Rights Tribunal ordered him to cease communicating tape-recorded anti-Semitic opinions by telephone.
Ian Hunter, emeritus professor of law at the University of Western Ontario, related the outcome in the McGill Law Journal: "Taylor, who was 69 years old, refused to alter either his opinions or his practices. He was then convicted of contempt of court and served one year in jail, thereby becoming Canada's first prisoner of conscience to be jailed for daring to contradict the orthodoxy of human rights." Hunter added: "It should be (but is not) superfluous to point out to human rights commissions that one may defend John Ross Taylor's right to free speech without endorsing his views."
Mayor Haskett is a lawyer. In defying the order of the Board of Inquiry to issue gay-pride proclamations upon request, she no doubt weighed her words carefully: "I will not bow down to the ruling of the Human Rights Commission, and I am willing to bear any consequences of that." As it turned out, this resolve was never put to the test, inasmuch as Hudler and HALO were content to have the City -Council, rather than the mayor, issue the proclamation.
Suppose, though, that London's homosexual activists had chosen instead to pursue Haskett by obtaining a court order consigning her to jail for refusing to issue a pride proclamation as ordered by the Board of Inquiry. Under such duress, would Haskett have finally bowed down in humility before the Ontario Human Rights Commission?
Certainly not. Haskett has a reputation for absolute integrity: She would never turn her back on God by issuing a statement that conflicts with her Christian convictions. Would that Canada had more politicians with her principles, faith, and courage.
Rory Leishman is a former lecturer in political science at the University of Western Ontario and national affairs columnist for the London Free Press. Now a freelancer, he writes a regular column on national affairs for his local newspaper as well as Catholic Insight magazine and the Interim: Canada?s Pro-Life Pro-Family Newspaper Online.
Not a subscriber? Subscribe to Touchstone today for full online access. Over 30 years of content!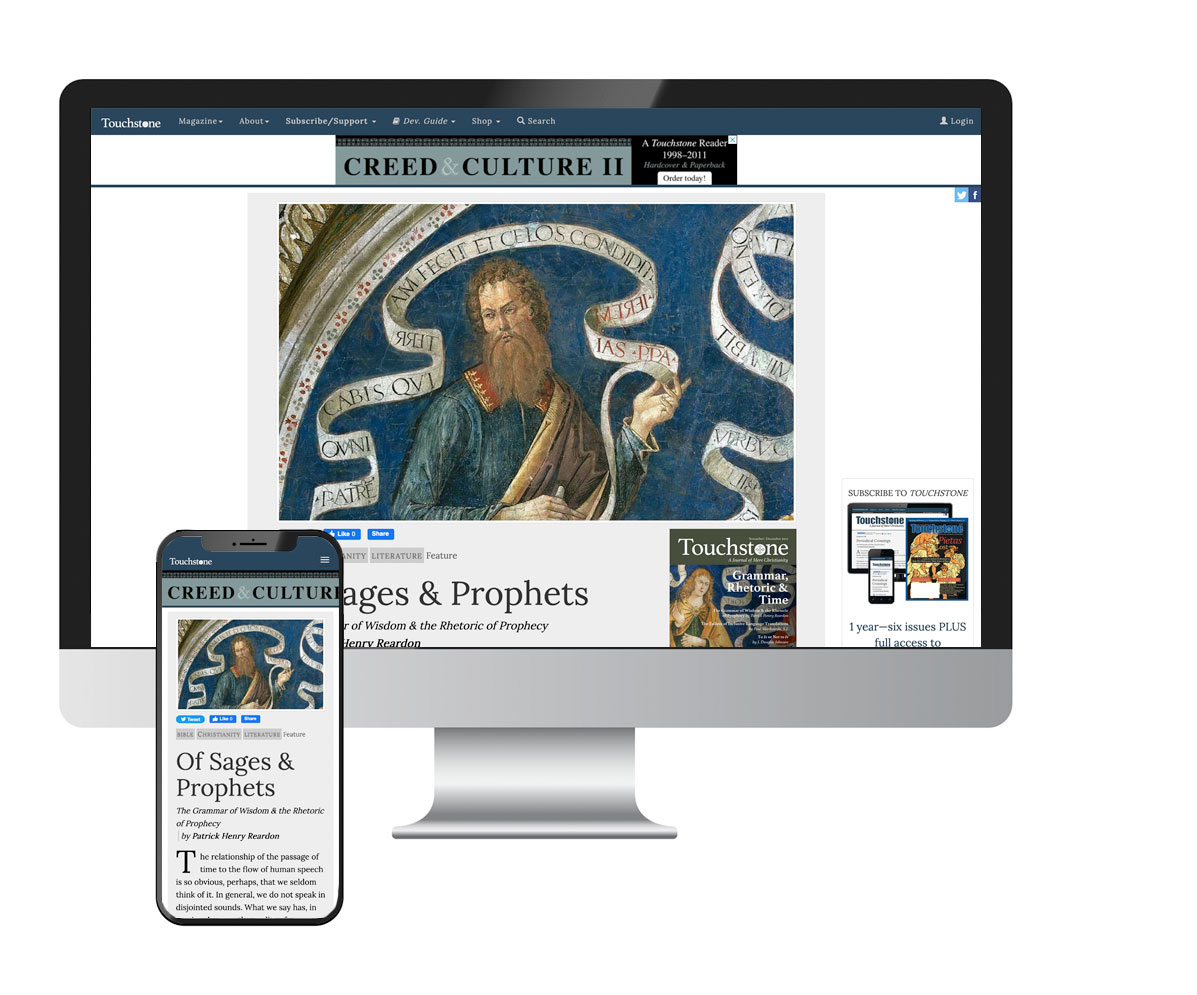 Get a one-year full-access subscription to the Touchstone online archives for only $19.95. That's only $1.66 per month!
Purchase Print &
Online Subscription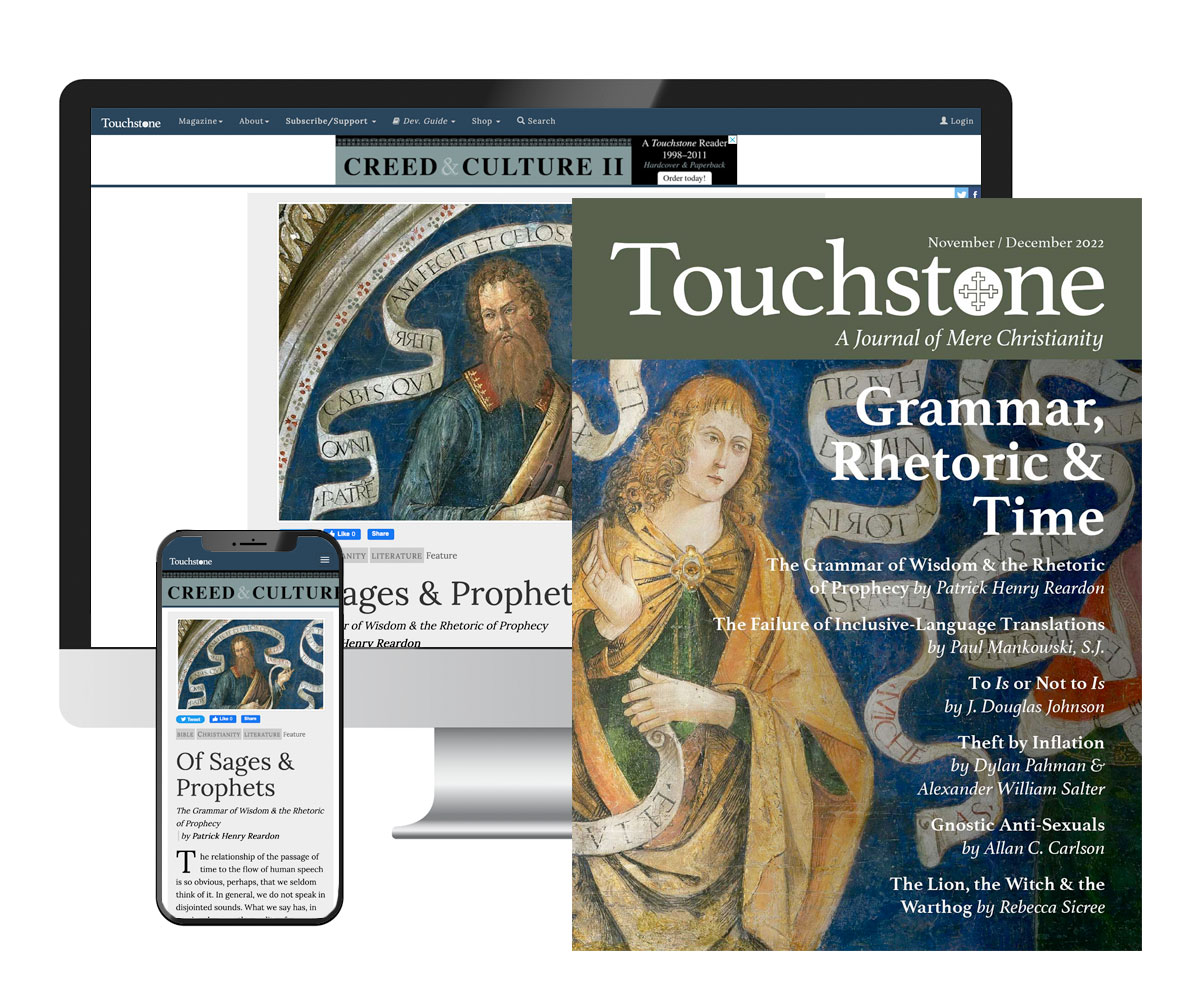 Get six issues (one year) of Touchstone PLUS full online access for only $29.95. That's only $2.50 per month!
Your subscription goes a long way to ensure that Touchstone is able to continue its mission of publishing quality Christian articles and commentary.
*Transactions will be processed on the secure server of The Fellowship of St. James website, the publisher of Touchstone.
from the touchstone online archives