For complete online access to new issues of Touchstone, subscribe today!
---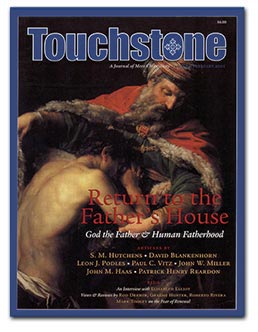 As It Is Written...
Let Your Face Shine Upon Us
by Patrick Henry Reardon

Practical Christianity
With All Thy Soul
by Thomas S. Buchanan



Debating Design
The Concordia Conference on Intelligent Design
by Patrick Henry Reardon

The Fear of Renewal
Seminary Event Blasts Mainline Reform Groups
by Mark Tooley



A Boyhood Stolen
As Nature Made Him
by John Colapinto
A review by Graeme Hunter

Uncommon Valor & Common Virtue
Flags of Our Fathers
by James Bradley
with Ron Powers
A review by Roberto Rivera

Orthodox Ecology
Beyond the Shattered Image
by John Chryssavgis
A review by Vincent Rossi

Doers of the Word
Living the Christian Story
by Sister Mary Jean Manninen, CSM
A review by Richard J. Mammana, Jr.



The Eternal Fatherly
by Leon J. Podles



Fatherhood Uprooted
A Sociologist Looks at Fatherlessness & Its Causes
by David Blankenhorn

Missing Fathers of the Church
The Feminization of the Church & the Need for Christian Fatherhood
by Leon J. Podles

The Father Almighty, Maker of Male & Female
A Psychologist Looks at the Importance of God the Father for Male & Female Identity
by Paul C. Vitz

Rays of Fatherhood Shining Forth
Why We Call God "Father": Biblical & Cultural Considerations
by John W. Miller

The Christian Heart of Fatherhood
The Place of Marriage, Authority & Service in the Recovery of Fatherhood
by John M. Haas

Thou Art the Everlasting Son of the Father
The Christian Meaning of the Fatherhood of God
by Patrick Henry Reardon



The Craft of Fatherhood
S. M. Hutchens on Christian Fatherhood

Too Close for Comfort
Rod Dreher on Liberal Christianity



Woman on A Mission
Elisabeth Elliot on Missions, Youth, Men & Women



Every issue of Touchstone also contains short commentaries by our editors, notices of books you should know about, and our spirited letters section.