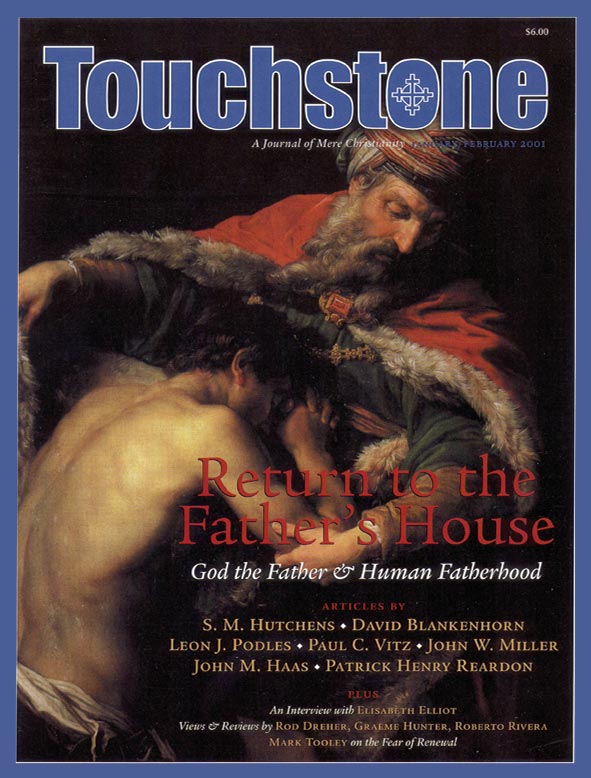 editorials

by Leon J. Podles


columns
As It Is Written...
by Patrick Henry Reardon


Practical Christianity
by Thomas S. Buchanan


interview
Elisabeth Elliot on Missions, Youth, Men & Women
Report
The Concordia Conference on Intelligent Design
by Patrick Henry Reardon


Report
Seminary Event Blasts Mainline Reform Groups
by Mark Tooley



Gray articles not available for online viewing. Login or subscribe today for full access!
features
A Sociologist Looks at Fatherlessness & Its Causes
by David Blankenhorn


The Feminization of the Church & the Need for Christian Fatherhood
by Leon J. Podles


The Father Almighty, Maker of Male & Female
A Psychologist Looks at the Importance of God the Father for Male & Female Identity
by Paul C. Vitz


Rays of Fatherhood Shining Forth
Why We Call God "Father": Biblical & Cultural Considerations
by John W. Miller


The Christian Heart of Fatherhood
The Place of Marriage, Authority & Service in the Recovery of Fatherhood
by John M. Haas


Thou Art the Everlasting Son of the Father
The Christian Meaning of the Fatherhood of God
by Patrick Henry Reardon


views
S. M. Hutchens on Christian Fatherhood


Rod Dreher on Liberal Christianity


book reviews
As Nature Made Him
by John Colapinto
by Graeme Hunter


Uncommon Valor & Common Virtue
Flags of Our Fathers
by James Bradley
with Ron Powers
by Roberto Rivera


Beyond the Shattered Image
by John Chryssavgis
by Vincent Rossi


Living the Christian Story
by Sister Mary Jean Manninen, CSM
by Richard J. Mammana, Jr.


departments