For complete online access to
new issues of Touchstone, subscribe today!
---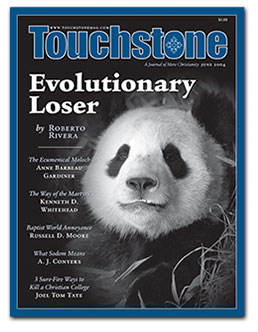 Servants of the Day
by Anthony Esolen



As It Is Written...
Calculating Delilah
by Patrick Henry Reardon



Baptist World Annoyance
For Unity's Sake, Southern Baptists Separate from World Alliance
by Russell D. Moore



Old Landmarks
The Church and the Land
by Fr. Vincent McNabb,
Flee to the Fields
A review by Addison H. Hart

This Old Kirk
Off the Sand Road,
What Shadows We Pursue
by Russell Kirk
A review by Robert W. Grano



Witnesses of the Passion
The Early Church's Martyrs—A Tough but Necessary Act to Follow
by Kenneth D. Whitehead

A Sensible Growth in God
How to Make True Progress According to St. Athanasius
by Addison H. Hart

The Ecumenical Moloch
The Latest Assault on the Unborn in the Name of the World's Religions
by Anne Barbeau Gardiner



Of Pandas & Men
Roberto Rivera on Darwinisn & Why We Let the Pandas Live

Pass-Fail 101
Joel Tom Tate on Three Ways to Make or Break a Christian College

As Bad As We Get
A. J. Conyers on Homosexuality as a Sign of Ultimate Corruption

Life Talk
J. C. Willke on the Words Pro-Lifers Ought to Use



Every issue of Touchstone also contains short commentaries by our editors, notices of books you should know about, and our spirited letters section.