This Old Kirk
Off the Sand Road: Ghost Stories, Volume One
by Russell Kirk
Ashcroft, British Columbia: Ash-Tree Press, 2002
(216 pages; $45.00, hardcover, limited printing)
What Shadows We Pursue: Ghost Stories, Volume Two
by Russell Kirk
Ashcroft, British Columbia: Ash-Tree Press, 2003
(261 pages; $45.00, hardcover, limited printing)
reviewed by Robert W. Grano
Russell Kirk is widely considered one of the fathers of the American conservative movement of the last century, owing in good part to his monumental work The Conservative Mind, whose publication in 1953 was something of a watershed in the history of American political thought. What many people do not know is that Kirk was also an accomplished writer of ghost stories. Among aficionados, he is often considered one of the best American writers of supernatural fiction of the twentieth century, up there with such worthies as H. P. Lovecraft, Fritz Leiber, and Manly Wade Wellman.
Collections of his stories were published in 1962, 1979, and 1984, but none of those are still in print. To the rescue comes the Canadian small-press publisher Ash-Tree Press, which has reprinted all 22 of his short stories in two handsome, matching hardcover volumes.
On one level, a reader can enjoy these tales simply as well written, entertaining short stories. Go a bit deeper, however, and you will find all manner of moral and spiritual concerns. As in Flannery O'Connor's stories, the protagonists are often given a chance to respond to or to reject grace, to their salvation or their detriment. A Spirit-inspired moment of self-realization, a step, however small and halting, towards repentance, or the opportunity to perform a selfless act to help another—these are the moments that make O'Connor's and Kirk's stories inspirational, in the best sense of the word.
Nevertheless, Russell Kirk's stories are not preachy, any more than O'Connor's, even if Kirk was somewhat more explicit in his Christianity than was the young lady from Georgia. Although some critics have argued that these stories are primarily vehicles for Kirk's religious and political ideas, wiser critics, such as John Pelan, the editor of these volumes, realize that Kirk's spiritual and moral concerns manifested themselves in these stories naturally.
Kirk himself stated this in his essay, "A Cautionary Note on the Ghostly Tale," included in volume one:
As a literary form . . . the uncanny tale can be a means for expressing truths enchantingly. But I do not ask the artist of the fantastic to turn didactic moralist; and I trust that he will not fall into the error that the shapes and voices half-glimpsed and half-heard are symbols, merely.
What Kirk has done with the medium of the ghost story itself is no less important to these stories' success than what he has done with the morality and spirituality inherent in them. He took the traditional English-style ghost story of such masters as M. R. James, H. R. Wakefield, and A. M. Burrage and infused it with man's perennial concerns as seen through late twentieth-century eyes. As Pelan notes in his introduction to volume one, "Kirk found his spectres among the desolation of the quiet places," as opposed to his contemporary, Fritz Leiber, whose city ghosts were "creatures of soot and ash, manifestations of material progress gone wrong."
Both men, however, dealt with similar issues: the fear of death, the alienation and loneliness of modern life, the threat of the violent, and terror of the unknown. Leiber's horrors were urban, Kirk's rural, but the underlying concerns are the same. Add to these Kirk's particular emphases on supernatural and personal evil (in his stories, as in life, the two are inseparably connected) and sin and salvation, and the results are some very successful "experiments in the moral imagination."
Several of the stories here are classics, ranking among the best supernatural tales of all time. The most famous is probably "There's A Long, Long Trail A-Winding," which won the World Fantasy Award for best short story in 1977, and was one of the highlights of Kirby McCauley's brilliant anthology Frights. The tale is a masterpiece, in which Kirk dresses the story of a drifter's spiritual journey in the guise of a rousing supernatural adventure.
Another well-known tale, "Behind the Stumps," reads like a cross between M. R. James and Flannery O'Connor, with a bit of H. P. Lovecraft thrown in for spice. Cribben, an over-zealous and self-important census taker, relishes the duty of interviewing a backwoods family called the Gholsons. Everyone in the town warns him that they are better left alone, but his pride and "pertinacity" make him relish the challenge. He is a man who does not love precision for the sake of truth, but who "regarded truth only as an attribute of precision." As such, he has to census the Gholsons—he can leave nothing undone. Of course, the reader knows from the outset that what he'll find in their dilapidated farmhouse "behind the stumps" will be less than pleasant.
Other stories ("Watchers at the Strait Gate," "Saviourgate," "An Encounter by Mortstone Pond") call to mind the novels of Charles Williams, in which the separation between the living and the dead is tenuous and fluctuating, and can be breached if God wills it. "The Reflex-Man in Whinnymuir Close" is a tour-de-force written in a mock-archaic style, claiming to be a manuscript from the early eighteenth century. This is a romance in the old sense, an exciting tale of sin, salvation, and supernatural retribution. Other standouts include "Uncle Isaiah," about an "eccentric" relative who has a unique way of handling threats to his family, and "The Invasion of the Church of the Holy Ghost," which concerns an Anglican priest fighting supernatural evil in his church and in his soul.
The books themselves are of very fine quality, as is customary from Ash-Tree Press, and feature dust jackets with illustrations by Kirk himself. The introductions are informative and perceptive. Only 500 copies of each volume have been printed, and there is little doubt that they will move quickly.
Robert W. Grano is a freelance writer from Pittsburgh, Pennsylvania. He is a regular book reviewer for All Hallows: The Journal of the Ghost Story Society. He is a convert to Eastern Orthodoxy via the Assemblies of God and the Episcopal Church.
Not a subscriber? Subscribe to Touchstone today for full online access. Over 30 years of content!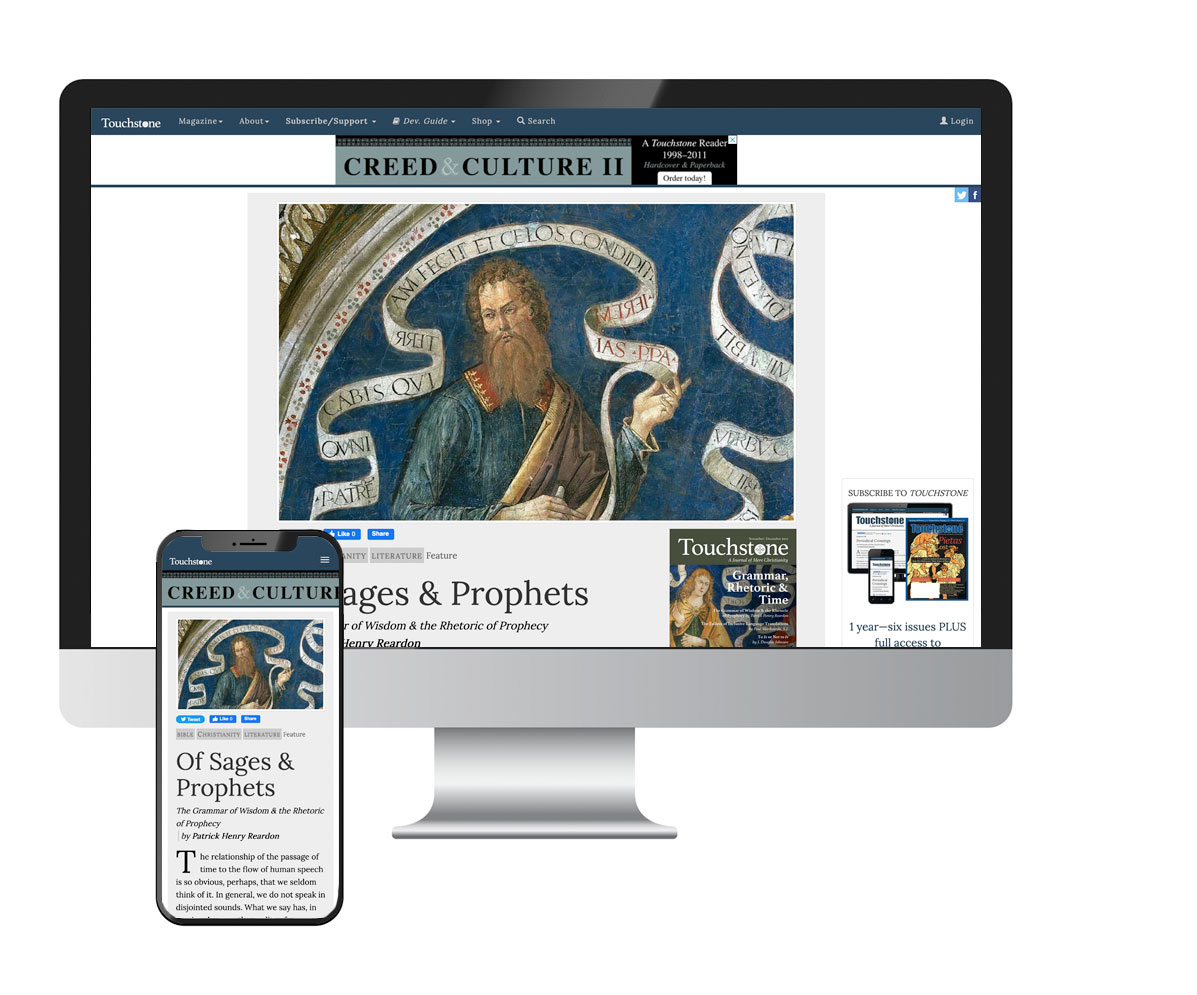 Get a one-year full-access subscription to the Touchstone online archives for only $19.95. That's only $1.66 per month!
Purchase Print &
Online Subscription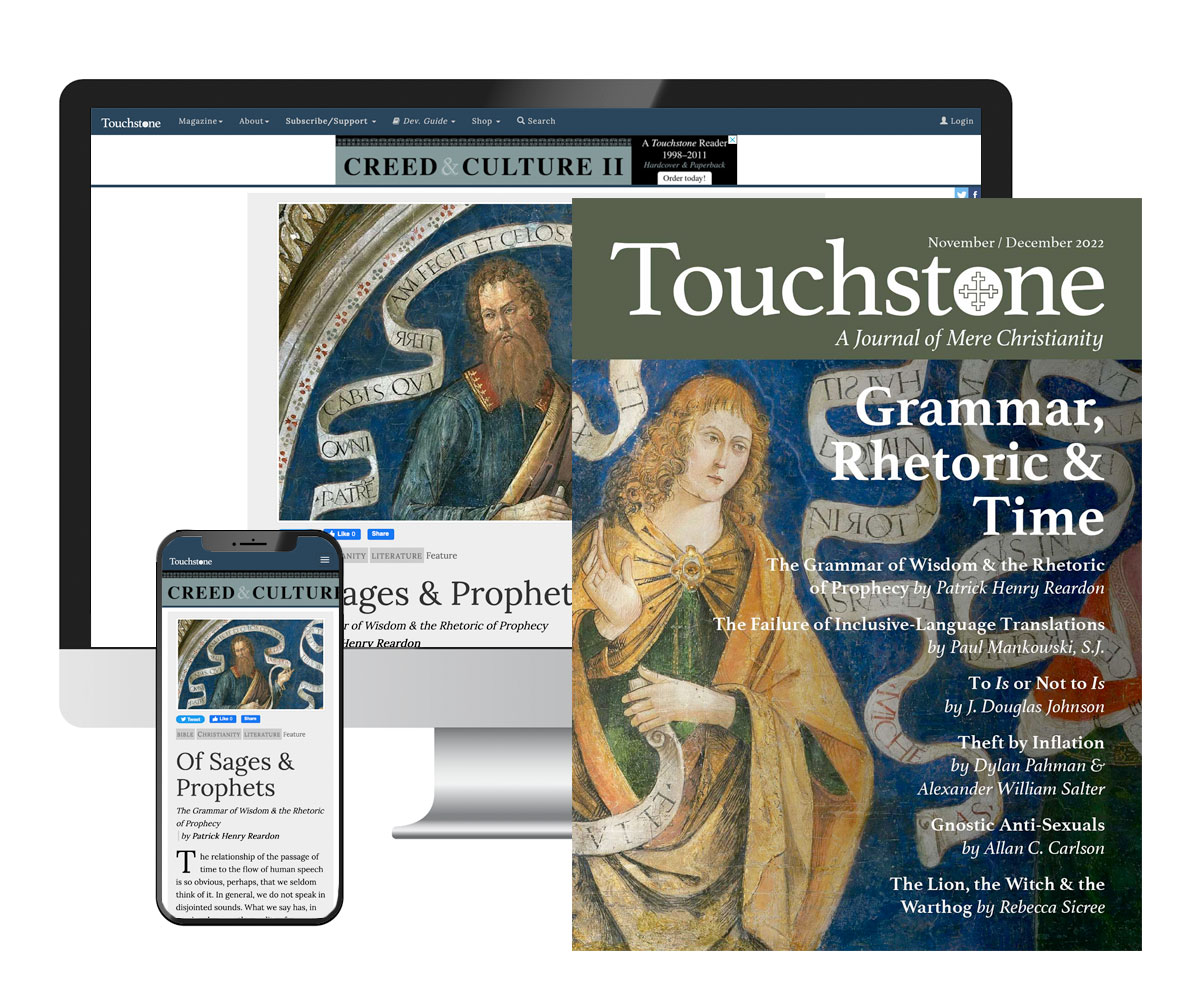 Get six issues (one year) of Touchstone PLUS full online access for only $29.95. That's only $2.50 per month!
Your subscription goes a long way to ensure that Touchstone is able to continue its mission of publishing quality Christian articles and commentary.
*Transactions will be processed on the secure server of The Fellowship of St. James website, the publisher of Touchstone.
from the touchstone online archives