For complete online access to
new issues of Touchstone, subscribe today!
---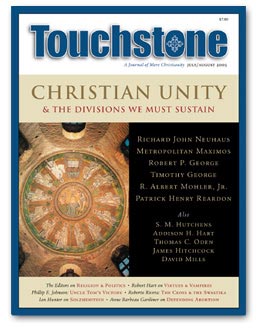 Episcopal Duties
by Patrick Henry Reardon

"First, Do No Harm"
by James Hitchcock



The Leading Edge
Uncle Tom?s Victory
by Phillip E. Johnson

As It Is Written...
The Parables & the Structure of the World
by Patrick Henry Reardon



Unity, Truth & Christian Identity
In One Body Through the Cross
edited by Carl E. Braaten and
Robert W. Jenson
A review by S. M. Hutchens

The Unnatural in Pursuit of the Unreal
A Defense of Abortion
by David Boonin
A review by Anne Barbeau Gardiner

Rational Beasts
Dominion by Matthew Scully
A review by Christopher Killheffer



"That They May Be One"
Prospects for Unity in the Twenty-First Century
by Richard John Neuhaus

A Realistic Alliance
A Response to Richard John Neuhaus
by S. M. Hutchens

Turning Our Hearts to the Fathers
The Orthodox Church & Christian Unity
by Metropolitan Maximos

Turning Our Hearts to the Cross
A Response to Metropolitan Maximos
by Addison H. Hart

The Divisions We Must Sustain
Cultural Division & Christian Unity
by Robert P. George

The Emergent Ecumenism
A Response to Robert P. George
by Thomas C. Oden

The Unity of Faith
Evangelicalism & "Mere Christianity"
by Timothy George

The Paradox of Enemies & Allies
A Response to Timothy George
by James Hitchcock

Standing Together, Standing Apart
Cultural Co-belligerence Without Theological Compromise
by R. Albert Mohler, Jr.

Standing with Christ
A Response to R. Albert Mohler, Jr.
by David Mills

Communion & Division
The Structure of Knowledge
by Patrick Henry Reardon



Mall Christianity
Gillis J. Harp on Seeker Sensitivity & Cultural Captivity

The Last Prophet
Ian Hunter on Alexander Solzhenitsyn

The Cross & the Swastika
Roberto Rivera on Christianity & Anti-Semitism

No Dread of the Undead
Robert Hart on Virtues & Vampires



Every issue of Touchstone also contains short commentaries by our editors, notices of books you should know about, and our spirited letters section.