For complete online access to
new issues of Touchstone, subscribe today!
---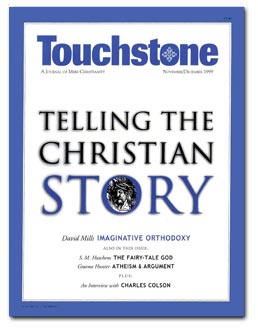 "Diminish Not a Word"
by Louis R. Tarsitano

A Noble Company of Martyrs
by S. M. Hutchens



Practical Christianity
Virgin Soldiers
by Thomas S. Buchanan



Norwegian Woes
by William J. Tighe



Blinded by Ambition?
Blinded by Might
by Cal Thomas and
Ed Dobson
A review by James Hitchcock

A Wall of Containment?
The American Myth
of Religious Freedom
by Kenneth R. Craycraft, Jr.
A review by Gerald J. Russello

A Few More Good Men
For Men Only:
Strategies for Living Catholic
by Mitch Finley
A review by Philip F. Kelly, Jr.

Covering the Vatican
History of Vatican II
edited by Giuseppe Alberigo
Milestones: Memoirs 1927?1977
by Joseph Cardinal Ratzinger
A review by Patrick Henry Reardon



Atheism & Argument
The Attraction & Poverty of Disbelief
by Graeme Hunter

Imaginative Orthodoxy
The Art of Telling the Christian Story
by David Mills

The Fairy-Tale God
Truth & Deceit in Children's Fiction
by S. M. Hutchens



Whatever Happened to Sleeping Around?
Richard Kew on Youth & Traditionalism

A Kindly Heresy
Louis R. Tarsitano on Niceness



Backyard Apologetics
An Interview with Charles Colson



Every issue of Touchstone also contains short commentaries by our editors, notices of books you should know about, and our spirited letters section.