Covering the Vatican
History of Vatican II. Volume I: Announcing and Preparing Vatican Council II. Toward a New Era in Catholicism
edited by Giuseppe Alberigo. English version edited by Joseph A. Komonchak
Maryknoll, New York: Orbis Books, 1995.
(527 pages; $80.00, cloth)
History of Vatican II. Volume II: The Formation of the Council's Identity. First Period and Intersession. October 1962—September 1963
edited by Giuseppe Alberigo. English version edited by Joseph A. Komonchak
Maryknoll, New York: Orbis Books, 1997.
(603 pages; $80.00, cloth)
Milestones: Memoirs 1927–1977
by Joseph Cardinal Ratzinger
San Francisco: Ignatius Press, 1999.
(156 pages; $12.95, paper)
by Patrick Henry Reardon
One summer evening back in 1966, while a guest at the home of the Roman Catholic chaplain at the University of Basel, I accepted his invitation to attend an informal parlor gathering of some of the students, mainly undergraduates, I believe, who were meeting to discuss what was then the hottest topic on campus. A recent movie? A new album? No—of all things—the Second Vatican Council, only recently completed down in Rome. Still vivid in my memory remains the enthusiastic interest of those Swiss and German young people (all a decade or so younger than myself) whose imaginations had been fired by an international assembly of bishops. Armed with a German translation of the documents of Vatican II, those bright and well-informed students sat for hours, late into the night, discussing the implications of Vatican II for their own lives and for the future of Europe. Indeed, the irony of their zealous reaction has by no means diminished in my mind during the ensuing years, so that even now I can almost not believe the clear testimony of my recollection.
In spite of a very imperfect and hobbled command of German, I was able to contribute somewhat to that informal discussion. Indeed, I was considered to enjoy an advantage in the little gathering, inasmuch as I had attended some sessions of Vatican II itself. (How I had contrived to enter St. Peter's Basilica in order to do this, never having been issued an entrance ticket, will not be revealed in these pages, as I am aware of no reliable statute of limitations with respect to such offenses. Suffice it to say here that my efforts to crash exclusive Roman gatherings were not invariably successful, and on one sad occasion at St. Paul's I was obliged to feign ignorance of at least a dozen languages, the final two or three of which, in fact, I was actually unable to speak, before my unceremonious ejection from the press gallery. On this last occasion I needed a full five minutes to find a way back inside and a position up close.)
Those were halcyon days, and the memory of their excitement came rolling back to my mind as I read the three volumes here under review. When Vatican II opened in St. Peter's on October 12, 1962, almost four years had elapsed since Pope John XXIII, apparently having consulted almost no one on the subject, suddenly announced it in the course of a short address to a small group of cardinals gathered at the Basilica of St. Paul Outside the Walls. It must have been a shock, his having been elected bishop of Rome at age 79 only 90 days earlier, on October 28, 1958. Since no contemporary records of that little gathering at St. Paul's have yet come to light, however, we are not entirely certain of the reaction of the cardinals who first heard him. The rest of the world was electrified at the news.
Whose idea was this council originally? In spite of the scores of volumes and thousands of articles written about Vatican II, we will probably never know for absolutely certain. What we do know, however, is that the two-phased preparation for the council lasted nearly four years, longer than the council itself. The progress of that lengthy preparation is chronicled in marvelous detail in Volume I (of a projected five) of History of Vatican II.
At the insistence of the pope, a series of questionnaires and other inquiries went forth to all the bishops of the Roman Catholic Church, all her religious orders, all her seminary faculties, and so forth, asking for suggestions and preferences to implement the pope's announced goal of modernizing the Church with a view to improving her ministry in a changing world. Gradually, and not without considerable Vatican infighting, much of the control of these preparations came effectively under the oversight of more conservative members of the Roman curia, which is the normal central administrative organism of the Roman Catholic Church. The narrative of those days makes most interesting reading, and this detailed published account I found almost spellbinding. Moreover, since so much of the conciliar preparation had been conducted in relative secrecy, a great deal of this material was completely new to me.
The second volume in the same series deals with the council's first session and the next summer's intersession, with special attention given to the death of Pope John XXIII and the election of Cardinal Montini as Pope Paul VI. In that first session a group of very aggressive bishops almost immediately took the council in directions not planned by the more conservative Roman curia. Indeed, ninety percent of the preparatory documents were never even brought to consideration. Moreover, the bishops eventually created an entirely new document dealing with the place of the Roman Catholic Church in the modern world.
Although more of the historical details of Volume II of this series were already better known, having been covered in the press at that time and in many volumes of memoirs published since then, it is a singular blessing to have them all chronicled in the same very readable style that characterized Volume I. Both books are composed of separate essays written by scholars, internationally chosen, whose studies specialized on specific aspects of the council, but careful planning and editing have produced a steady chronological treatment that renders the story very clear and coherent.
The high cost of these two books will largely restrict their circulation to libraries, one fears, but they are recommended here with enthusiasm, and the subsequent three volumes are similarly anticipated.
The third book here under consideration is a delightful little set of memoirs by Cardinal Ratzinger. Having served as a theological expert at Vatican II while a young theology professor, Ratzinger has in more recent years been charged with directly implementing the decrees and decisions of Vatican II, serving as the Prefect of the Congregation for the Doctrine of the Faith. This latter position is arguably the most important in the entire Vatican after the papal ministry itself. Ratzinger's book is remarkable for his vivid reminiscences of growing up in the Bavaria of the Third Reich, and then his early adulthood as a student, priest, and professor during the postwar years. Hitherto knowing him only from his books and what the press says about him (though I did see him up close in Munich last year, having intruded myself into yet another gathering), I have always liked and respected Cardinal Ratzinger, but this little volume, which covers his life up to his election as a bishop in 1977, enhances these sentiments considerably.
Patrick Henry Reardon is pastor of All Saints Antiochian Orthodox Church in Chicago, Illinois. He is the author of Christ in the Psalms, Christ in His Saints, and The Trial of Job (all from Conciliar Press). He is a senior editor of Touchstone.
Not a subscriber? Subscribe to Touchstone today for full online access. Over 30 years of content!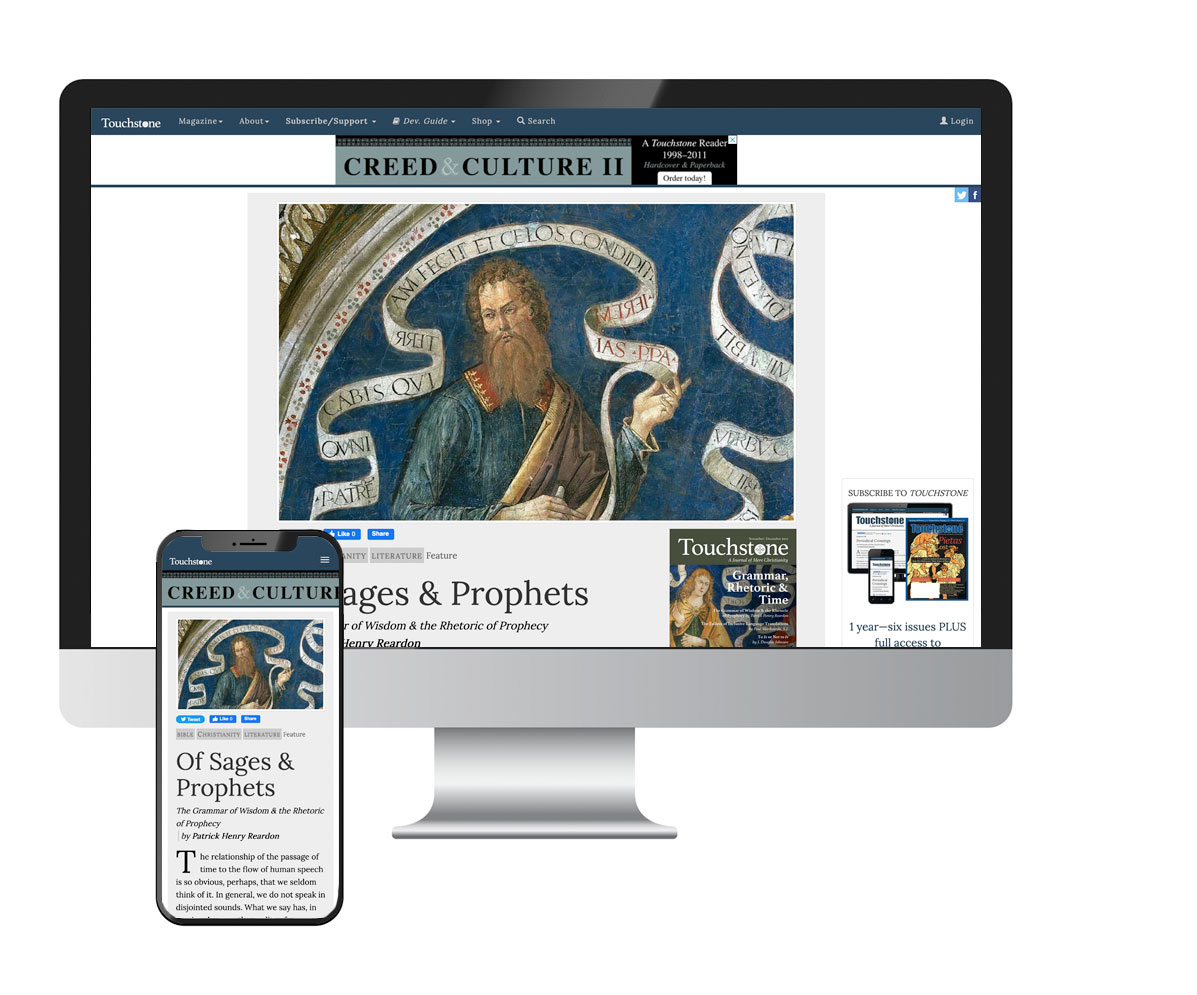 Get a one-year full-access subscription to the Touchstone online archives for only $19.95. That's only $1.66 per month!
Purchase Print &
Online Subscription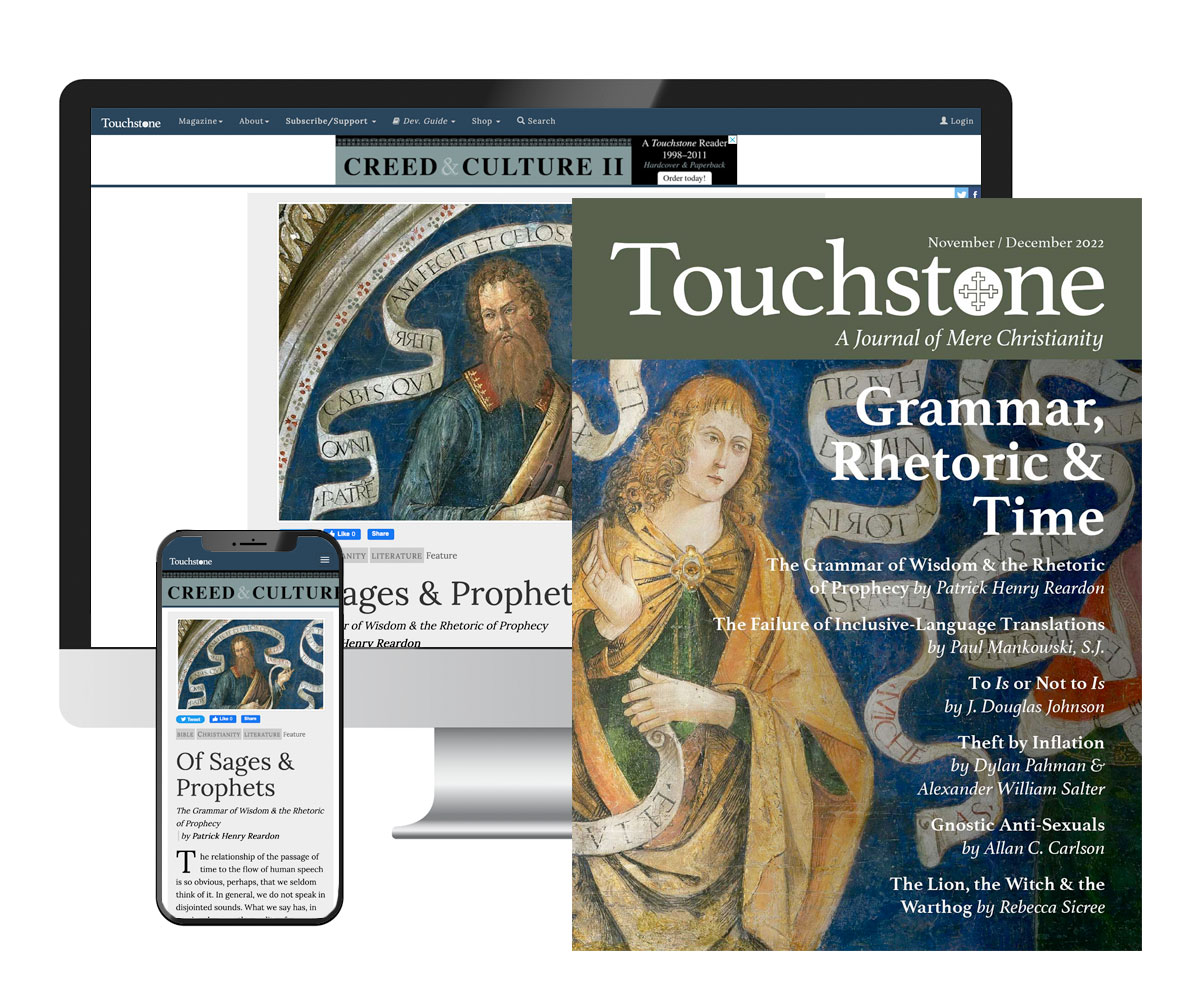 Get six issues (one year) of Touchstone PLUS full online access for only $29.95. That's only $2.50 per month!
Your subscription goes a long way to ensure that Touchstone is able to continue its mission of publishing quality Christian articles and commentary.
*Transactions will be processed on the secure server of The Fellowship of St. James website, the publisher of Touchstone.
from the touchstone online archives