For complete online access to
new issues of Touchstone, subscribe today!
---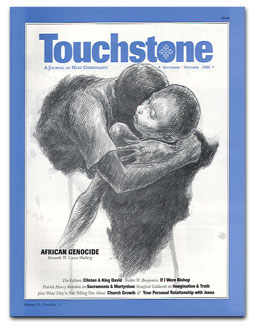 Clinton & King David
by Leon J. Podles

The Word & the Words
by David Mills

Bishops & the Word
by S. M. Hutchens



Practical Christianity
Practicing Wisdom
by Thomas S. Buchanan



Church News from Washington
by Mark Tooley

A Small Anglican Miracle
by Louis R. Tarsitano



Faith Without Ethics
Not by Faith Alone
by Robert A. Sungenis
A review by S. M. Hutchens



The Orthodox Churches & the World Council of Churches

With contributions by
Peter Bouteneff,
S. M. Hutchens,
David Mills,
Louis R. Tarsitano
& Gene Edward Veith



A Glimmer from the East
Orientale Lumen II—An Orthodox Account
by Patrick Henry Reardon

If I Were the Bishop . . .
A Ten-Point Epistle to the Bishops of the Methodist Church
by Walter W. Benjamin

Revising Our Pledges of Allegiance
From "Christian America" to the Gospel of the Resurrection
by Ashley Woodiwiss

Anatomy of a Genocide
The Crown, the Church, Ethnicity, & the State in the Rwandan Crisis
by Kenneth W. Gunn-Walberg

Sacraments, Martyrdom & the Sons of Zebedee
Two Gospel Texts in the Tradition
by Patrick Henry Reardon

Speaking the Truths Only the Imagination May Grasp
An Essay on Myth &"Real Life"
by Stratford Caldecott



Why Can't I Grow a Church Like the Big Guns?
Don Fothergill on What They're Not Telling You

Chief Shoefoot's Rebuke
Preston Jones on the Multicultural Gospel

Is a Personal Relationship with Jesus What I Really Want?
Peter Toon on the Theology of Salvation



Every issue of Touchstone also contains short commentaries by our editors, notices of books you should know about, and our spirited letters section.