Why Can't I Grow a Church Like the Big Guns?
Don Fothergill on What They're Not Telling You
I've been a student of church growth for almost 20 years.
I have studied, looked up to, and attempted to emulate the golden boys of our generation. Men like Bill Hybels, John Wimber, and Rick Warren write books, host conferences, and travel around the world to share their secrets. I've read their books, attended their conferences, spoken to them, and attempted to implement their stuff, without, however, anywhere near their results. I would suspect that many of you have had similar experiences.
I have seen a number of Willow Creek and Vineyard church starts struggle to survive for years. I've spent time with pastors who have eventually thrown in the towel after being unable to duplicate what their mentors modeled. All the while I've sensed something is wrong here.
Striving for a handle on this, three observations have helped me put into perspective the huge gap between the external "success" of some of these church growth giants and the "minimal progress" that we rank-and-file struggling servant leaders experience.
First of all, many of the prominent church growth success stories take place in communities where population growth is exploding. Southern California and the beltway around Chicago are classic examples of where some communities are doubling in size every seven to ten years. Attempting to grow a church in a stagnant community such as Newark, Milwaukee, St. Louis, or Boston is a totally different ballgame from growing a church in communities such as South Barrington, or Saddleback Valley, where construction workers live in building heaven. The "windfall" growth in the communities alone is staggering.
A second factor that is rarely acknowledged or addressed by these church-growth gurus is the heavy, almost cement-like truth that most of us minister in a fellowship where we have inherited a number of "immovable pillars" of the church. The majority of the "miracle grow" fellowships we read about are new church plants where the charismatic pastor has 100 percent authority and trust right from the start. In contrast to this, most of us in established churches are received like stepparents into a functioning family that has a long history before we came on the scene. Not only does trust and authority come slowly, but there are always a handful of local power players to be reckoned with who make change and growth an incredibly difficult challenge.
Finally, most of the "church growth experts" who seem to have "the Midas touch" are incredibly gifted leaders. Much of what they do they can get away with because of their leadership gift. Most of us rank-and-file pastors either do not have the same gifting or lack the heightened development of those leadership gifts. Hybels could sell furnaces on the equator, and Wimber can walk on water. You and I must work with feet of clay.
I have yet to attend a church-growth conference or read a church-growth book that mentions the above three factors. Instead, they focus on the strategies that were followed in order to produce the tremendous growth. My hunch is that any gifted leader placed in a rapidly growing community would be able to grow some kind of "mega church" regardless of the strategy or specifics. The rest of us who find ourselves in old churches, furnished with "immovable pillars," in communities that are not growing, and not having the same outstanding leadership gifts, live under a cloud of frustration most of our lives.
I wish the message we heard from these "supermen" was not "you can build a huge church like I've done if you follow these principles," but something that would go more along these lines: "In reality, I have only one thing to share with you. It has nothing to do with using our church or our experience as a model. It has to do with walking so closely with God that you begin to know exactly what His call for your life looks like. Cultivate the ability to be still in His presence so that you are able to discern His will, hear His voice, see His game plan for your life. That game plan is unique and it is not like anybody else's game plan. Don't do what we've done except the listening to God part. Don't buy a fleet of buses or overhead projectors or advertisements in the paper just because we did it.
"The best thing, the only thing you can do in order to be successful, is to find out what God's doing in your community and join up with Him. I guarantee you that what He's doing in your community will be different than what He's doing in our community. Don't ever, ever, ever try to be a Bill Hybels, or a Rick Warren, or a John Wimber. Be yourself.
"Being yourself takes a lot of work. It means standing daily in God's presence and allowing His Spirit to scrutinize every nook and cranny in your life. If you are unwilling to do that, you might as well sell insurance or pump gas, because God can't use you as a leader. This calling is not about doing your thing or my thing; it is about doing God's thing. If you can latch onto that, you will have more of value than if you read a hundred books and attended a thousand church-growth seminars."
I find it disappointing that no "church-growth expert" is saying that message. I find it ironic that the one man who does proclaim that message, Eugene Peterson, has left his church and taken up teaching at a seminary. I seemed to recall it was written or commanded somewhere that the successful man should not write of all his successes or the gifted man hold conferences about his giftedness. Or the man of charisma go on the television with his charisma. But rather, if one has to go public it should be with the message that: "'he knows Me. For this is what I delight in', says the Lord." (Jeremiah 9:23–24 paraphrased)
Dr. Don Fothergill is Senior Pastor of Washington Congregational Church, Toledo, Ohio. He is author of the book How to Resurrect a Dead Church, as well as a regular columnist for RenewaLife. This article was reprinted from the Winter 1997/98 issue.
Not a subscriber? Subscribe to Touchstone today for full online access. Over 30 years of content!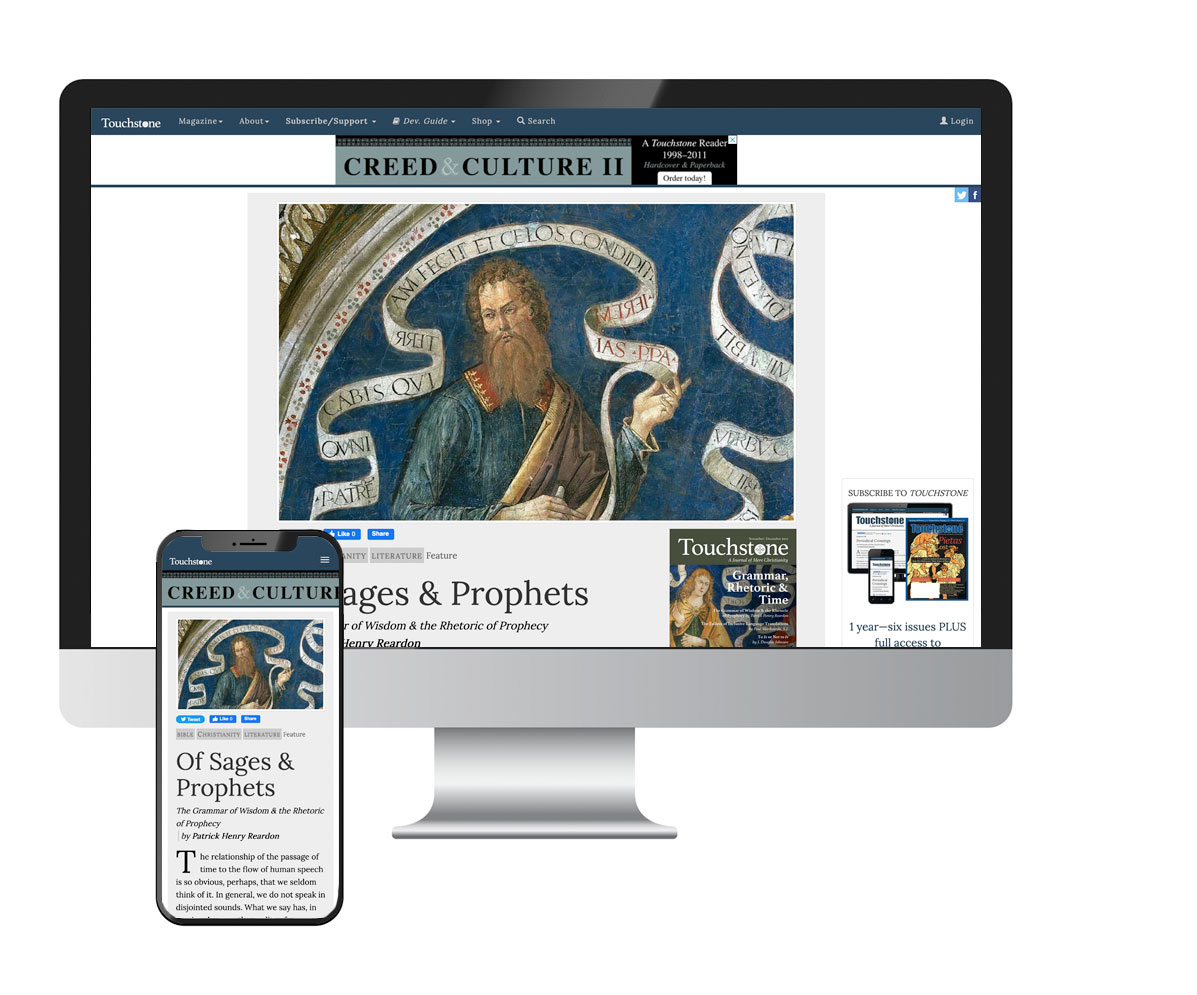 Get a one-year full-access subscription to the Touchstone online archives for only $19.95. That's only $1.66 per month!
Purchase Print &
Online Subscription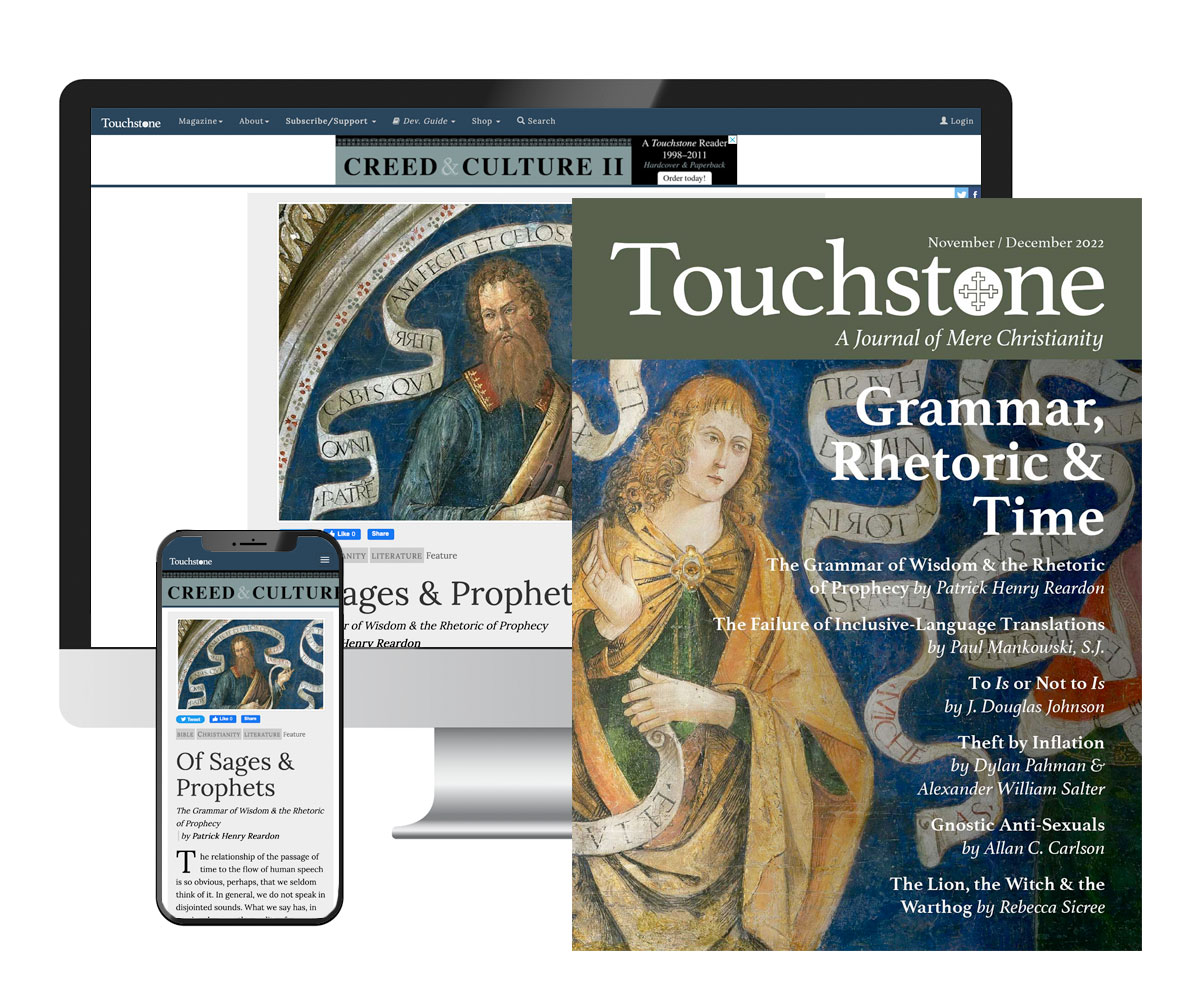 Get six issues (one year) of Touchstone PLUS full online access for only $29.95. That's only $2.50 per month!
Your subscription goes a long way to ensure that Touchstone is able to continue its mission of publishing quality Christian articles and commentary.
*Transactions will be processed on the secure server of The Fellowship of St. James website, the publisher of Touchstone.
from the touchstone online archives