For complete online access to
new issues of Touchstone, subscribe today!
---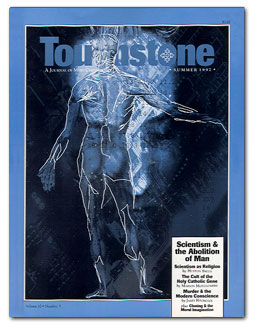 Our Agenda, Our Weakness,
by John Thompson



Practical Christianity
Worthy of the Name
by Thomas S. Buchanan



Church News from Washington
by Mark Tooley

Bible Translation as Battleground
Problems in Gender Changes from the New International Version to the New International Version Inclusive Language Edition
by John Piper



Three Views of One Great Tradition
Reclaiming the Great Tradition: Evangelicals, Catholics, and Orthodox in Dialogue
A review by John Thompson



Scientism: The World's Littlest Religion
How Theology Must Confront the New Global Religion of Scientism
by Huston Smith

The Cult of the Holy Catholic Gene
The Human Genome & the New Religion of the Scientific Social Engineer
by Marion Montgomery

Murder & the Modern Conscience
A Case Study of Two Murders, the Trials, and the Question of Moral Responsibility
by James Hitchcock



Have a Nice Church!
by Peter Toon

Rest in Remembrance
by S. M. Hutchens

Cloning & the Moral Imagination
by A. J. Conyers



Every issue of Touchstone also contains short commentaries by our editors, notices of books you should know about, and our spirited letters section.