For complete online access to
new issues of Touchstone, subscribe today!
---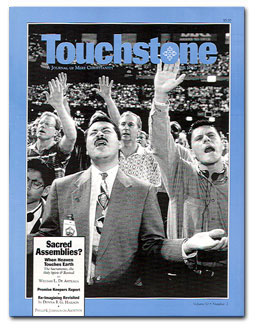 First Things & the Mandate of Heaven
by S. M. Hutchens

Our Common Challenge
by James Hitchcock



Practical Christianity
Truth or Consequences
by Thomas S. Buchanan



True Love Waits
by Fran Presley

When Madness Reigned
The crisis in Albania from the perspective of a missionary priest of the Orthodox Church of Albania
by Luke Veronis

Breaking Up Is Hard
The Indecisive Debate about Homosexuality in the Episcopal Church
by Doug LeBlanc



Missing Mr. Chesterton
Wisdom & Innocence: A Life of G. K. Chesterton by Joseph Pearce
A review by Adam Schwartz



When Heaven Touches Earth
The Holy Spirit, the Sacraments & Revival
by William L. De Arteaga

Re-Imagining Revisited
"Bless Sophia, Dream the Vision, Share the Wisdom Dwelling Deep Within"
by Donna F. G. Hailson



The Name of the Lord
S. M. Hutchens on the Third Commandment

Reasonable Laws & Respect for Life
by Phillip E. Johnson

Men of God Rising Up?
Stephen R. W. Cooper on a Report from Promise Keepers



Every issue of Touchstone also contains short commentaries by our editors, notices of books you should know about, and our spirited letters section.