For complete online access to
new issues of Touchstone, subscribe today!
---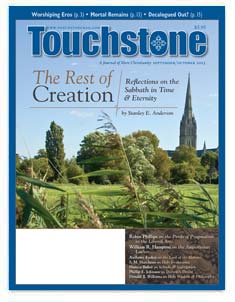 American Idolatry
by Allan Carlson

Good News or Dead End?
by S. M. Hutchens



The Leading Edge
Darwin's Doubt Still Mine
by Phillip E. Johnson

Contours of Culture /
From Heavenly Harmony
Communicable Dis-ease
by Ken Myers

Mortal Remains
What the Bishop Didn't Say
by S. M. Hutchens

Illuminations
The Lord of The Harvest
by Anthony Esolen

A Thousand Words
Raffaello Sanzio's The Sistine Madonna
by Mary Elizabeth Podles

As It Is Written...
Peter, Apostle
by Patrick Henry Reardon



God Save the Queen
A People of One Book: The Bible and the Victorians by Timothy Larson
A review by Louis Markos

Rediscovering Our Roots
The Theology of Pope Benedict XVI: The Christocentric Shift by Emery de Gaál
A review by Thomas A. Baima

Readable & Repeatable
The Collected Works of G. K. Chesterton Vol. 36: The Illustrated London News, 1932–1934
A review by John C. Chalberg



The Rest of Creation
Reflections on the Sabbath in Time & Eternity
by Stanley E. Anderson

More than Schooling
The Perils of Pragmatism in Christian Attitudes Toward the Liberal Arts
by Robin Phillips

The Augustinian Luther
A Pilgrimage in Search of the Reformer's Spiritual Director
by William R. Hampton



Lest Ye Forget The Covenant
Mark R. Elliott asks, What Happened to the Ten Commandments?

Hagia Sophia
Donald T. Williams on the Holy Wisdom at the Roots of Philosophy

Christian Schools & Racial Realities
Hunter Baker on Desegregation & the Rise of Christian Education in the South



Every issue of Touchstone also contains short commentaries by our editors, notices of books you should know about, and our spirited letters section.