For complete online access to
new issues of Touchstone, subscribe today!
---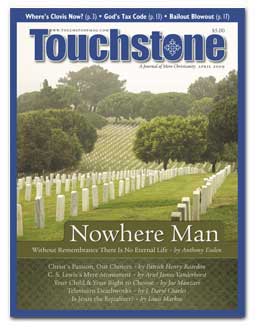 Past Present
by Anthony Esolen



Book Returns
Wasted by Watching
by J. Daryl Charles

Communiqué
Looking After Schools
by Joe Manzari

As It Is Written...
The Wife of Pilate
by Patrick Henry Reardon



In Egypt Land
The Copts and the West, 1439–1822: The European Discovery of the Egyptian Church
A review by Nader Abadir

Slavery in Black & White
Dwelling Place: A Plantation Epic by Erskine Clarke
A review by Robert Elder

Divine Legalities
The Law of God: The Philosophical History of an Idea by Rémi Brague
A review by Michael P. Orsi

On His Throne
Putting Jesus in His Place: The Case for the Deity of Christ by Robert M. Bowman, Jr., and J. Ed Komoszewski
A review by Fred Sanders



Nowhere Man
Without Remembrance There Is No Eternal Life
by Anthony Esolen

His Passion, Our Choices
Matthew's Trial of Jesus Is About More than Jesus
by Patrick Henry Reardon

Mere Atonement
C. S. Lewis & the Multiple Angles of Redemption
by Ariel James Vanderhorst



God & Robbers
Patrick Henry Reardon on Human & Divine Property Rights

Creating Equal
Louis Markos on the Inegalitarian Leadership of Jesus

Without Borders, Ltd.
Mark T. Mitchell on Bailout Schemes & the Loss of Limits



Every issue of Touchstone also contains short commentaries by our editors, notices of books you should know about, and our spirited letters section.