Looking After Schools
Who Supports the Needs of Children & Parental Rights?
by Joe Manzari
Every January 4 the Catholic Church in the United States celebrates the life and work of Elizabeth Ann Seton (1774–1821), the patron saint of Catholic schools. In 1975, under the authority of Pope Paul VI, Elizabeth Seton became the first native-born American to be canonized by the Catholic Church. Having a great concern for children who had a need for religious instruction but lacked educational opportunities, she started the first free Catholic school in America.
It was 200 years ago—March 25, 1809—that St. Elizabeth, looking to fully devote herself to the work of God, founded a teaching order and took vows of poverty, chastity, and obedience. She was devoted to the Scriptures, immersing herself daily in the Bible and receiving from it the wisdom and encouragement that would ultimately propel her to become an American pioneer in Catholic education. Seeing in her a woman who valued schooling and made it her life's work to help propagate the Christian faith, many Catholic teachers today look to her for inspiration and the fortitude to meet the needs of today's students.
Inspiration is sorely needed. Since 1990, about 300,000 Catholic elementary and high-school students have been displaced by the closure of more than 1,300 Catholic schools around the country.
In the summer of 2007, the archdiocese of Washington, D.C., and the city agreed on a plan to convert seven financially strapped Catholic schools into public charter schools to prevent them from shutting down. One of these schools was St. Cyprian's Catholic School. The marquee in front of the school now reads, "Center City Public Charter School. Tuition Free." Before the conversion, the church was spending $7,500 annually per student, but the most it could ask parents for was $4,500. As a charter school, the school now spends $9,000 per student, at the taxpayers' expense.
But what is left of a Catholic education when a school becomes public? At St. Cyprian's, crucifixes were removed from the walls, photos of Pope Benedict XVI were taken down, and icons of St. Cyprian, a martyred third-century bishop of Carthage, have been replaced by bare drywall and brick. There is no more mention of the gospel, the mission, or the hope of Christ. So what's a parent to do?
Parental Duty
Parents naturally feel responsible, and any help is welcome. Last year marked the twenty-fifth anniversary of the presentation of the "Charter of the Rights of the Family" by Pope John Paul II. The intention of the document was to use natural law to present the fundamental rights inherent in the universally foundational society that is the family. One of those rights is the right of parents to choose their children's education.
By their nature, the rights enunciated in the charter should be recognized and agreed upon by all people, not just Catholics. Being written on the hearts of all men, these principles hold true at all times and all places.
The Church has always affirmed that parents have an irreplaceable role in the family and especially in the education of children. According to the Catechism of the Catholic Church, "The fecundity of conjugal love cannot be reduced solely to the procreation of children, but must extend to their moral education and their spiritual formation. The role of parents in education is of such importance that it is almost impossible to provide an adequate substitute."
This means that the right and the duty of parents to educate their children are both primordial and inalienable. The Catechism then goes on to point out that "parents must regard their children as children of God and respect them as human persons. Showing themselves obedient to the will of the Father in heaven, they educate their children to fulfill God's law. Parents have the first responsibility for the education of their children."
Pope John Paul II, in his Encyclical Familiaris Consortio, expressed this same sentiment:
Since parents have conferred life on their children, they have a most solemn obligation to educate their offspring. Hence, parents must be acknowledged as the first and foremost educators of their children. Their role as educators is so decisive that scarcely anything can compensate for their failure in it. For it devolves on parents to create a family atmosphere so animated with love and reverence for God and others that a well-rounded personal and social development will be fostered among the children. Hence, the family is the first school of those social virtues which every society needs.
The State's Role
In reaffirming, for the good of society, the essential rights of the family, the charter offers a model and point of reference for the creation of legislation and public policy. In his "Charter of the Rights of the Family," John Paul II plainly lays out the role of the state in educating our children:
Parents have the right to freely choose schools or other means necessary to educate their children in keeping with their convictions. Public authorities must ensure that public subsidies are so allocated that parents are truly free to exercise this right without incurring unjust burdens. Parents should not have to sustain, directly or indirectly, extra charges which would deny or unjustly limit the exercise of this freedom.
The Catechism also reinforces this point:
As those first responsible for the education of their children, parents have the right to choose a school for them which corresponds to their own convictions. This right is fundamental. As far as possible parents have the duty of choosing schools that will best help them in their task as Christian educators. Public authorities have the duty of guaranteeing this parental right and of ensuring the concrete conditions for its exercise.
The charter makes it clear that since education is primarily the responsibility of parents, choice in education belongs to them, and education suffers when any other institution, including the government, attempts to fill that role.
With the massive government takeover of education that we have seen in the past thirty years, it is no surprise that our system of education has worsened. In the 2008 Gallup/Phi Delta Kappa International poll on education, participants were asked to give the US public school system a grade for performance. Roughly 80 percent of American respondents gave their public schools a grade of C or lower. Policy analysts have suggested everything from accountability to teacher pay to class sizes to video games as causes of the low grade. But public schools have failed to find a way to make significant and enduring improvements.
Parents Taking Charge
With the failure of most public schooling and the cost (and growing scarcity) of sound religious instruction, many parents have decided to homeschool their children, so they can provide a safe learning environment and raise their children in the faith. According to polling research, 33 percent of parents who homeschool say that they chose that option because of the lack of available religious instruction, and 54 percent say they chose it because they objected to what the schools taught or felt that their public school had a poor learning environment or failed to challenge their children.
The homeschooling movement is growing exponentially. In the United States, 50,000 students were homeschooled in 1985, a number that increased to 1.1 million in 2003, according to the US Department of Education. If that trend has continued, it means that an estimated 4 million children were homeschooled in 2008.
As for such families' ability to afford a private school, 8 percent of homeschooling families earn less than $25,000 annually, and 44 percent of such households earn between $25,000 and $49,000. With a school like the old St. Cyprian's, whose tuition was $4,500 per year, this would mean that anywhere from 9 percent to 18 percent of a family's income would be devoted to tuition—more if the family enrolls more than one child in school.
So, aside from a smattering of charter schools, most parents' educational choices are limited to public school, homeschooling, or paying for a private school. Currently, 53 percent of Americans support giving parents vouchers for private school tuition. Even 51 percent of public school employees think that students in failing schools should be able to transfer to private schools.
Given this level of support, there can only be one thing holding back a movement to empower parents to choose the best education for their children: the clout of government bureaucracies and special interests.
Two hundred years after Elizabeth Ann Seton helped launch the American Catholic school movement, parents are still struggling with their responsibility to provide decent educational opportunities and sound religious instruction for their children. They could use as many patrons as they can find.
Joe Manzari is a Research Associate at the Alliance for School Choice and a parishioner at St. John the Beloved Catholic Church in McLean, Virginia.
Not a subscriber? Subscribe to Touchstone today for full online access. Over 30 years of content!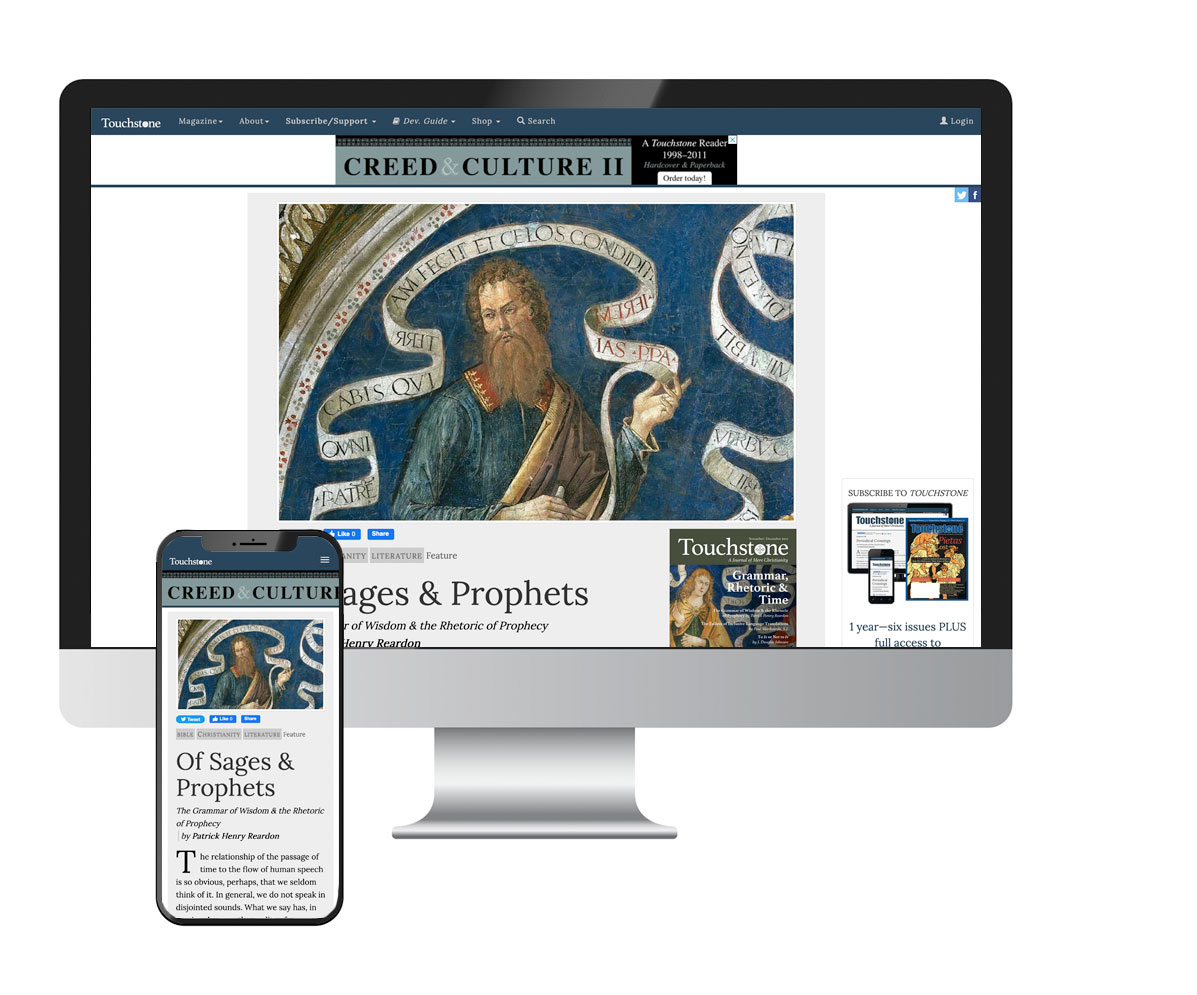 Get a one-year full-access subscription to the Touchstone online archives for only $19.95. That's only $1.66 per month!
Purchase Print &
Online Subscription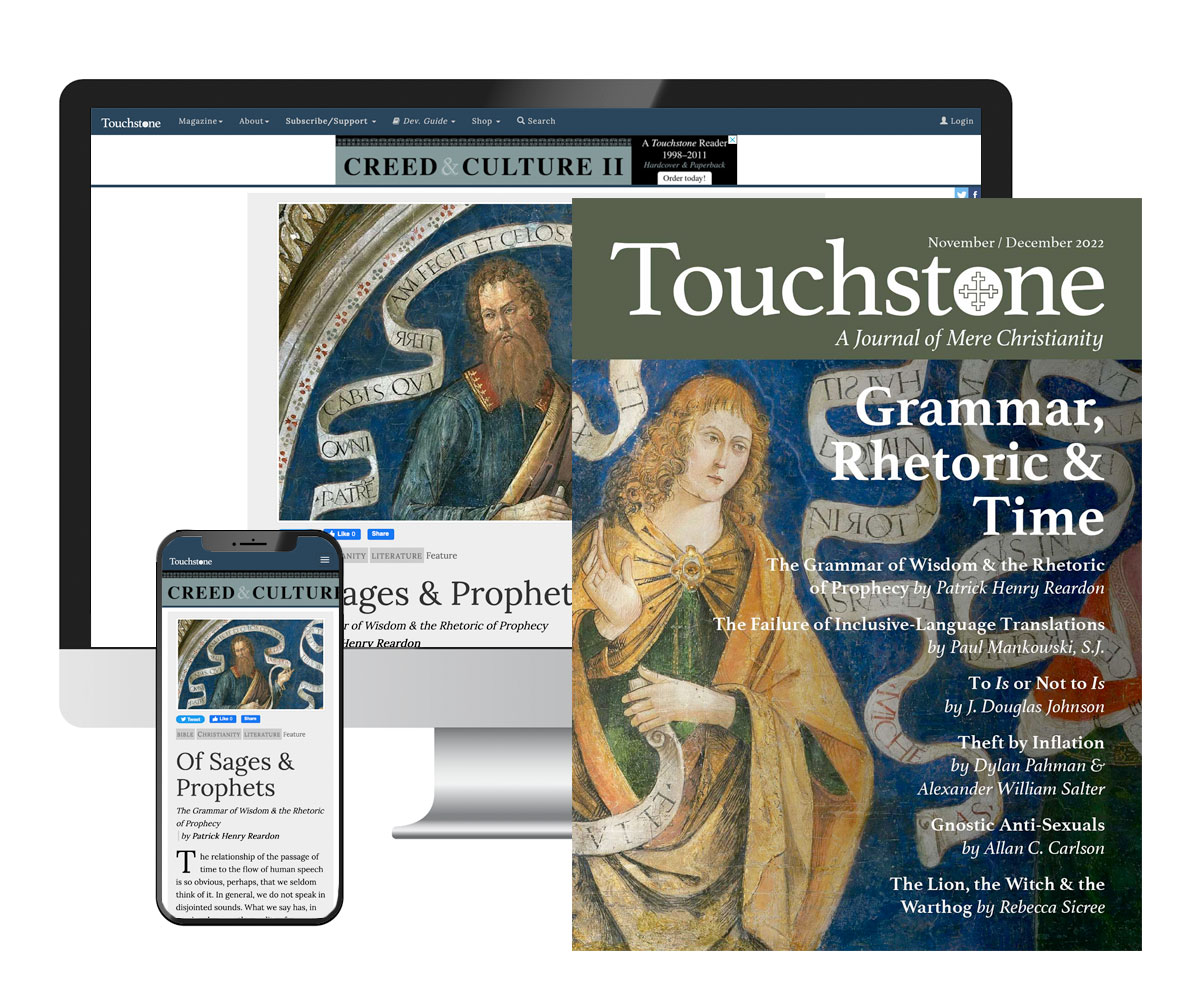 Get six issues (one year) of Touchstone PLUS full online access for only $29.95. That's only $2.50 per month!
Your subscription goes a long way to ensure that Touchstone is able to continue its mission of publishing quality Christian articles and commentary.
*Transactions will be processed on the secure server of The Fellowship of St. James website, the publisher of Touchstone.
from the touchstone online archives