For complete online access to
new issues of Touchstone, subscribe today!
---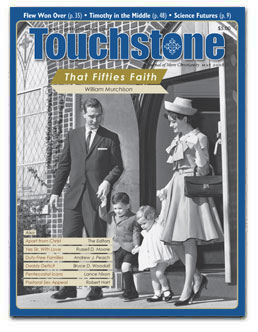 Without the Cornerstone
by Anthony Esolen



The Leading Edge
Science Futures
by Phillip E. Johnson

As It Is Written...
Timothy Middleman
by Patrick Henry Reardon



Personal Looks
The Timely Philosophy of Dietrich von Hildebrand
by Tonita M. Helton



No Child Is An Island
Freedom's Orphans: Contemporary Liberalism and the Fate of America's Children by David L. Tubbs
A review by Gerald J. Russello

Continental Drift
God's Continent: Christianity, Islam and Europe's Religious Crisis by Philip Jenkins
A review by Graeme Hunter

Unreasonable Force
Panentheism: The Other God Of the Philosophers—From Plato to the Present by John W. Cooper
A review by L. P. Fairfield

Holy Probable
There is a God: How the World's Most Notorious Atheist Changed His Mind by Anthony Flew, with Roy Abraham Varghese
A review by Louis Markos

Twilight Zone
The Luminous Dusk: Finding God in the Deep, Still Places by Dale C. Allison, Jr.
A review by Robert W. Grano



The Duty Free Family
Choice Is a Universal Acid That Dissolves All Ties That Bind
by Andrew J. Peach

The Way We Weren't
Churches in the Fifties Were Filled, But Were They Faithful?
by William Murchison



Above Every Name
Russell D. Moore on the Formalities That Teach Us Reverence

Possible to Live Without
Robert Hart on Putting the Premarital House in Order

Attention Deficit
Bruce D. Woodall on the Absence That Ritalin Can't Cure

Images of Redemption
Lance Nixon on Pentecostal Iconography



Every issue of Touchstone also contains short commentaries by our editors, notices of books you should know about, and our spirited letters section.