For complete online access to
new issues of Touchstone, subscribe today!
---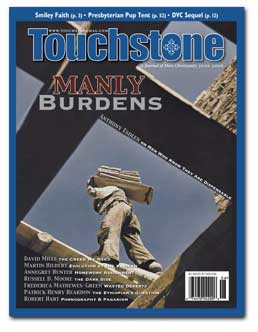 The God Who's Still There
by S. M. Hutchens



As It Is Written...
Cross Central
by Patrick Henry Reardon



The General Dissembly
Can the Whole PCUSA Really Fit Under This Pup Tent?
by Harry L. Chronis



Good Night
Acquainted with the Night
by Christopher Dewdney
At Day's Close
by A. Roger Ekirch
A review by Russell D. Moore

Sand But No Son
Gifts of the Desert:
The Forgotten Path
of Christian Spirituality
by Kyriacos C. Markides
A review by Frederica Mathewes-Green

Mane Attraction
Not a Tame Lion
by Bruce L. Edwards
A review by Alice H. Cook

Our Fathers' Bible
I Corinthians: Interpreted By Early Christian Commentators
edited by Judith L. Kovacs
A review by Ryan J. Jack McDermott

A Papal Radiance
John Paul the Great
by Peggy Noonan
A review by Mary C. Walsh



The Creed We Need
On the Picture of God We Draw with Words
by David Mills

Over Our Dead Bodies
Men Who Are Willing to Lay Down Their Lives Are Truly Indispensable
by Anthony Esolen

Darwin's Divisions
The Pope, the Cardinal, the Jesuit & the Evolving Debate About Origins
by Martin Hilbert



In His Stead
Paul Gregory Alms on Being Paid to Act Like Jesus

Lower Than The Idols
Robert Hart on the Superiority of Paganism to Pornography

My Homework Assignment
Annegret Hunter on the Joys of Losing a Career & Gaining a Calling

Secret Sequel
Christopher Bailey Gives an Exclusive Look at Dan Brown's Next Blockbuster Novel



Every issue of Touchstone also contains short commentaries by our editors, notices of books you should know about, and our spirited letters section.