The General Dissembly
Can the Whole PCUSA Really Fit Under This Pup Tent?
by Harry L. Chronis
One-for-three. Hit for that average (.333) in -major-league baseball this summer and you could win a batting title. But if you're a deeply divided old-line denomination like the Presbyterian Church, USA, and you desperately need to score the trifecta of "Peace, Unity, and Purity," going one-for-three, or even two-for-three, gets you nowhere. Sadly, that may be all for which the PCUSA can reasonably hope when our biennial General Assembly (GA) meets in Birmingham, Alabama, June 15 to 22.
Ahead of the Wedge
" Peace, Unity, and Purity" (PUP, for short) is the name and aim of my denomination's church-wide task force, assigned by the 2001 GA to address the causes of our crisis—we've been -hemorrhaging members (about 40,000 per year through last year) and laboring under mounting budget deficits for a decade or more—and report to the upcoming GA.
The task force was charged to lead us in "discernment of our Christian identity." This assumed that we still shared one, i.e., that somewhere ahead of a great "wedge" of polarizing disagreement—most threateningly in (as the task force's mandate specified) "Christology, biblical authority and interpretation, ordination standards, and power"—there remained some unchasmed ground for all of us to stand on.
Nevertheless, a "wait-and-see" attitude prevailed in most camps, traditional and progressive, with little besides the putatively diverse composition of the task force to sustain it. It wasn't really diverse; progressives predominated, as usual.
But our "Nicene faithful" could trust—we thought—a minority of appointees with known commitments to mere Christianity. One of these, Gary Demarest, a strong Evangelical voice, co-chaired the task force.
Late last summer, the task force unanimously signed off on their final report and parted as friends. But as soon as their fifty-page product began to roll, a chunk at a time, off the website, it became apparent to everyone that it was, as the report itself acknowledges in other terms, no "wedge-buster."
Unity at Any Cost
What the report is, is an appeal for unity at any cost. Entitled A Season for Discernment, it pleads for the church simply to lock arms against the "wedge" and to keep doing, only better, what we have been doing for the last thirty years: talking and praying our way through what have seemed increasingly to be irreconcilable theological and ethical differences until they transmogrify into something else.
How long this is to go on, the report does not say (possible alternative title: An Eternity for Discernment). It prescribes the more "communal" methods of discernment—accent on "careful listening" and "consensus building"—that the task force itself employed. A self-congratulating -implication, that a lot of good Presbyterians (whose name implies collegiality) have not been sufficiently "communal" and/or "discerning" to date, has not gone unnoticed.
In my judgment, it is impossible to understand the task force apart from a single core conviction rooted in their shared experience. Demarest described this experience to me as one in which each member was (in language echoing the report) "shaped strongly by the community itself that developed through the years of coming to know each other as brothers and sisters in Christ."
This experience convinced them that the unity they discerned among themselves met minimal criteria for being "Christian." They do not deny the divisions; they report, in fact, that their experience left unchanged "most of the views" they brought to the work. They simply deny that this wedge penetrates to the very "core" of our shared identity, that their differences, and ours, are differences in "essentials."
Most of our Nicene faithful find this key part of the report unpersuasive, but I predict that the General Assembly won't, that they will endorse the report's plea "to hold together in one body" and approve its likely-lethal recommendations (which I'll exposit shortly).
The report comes, with unanimous approval, from a task force that included progressives and (a few) Evangelicals, which legitimizes it in a lot of eyes. Our bureaucrats support it. A host of former GA moderators have endorsed it, with our seminary presidents chiming in (albeit more modestly). Recommendation #5 smells like a victory for progressives, and our GAs are notoriously progressive. No one will want to appear to be throwing away four years' work. A weary church may reach for anything masquerading as a solution. All of these portend approval.
Bridge Too Far
On the other hand, fierce opposition to PUP, voiced all across the church, may give the GA pause.
It started last September, when a lot of eyes raced past the body of the report to fasten in horror on two of its recommendations (#5 and #6). And the distaste for and rejection of these recommendations that outspoken Presbyterians and their affinity groups are declaring—from both sides of the divide, for utterly opposing reasons—suggest that PUP may be accelerating, not retarding, the wedge's advance.
To get a feel for how unmanageable this opposition may be, imagine these two recommendations as the towers between which the task force intends to suspend, as all impossible compromises end up being, a bridge too far. They're designed to support (however improbably) the spanning of our differences about ordaining self-affirming, -practicing homosexuals—differences the task force has redefined as "non-essential" and hence bridgeable.
Recommendation #5 anchors the progressives' side of the divide. It asks the GA to adopt an "authoritative -interpretation" of our polity, although not of the disputed "fidelity and chastity" ordination clause itself. That clause, the subject of continued controversy, requires candidates to live "either in fidelity within the covenant of marriage between a man and a woman . . . or chastity in singleness."
The proposed reinterpretation is of a neighboring section of our Book of Order, specifying the "freedom within bounds" that our officers enjoy. If adopted, it will permit ordaining bodies to disregard the "fidelity and chastity" requirement when they judge a departure from it to be a matter of "non-essentials."
Recommendation #6 hopes to anchor the traditionalists' side. It urges the GA not to entertain or revisit any other "authoritative interpretations" and not to change the "fidelity and chastity" requirement itself. This has little appeal to conservative Presbyterians, however, given how empty the requirement would be rendered (can anyone imagine a "non-essential -requirement"?) by Recommendation #5.
Leading the Exodus
While vocal progressives and their affinity groups speak only for a tenth (or so) of the denomination, they shared defeat—in our last round of presbytery votes (2001, into early 2002)—with roughly a third of our members, most of whom might follow their lead again, if PUP cannot bridge the chasm.
They have naturally broadcast support for Recommendation #5, since most are already ordaining, or countenancing the ordination of, practicing homosexuals. They detest Recommendation #6, however; one can hear their voice in overtures to the GA to strike our "fidelity and chastity" requirement altogether (a slap to the right cheek, as it were, of the task force) from, to date, some 22 of our 173 presbyteries.
Committed at least in principle to unity, they might conceivably trade it, and our present uneasy peace, for a purity to which they are committed more deeply, one that opens the door wide to affirming homosexual practice in "faithful" (as they construe them) unions. Should the GA act to block movement toward this goal—though I can hardly imagine it doing so—we could see significantly more of them depart.
The possibility of a far larger exodus looms on the traditionalist side of the wedge, where arguably (based on that same vote) two out of every three members and officers in the PCUSA stand—ignorant as some of them may yet be to what PUP could unleash in Birmingham.
Affinity groups on this side of the divide already compose a large fraction of the church. The orthodox and conservative "Confessing Movement," stewarded by the Presbyterian Lay Committee, alone claims some 430,000 PCUSA members in covenanting churches. With Presbyterians for Renewal, the Presbyterian Coalition, and a handful of other groups, these groups speak directly for a fourth of the denomination, and two-thirds of the church might follow them.
What these groups think of PUP was already clear from the Joint Renewal Statement that they published together at a meeting in Chicago last October. They resent Recommendation #5 as a "stealth amendment": it would gut the "fidelity and chastity" clause without the required advice and consent of our presbyteries, which have blocked previous attempts to change it by increasingly strong majorities. Also, permitting any explicit requirement to be construed as "non-essential" invites anarchy, in their eyes.
Their more basic and fierce objection to the recommendation, however, is that it would give official sanction to views of homosexual practice that violate the clear witness of Holy Scripture, calling into question something non-negotiably "essential": the reliability of Scripture to mean what it says, chiefly (of course) about God's saving love for us in Christ.
No Big Tent
Many confessing Presbyterians blame this flawed recommendation on the task force's quickness to dismiss critical differences as less than "essential"—here, in biblical authority and interpretation, but most would add in Christology, too.
The report's dismissal of these differences is long on sentiment and short on substance. Discussion of disagreements in these two vital areas consumes a mere 75 (of 1,386) lines. Differences get papered over with talk about "one another's deep convictions of conscience" (the kind Arius held, too, one supposes) but with little separation of truth from error.
The report's opening "Theological Reflection" sounds orthodox, Christology included. But traditionalists are leery of the capacity of progressives, who take pride in their "big tent" of truth, to declare ancient faith one moment and heresy the next, without pause or blush. Gerrit Dawson and Mark Patterson, who wrote the Lay Committee's analysis of PUP, illustrate this with the example of Douglas Ottati, one of our seminary theologians, who says he has no trouble reciting the Creed, provided no one construes it as "ontological affirmation."
A lot of Presbyterians clearly do construe it as "ontological affirmation." Commitment to real truth, revealed truth, the pure truth of God's Word—what Calvin called the first great mark of the church—is, for these Nicene faithful, the only ground of their church's unity and peace. To the extent that they read PUP to be soft on this commitment, they will not, I predict, make peace with anything like Recommendation #5, as the price of the unity for which the task force pleads.
The "PUP" report, and profiles of the task force members, can be found at www.pcusa.org/peaceunitypurity; the Presbyterian Lay Committee at www.layman.org; and the Joint Renewal Statement at www.presbycoalition.org.
Not a subscriber? Subscribe to Touchstone today for full online access. Over 30 years of content!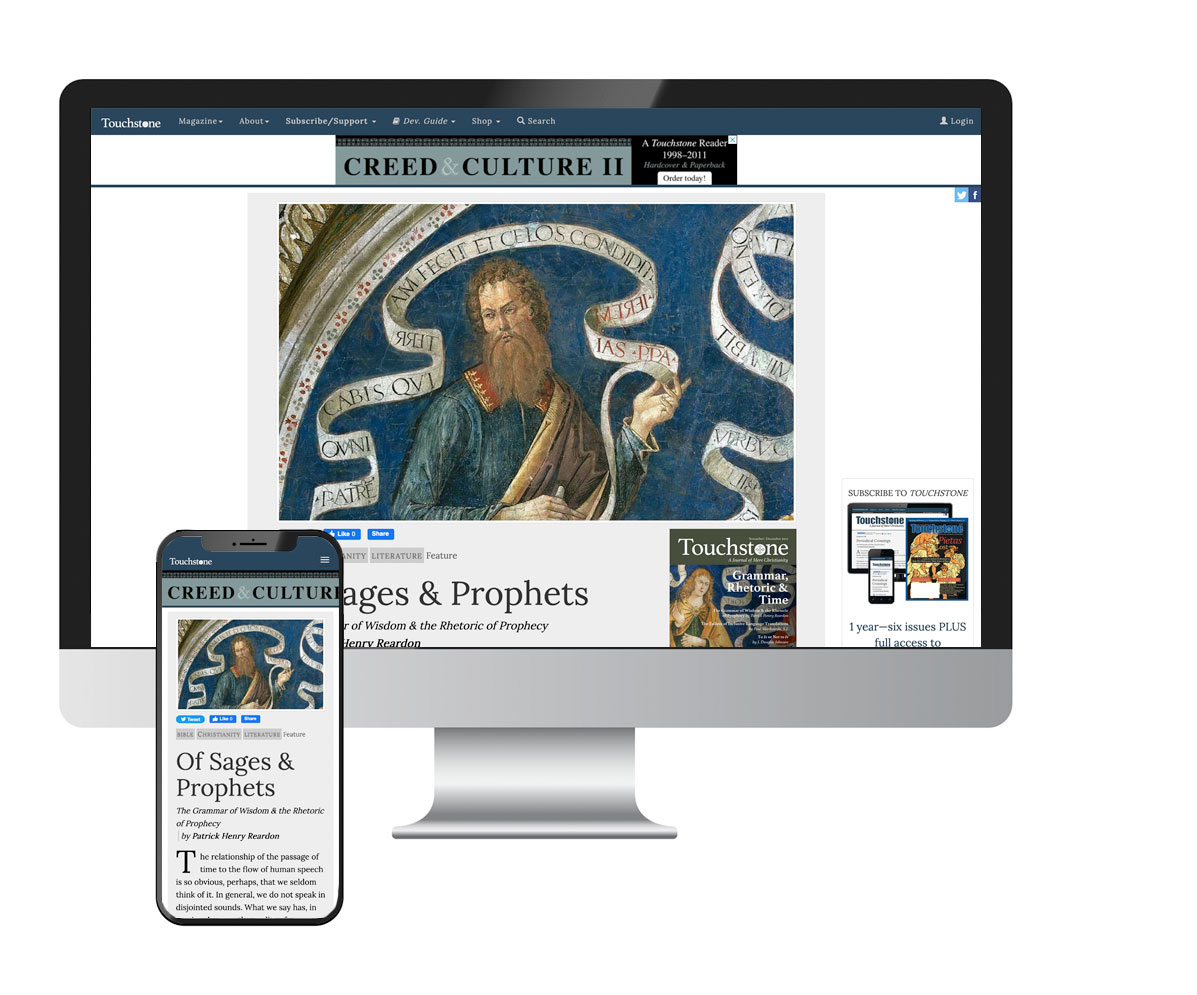 Get a one-year full-access subscription to the Touchstone online archives for only $19.95. That's only $1.66 per month!
Purchase Print &
Online Subscription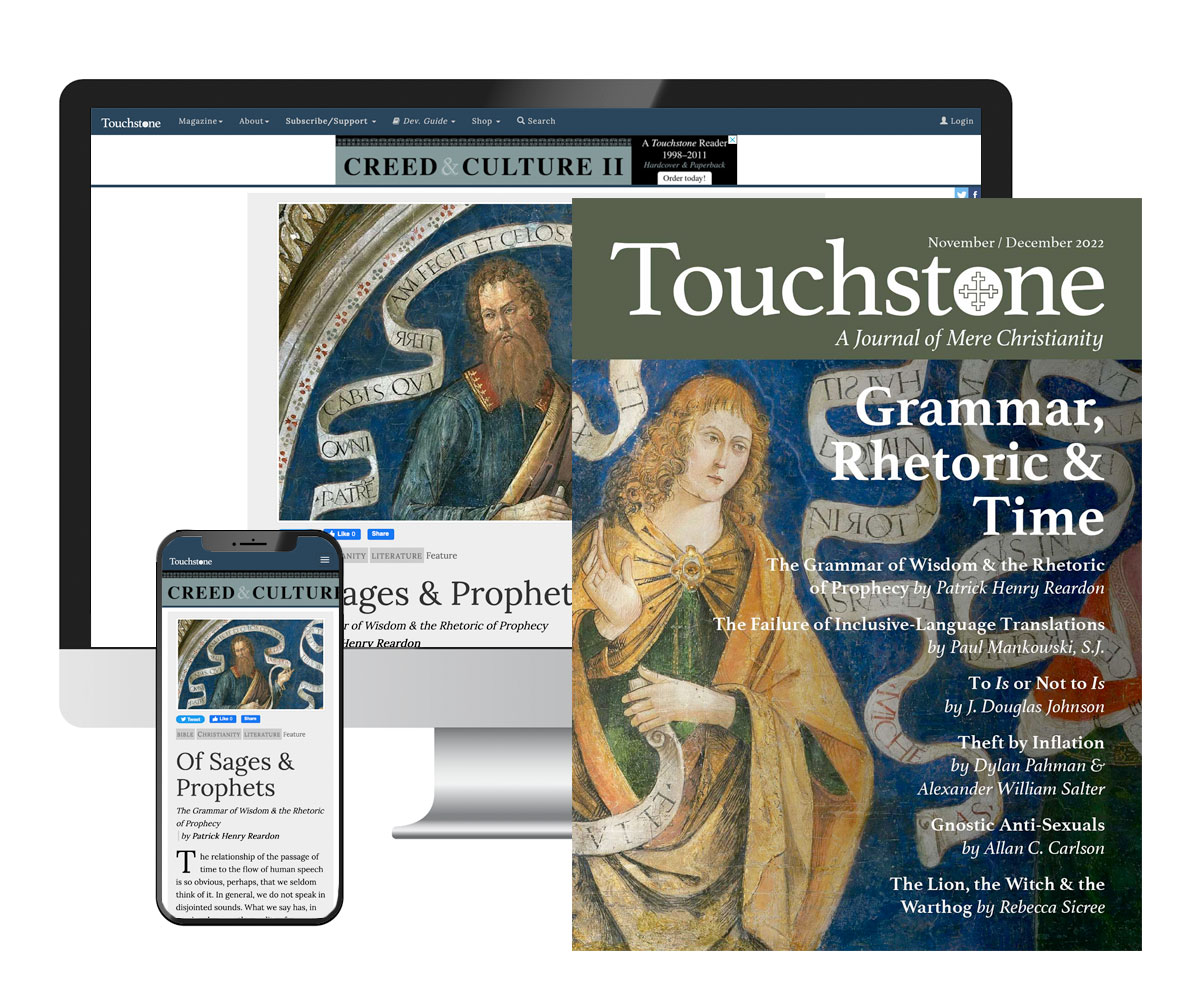 Get six issues (one year) of Touchstone PLUS full online access for only $29.95. That's only $2.50 per month!
Your subscription goes a long way to ensure that Touchstone is able to continue its mission of publishing quality Christian articles and commentary.
*Transactions will be processed on the secure server of The Fellowship of St. James website, the publisher of Touchstone.
from the touchstone online archives