For complete online access to
new issues of Touchstone, subscribe today!
---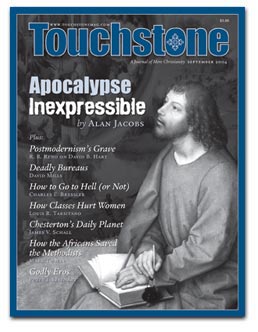 Faith-Based Restrictions
by James Hitchcock

War Up Close & Personal
by James M. Kushiner



The Matter At Hand
Literary Revelation
by Leon J. Podles

Practical Christianity
Like a Virgin?
by Thomas S. Buchanan

As It Is Written...
The Newborn Moses
by Patrick Henry Reardon



Light from the Dark Continent
Africans' Orthodoxy Steadies United Methodist Church
by Mark Tooley



Return to Beauty
The Beauty of the Infinite
by David Bentley Hart
A review by R. R. Reno

Loose Canon
The Shape of Sola Scriptura
by Keith A. Mathison
A review by Craig D. Allert



The Inexpressible Apocalypse
Maybe St. John Did, After All, Write the Final Word
by Alan Jacobs

Choosing Our Own Destiny
George MacDonald & C. S. Lewis on Rights, Duties, Heaven & Hell
by Charles E. Bressler

Reorganizing Religion
Why the Church Bureaucracies Have to Go
by David Mills



The Objections of Conscience
Patrick Henry Reardon on Civil Disobedience

Decomposition 101
Louis R. Tarsitano on Indoctrination Through "Sharing"

Godly Eros
Peter J. Leithart on Christian Love in Marriage

Miraculous Daily Planet
James V. Schall on G. K. Chesterton's Take on Newspapers & Truth



Every issue of Touchstone also contains short commentaries by our editors, notices of books you should know about, and our spirited letters section.