For complete online access to
new issues of Touchstone, subscribe today!
---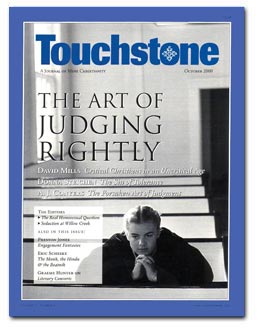 The Churches & the Homosexual Agenda
by Patrick Henry Reardon

A Feel-Good Sacrament
by James M. Kushiner



Practical Christianity
The Sin of Self-Esteem
by Thomas S. Buchanan



Eastern Lights & Shadows
Reflections on Orientale Lumen IV
by Addison H. Hart

Keeping Their Faith & Message Sharp
The Southern Baptists Revise Their Statement of Faith
by Dee Reju



A Literary Tapestry
Literary Converts
by Joseph Pearce
A review by Graeme Hunter

The Golden Fog
Beyond the Darkness:
A Biography of Bede Griffiths
by Shirley Du Boulay
A review by Dale Nelson

Disgruntled & Deceitful
Papal Sin
by Garry Wills
A review by James Hitchcock



To Judge or Not to Judge?
An Address to Seminary Students on the Forsaken Art of Christian Judgment
by A. J. Conyers

Close Your Mind
Critical Christians in an Uncritical Age
by David Mills

Three American Sophomores
The Restlessness of Thomas Merton, J. D. Salinger & Jack Kerouac
by Eric Scheske



Human Respect in a Barbaric Age
Donna Steichen on the Sin of Tolerance

Delusions of Engagement
Preston Jones on Christians & Popular Culture



Every issue of Touchstone also contains short commentaries by our editors, notices of books you should know about, and our spirited letters section.