For complete online access to
new issues of Touchstone, subscribe today!
---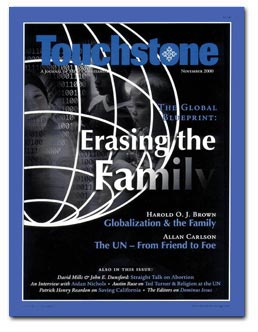 Vatican II Is Still News
by James Hitchcock

Full & Honest Ecumenism
by S. M. Hutchens



Practical Christianity
Petrified Intellects
by Thomas S. Buchanan



Summit of the Gods
Ted Turner's Millennium World Peace Summit
by Austin Ruse



Clear Philosophy
The Unity of Philosophical Experience
by Etienne Gilson
A review by Eric Scheske

Saving California
The Man Who Founded California
by M. N. L. Couve de Murville
A review by Patrick Henry Reardon



Breaking the Ties That Bind
Globalization & the Family
by Harold O. J. Brown

The UN?From Friend to Foe
The Fate of the Family in the Triumph of Socialism over Christian Democracy
by Allan Carlson



"Like a Startle . . . Like a Flinch"
John E. Dunsford on Abortion

Defending the Indefensible
David Mills on the Language of Abortion



Dialogue with a Dominican
An Interview with Aidan Nichols, O. P.



Every issue of Touchstone also contains short commentaries by our editors, notices of books you should know about, and our spirited letters section.