For complete online access to
new issues of Touchstone, subscribe today!
---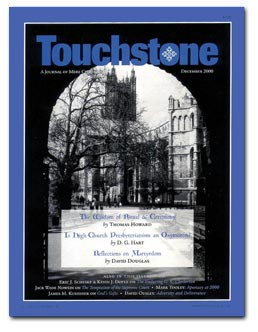 The Gift of Man & Christ
by James M. Kushiner



Practical Christianity
Holy Things
by Thomas S. Buchanan



A Case of Supreme Temptation
by Jack Wade Nowlin

Courting Disaster: Right to a Dead Baby?
A Sidebar in Jack Wade Nowlin?s ?A Case of Supreme Temptation?
by William H. Perkins, Jr.

Apostasy at 2000
Episcopal Institute Promotes Pantheism, Syncretism
by Mark Tooley



The Humble Artist
The Christian Imagination:
G. K. Chesterton on the Arts
by Thomas Peters
A review by Eric Scheske

The Wisdom of Chesterton
Schall on Chesterton
by James Schall, S.J.
A review by Kevin J. Doyle

Christians Speaking Welsh
Winds of Change
by Trystan Owain Hughes
A review by Preston Jones



The Growing Company of Martyrs
Reflections from Canterbury Cathedral's East Chapel
by David Douglas

Rediscovering Mother Kirk
Is High-Church Presbyterianism an Oxymoron?
by D. G. Hart



The Power of Wise Custom
Thomas Howard on Ritual & Ceremony

Adversity & Deliverance
David Ousley on the Christian Life



Every issue of Touchstone also contains short commentaries by our editors, notices of books you should know about, and our spirited letters section.