For complete online access to
new issues of Touchstone, subscribe today!
---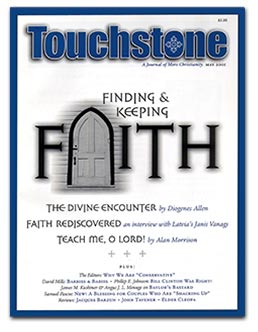 Baylor's Bastard Child
by James M. Kushiner

The Meaning of Conservative
by David Mills



The Leading Edge
Bill Clinton Was Right! (About the Human Genome)
by Phillip E. Johnson

As It Is Written...
Andrew, the First-Called
by Patrick Henry Reardon

Practical Christianity
The Winged Man
by Thomas S. Buchanan



Few Signs of Intelligence
The Saga of Bill Dembski at Baylor
by Angus J. L. Menuge



A Glorious Revival of History
From Dawn to Decadence
by Jacques Barzun
A review by Gerald J. Russello

Metaphysical Music
The Music of Silence
by John Tavener
A review by Dale Nelson

Romanian Shepherd
Shepherd of Souls
by Archimandrite Ioannichie Balan
The Truth of Our Faith
by Elder Cleopa of Romania
A review by Patrick Henry Reardon



The Divine Encounter
The Ways We Find Faith: Intellect, Need & Interaction
by Diogenes Allen

Teach Me, O Lord!
The Demise & Recovery of Teaching in a Sentimental Age
by Alan Morrison



Barbies & Babies
David Mills on Abortion in the Real World

History Free & Clear
Patrick Henry Reardon on the Errors of Determinism

A Rite for the Uncommitted
Samuel Pascoe on "Shacking Up"



Latvia Revived
Archbishop Janis Vanags on Finding & Keeping the Faith in Post-Soviet Latvia



Every issue of Touchstone also contains short commentaries by our editors, notices of books you should know about, and our spirited letters section.