For complete online access to
new issues of Touchstone, subscribe today!
---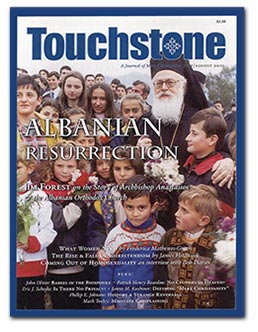 Mere Christianity Today
by James M. Kushiner



The Leading Edge
History & Strange Reversals
by Phillip E. Johnson

As It Is Written...
Enoch Walked with God
by Patrick Henry Reardon

Practical Christianity
The Roaring Jesus
by Thomas S. Buchanan



We Don't Get No Respect
Think Tank Considers Why the Mainline Is Ignored
by Mark Tooley



Secular Hermeneutics
The Bible, Protestantism,
and the Rise of Natural Science
by Peter Harrison
A review by James Altena

Vietnam & the American Century
Sacred Willow
by Duong Van Mai Elliott
A review by Greg Metzger

Engaging Science
The Wedge of Truth
by Phillip E. Johnson
A review by David J. Tyler



What Women Need
Three Bad Ideas for Women & What to Do About Them
by Frederica Mathewes-Green

Albanian Resurrection
The Story of Archbishop Anastasios & the Rebirth of the Albanian Orthodox Church
by Jim Forest

The Rise & Decline of Christendom in the West
Christopher Dawson's Panoramic View of Christian Europe
by James Hitchcock



The Transformed Relics of the Fall
Patrick Henry Reardon on the Fulfillment of History in Christ

Is There No Privacy?
Eric Scheske on Universal Responsibility

Babies in the Biosphere
John Oliver on Abortion as a Matter of Ecology



Coming Out of Homosexuality
An Interview with Bob Davies of Exodus International



Every issue of Touchstone also contains short commentaries by our editors, notices of books you should know about, and our spirited letters section.