For complete online access to
new issues of Touchstone, subscribe today!
---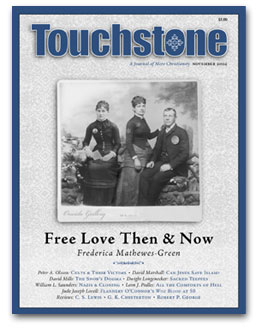 The Gentle Lamb Jesus
by James M. Kushiner
& David Mills



The Matter At Hand
The Comforting Doctrine of Hell
by Leon J. Podles

As It Is Written...
The Widow in the Temple
by Patrick Henry Reardon

Practical Christianity
Uncompassionate Conservatism
by Thomas S. Buchanan



Reason's Culture, Life's Defense
The Clash of Orthodoxies
by Robert P. George
A review by Jack Wade Nowlin

Imagination & the Health of the Soul
Imagination and the Arts
in C. S. Lewis
by Peter J. Schakel
A review by Dale Nelson

Poking Fun at Islam
The Flying Inn
by G. K. Chesterton
A review by Addison H. Hart



The Oneida Experiment
What We Have Discovered About Not-So-Free Love
by Frederica Mathewes-Green

Can Jesus Save Islam?
The Promising Effects of Christ on Other Cultures
by David Marshall

Saving Cindy
A Psychiatrist Looks at Cults & Their Victims
by Peter A. Olsson



The Snob's Dogma
David Mills on Modernizing the Gospels

The Ragged Figure
Jude Joseph Lovell on the 50th Anniversary of Flannery O'Connor's Wise Blood

Sacred Teepees
Dwight Longenecker on Modern Church Architecture

Crossing the Nuremberg Line
William L. Saunders on Cloning & Human Dignity



Every issue of Touchstone also contains short commentaries by our editors, notices of books you should know about, and our spirited letters section.