For complete online access to
new issues of Touchstone, subscribe today!
---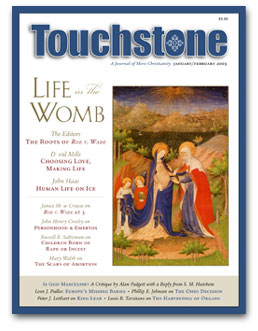 The Roots of Roe v. Wade
by Patrick Henry Reardon



The Leading Edge
A Step Forward in Ohio
by Phillip E. Johnson

The Matter At Hand
Man Is a Wolf to Man
by Leon J. Podles

As It Is Written...
The Prayers of Hannah
by Patrick Henry Reardon



Healing the Pain
Forbidden Grief
by Theresa Burke, Ph.D.,
with David Reardon, Ph.D.
A review by Mary Walsh

Depopulation & Destiny
A Question of Numbers,
The Death of the West,
The New Christendom,
& World Population Prospects
A review by Leon J. Podles



Choosing Love & Making Life
Sex, Love, Marriage & the Culture of Death
by David Mills

Human Life on Ice
Biotechnology, Human Dignity & the Teaching of the Church
by John M. Haas

This Great Stage of Fools
Christian Orthodoxy in Shakespeare's King Lear
by Peter J. Leithart

Is God Masculine?
Orthodoxy versus Traditionalism
by Alan G. Padgett

Children of a Better God
A Reply to "Is God Masculine?"
by S. M. Hutchens



Nice Killers
David Mills on Respect for Abortionists

Unsafe, Deadly & Legal
Janice Shaw Crouse on Abortion 30 Years After Roe v. Wade

The Imperatives of Ignorance
John Henry Crosby on Personhood & the Human Embryo

Everything Personal
Russell E. Saltzman on Children Born of Rape or Incest

Parting with Our Bodies
Louis R. Tarsitano on the Harvesting of Organs



Every issue of Touchstone also contains short commentaries by our editors, notices of books you should know about, and our spirited letters section.