For complete online access to
new issues of Touchstone, subscribe today!
---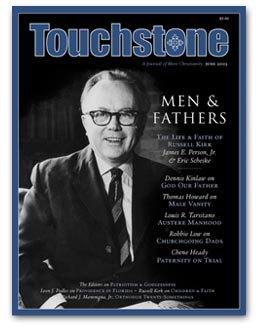 American Reservists
by David Mills

Practical Atheism
by S. M. Hutchens



The Matter At Hand
Naples & New Towns
by Leon J. Podles

As It Is Written...
The Paralytic from the Roof
by Patrick Henry Reardon



Orthodox Twenty-Somethings
The New Faithful
by Colleen Carroll
The Younger Evangelicals
by Robert E. Webber
A review by Richard J. Mammana, Jr.

A Fugue of Death
Kaddish for a Child Not Born
by Imre Kertesz
A review by Graeme Hunter

Jesus, Paul & Socrates
Smiling Through the
Cultural Catastrophe
by Jeffrey Hart
A review by Preston Jones



Sacred Pedagogy
How & What We Learn About God from the Family
by Dennis F. Kinlaw

The Holy Fool as Bohemian Tory
The Wise Faith of Russell Kirk
by James E. Person, Jr.

The Conservative Convert
The Life & Faith of Russell Kirk
by Eric Scheske



Being Forgotten
Thomas Howard on Male Vanity

Father's Day in Court
Chene Heady on Paternity Suit Misfits

The Austere Offices of Manhood
Louis R. Tarsitano on the Labors of Christian Fathers

The Truth About Men & Church
Robbie Low on the Importance of Fathers to Churchgoing



Every issue of Touchstone also contains short commentaries by our editors, notices of books you should know about, and our spirited letters section.