For complete online access to
new issues of Touchstone, subscribe today!
---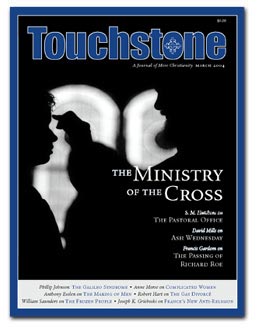 Hanging On
by David Mills

Just Stewards
by S. M. Hutchens



The Leading Edge
The Galileo Syndrome
by Phillip E. Johnson

Practical Christianity
Breaking Teeth
by Thomas S. Buchanan

As It Is Written...
Gentle Jesus
by Patrick Henry Reardon



Clément's Reply to Rome
You Are Peter by Olivier Clément
A review by Anthony Dragani

Grayish Markets
Wealth, Poverty & Human Destiny
edited by Doug Bandow
and David L. Schindler
A review by John William Coleman

Blinded by Science
The Sense of Being Stared At
by Rupert Sheldrake
A review by Peter J. Leithart



The Passing of Richard Roe
A Primer for Effective Evangelism
by Francis Gardom

The Unchosen Frozen
Second Thoughts on Biotechnology & In Vitro Fertilization
by William L. Saunders

The Signified Man
Ordination & the Shape of the Pastoral Office
by S. M. Hutchens

The French Model
The Threat of France's Anti-Sect Laws to Religious Liberty in Europe & Beyond
by Joseph K. Grieboski



Complicated Consciences
Anne Morse on Women & Morals in Pre-Code Films

Shooting the Rapids
Anthony Esolen on Manhood in the Making

The Gay Divorcé
Robert Hart on the Real Robinson Affair

The Dust of Adam
David Mills on the Rite of Ash Wednesday



Every issue of Touchstone also contains short commentaries by our editors, notices of books you should know about, and our spirited letters section.