For complete online access to
new issues of Touchstone, subscribe today!
---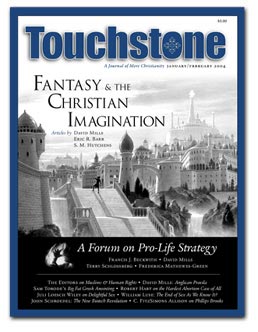 Muslims & Human Rights
by Patrick Henry Reardon

The Very Idea of Abortion
by David Mills



Practical Christianity
Earthly Cares
by Thomas S. Buchanan

As It Is Written...
The Fall & Rise of David
by Patrick Henry Reardon



Remaking Humanity
A Conference on Biotech Challenges for the Church
by John Schroedel



The Bishop?s Progress
Brahmin Prophet by Gillis J. Harp
A review by C. FitzSimons Allison



Choice Words
A Critique of the New Pro-Life Rhetoric
With contributions by
Francis J. Beckwith,
Frederica Mathewes-Green,
David Mills
& Terry Schlossberg



Great Escapes & Lesser Stories
The Alternative Worlds of C. S. Lewis, Aldous Huxley & George Orwell
by David Mills

The Shape of Evil & the Power of Hope
Fantasy Literature & the Dark Reality of Original Sin
by Eric R. Barr

Between Icon & Idol
Harry Potter & Imagination?s Symbolic Life
by S. M. Hutchens



Anglican Pravda
David Mills on Mainline Propaganda

Her Mother?s Glory
Robert Hart on the Hardest of Abortion Cases

The Delightful Secrets of Sex
Juli Loesch Wiley on Fertility & Contraception

The End of Sex As We Know It
William Luse on the Implications of Cloning

My Big Fat Greek Anointing
Sam Torode on Convert Idealism



Every issue of Touchstone also contains short commentaries by our editors, notices of books you should know about, and our spirited letters section.