For complete online access to
new issues of Touchstone, subscribe today!
---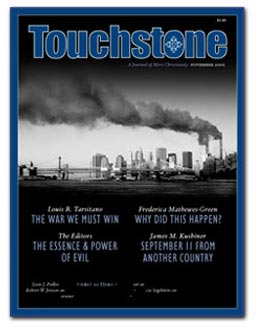 The Essence & Power of Evil
by James Hitchcock



As It Is Written...
The Wise Outwit the Shrewd
by Patrick Henry Reardon

Practical Christianity
Necessary Justice
by Thomas S. Buchanan



Caught Between Root & Branch
?Messianic Judaism??Can There Be a Middle Ground?
by Marcia Segelstein



Heroes of the Cross
The Catholic Martyrs
of the Twentieth Century
by Robert Royal
A review by Kevin J. Doyle

The King's English Bible
Wide as the Waters
by Benson Bobrick
In the Beginning
by Alister McGrath
A review by Preston Jones



Christ: God, Man & Hero
Jesus Christ & the Pattern of Christian Manhood
by Leon J. Podles

Pilgrims of the Cross
The Beatitude of Persecution
by Jim Forest

Joining the Eternal Conversation
John?s Prologue & the Language of Worship
by Robert W. Jenson



The War We Must Win
Louis R. Tarsitano on Our Response to September 11

Why Did This Happen?
Frederica Mathewes-Green on the Questions Raised by September 11

A Pilgrim?s View
James M. Kushiner on September 11 from Another Country



Every issue of Touchstone also contains short commentaries by our editors, notices of books you should know about, and our spirited letters section.