For complete online access to
new issues of Touchstone, subscribe today!
---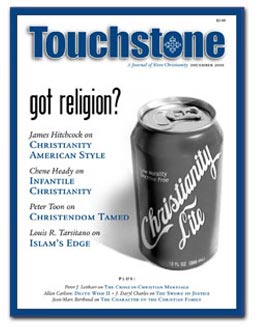 Christianity American Style
by James Hitchcock



The Leading Edge
Back Home in Mitford
by Phillip E. Johnson

As It Is Written...
The Journey of the Magi
by Patrick Henry Reardon

Practical Christianity
The Cardinal Virtue of Fortitude
by Thomas S. Buchanan



Mad About Religion
Norman Lear Launches New Religious Partnership
by Mark Tooley



Lucid Love
The Journals of Father
Alexander Schmemann: 1973?1983
translated by Juliana Schmemann
A review by L. Joseph Letendre

Of Trees & Tradition
Environmental Stewardship in
the Judeo-Christian Tradition
edited by Michael B. Barkey
A review by John Oliver



The Model Family
The Role & Character of the Family in Christianity
by Jean-Marc Berthoud

Death Wish II
Euthanasia, the Second Time Around
by Allan Carlson

Childish Things
The Theology & Sentiments of Baby Worship
by Chene Heady



The Sword of Justice
J. Daryl Charles on Revenge & Retribution

Passing on True Religion
Louis R. Tarsitano on Islam, Christianity, and Moral Education

Christendom Tamed
Peter Toon on Postmodernity & Asceticism

When Marriage Is Dying
Peter J. Leithart on the Meaning of Christian Marriage



Every issue of Touchstone also contains short commentaries by our editors, notices of books you should know about, and our spirited letters section.