For complete online access to
new issues of Touchstone, subscribe today!
---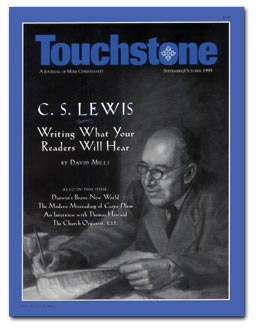 Losing Our Illusions
by Patrick Henry Reardon



Practical Christianity
Looking Beyond Ourselves
by Thomas S. Buchanan



Hateful Pastor Distorts Christianity
by Mark Tooley

Mainstreaming Homosexuality
by Mark Tooley



Philosophy Seeking Virtue
Faith, Hope, Love
by Josef Pieper
A review by John B. Davenport

The Thames & the Tiber
The Roman Option
by William Oddie
A review by William J. Tighe

Resurrecting Doctrine
The Thirty-Nine Articles:
Buried Alive?
by Samuel C. Pascoe
A review by Samuel L. Edwards



Writing What Your Readers Will Hear
C. S. Lewis, Analogy & the Lay Mind
by David Mills

Dessert First
How the Modern Version of Carpe Diem Has Seized the Day
by Jonathan Carson

Common Prayer, Common Faith
On the 450th Anniversary of the Book of Common Prayer
by Louis R. Tarsitano



Darwin's Brave New World
Roberto Rivera on the Popular Mind

Death of the Organist
Joseph Swain on Church Music



The Catholic Angler
An Interview with Thomas Howard



Every issue of Touchstone also contains short commentaries by our editors, notices of books you should know about, and our spirited letters section.