For complete online access to
new issues of Touchstone, subscribe today!
---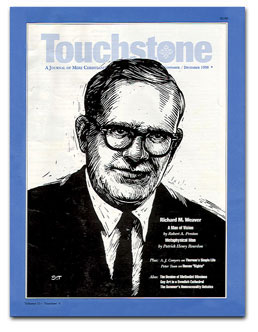 A Metaphysical Prophet
by Patrick Henry Reardon



Practical Christianity
Rediscovering Advent
by Thomas S. Buchanan



Berserker in the Cathedral
Gay "Art" Exhibition in Swedish Lutheran Cathedral Provokes Uproar in Press & Recriminations Between Churches
by William J. Tighe

The Summer of Our Discontent
The Churches on Homosexuality
by David Kyle Foster



Real Theology: Paul Quay & "Recapitulation"
The Mystery Hidden
for Ages in God
by Paul M. Quay, S.J.
A review by Addison H. Hart

Three on Weaver
Richard M. Weaver, 1910?1963
by Fred Douglas Young
The Vision of Richard Weaver
edited by Joseph Scotchie
Barbarians in the Saddle
by Joseph Scotchie
A review by Patrick Henry Reardon



Metaphysical Man
Philosophy, Language & Richard Weaver
by Patrick Henry Reardon

A Man of Vision
Richard Weaver's Ideas Have Consequences Fifty Years Later
by Robert A. Preston

Beyond Walden Pond
Illusion & Reality in Pursuit of the Simple Life
by A. J. Conyers

Christianity & Subjective Human Rights
On the Fiftieth Anniversary of the United Nations' Universal Declaration of Human Rights (1948)
by Peter Toon



Adultery & the Death of Covenant
S. M. Hutchens on the Seventh Commandment

The Demise of the World's Greatest Mission Agency
Mark Tooley on Mainline Decay

Much Adieu About Nothing
Donald DeMarco on Television (Part I)

A Rumor of Television Angels Confirmed
Gregory R. Beabout on Television (Part II)



Every issue of Touchstone also contains short commentaries by our editors, notices of books you should know about, and our spirited letters section.