For complete online access to
new issues of Touchstone, subscribe today!
---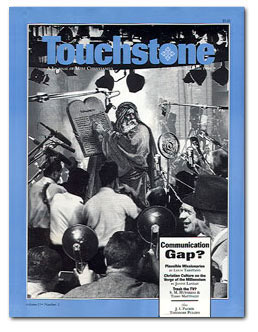 Positively Not
by David Mills

The Skulls of Priests
by Christopher Check



Practical Christianity
Loving Kindness
by Thomas S. Buchanan



Seeking the Truth In Love
A Catholic-Protestant Encounter in Dallas
by Kathryn Collmer



A Flawed Portrait of Dissent
The Smoke of Satan
by Michael W. Cuneo
A review by Leon J. Podles



Trash the TV?
An Internet Discussion Between Terry Mattingly & S. M. Hutchens
With contributions by
S. M. Hutchens
& Terry Mattingly



Plausible Missionaries
Preaching the Gospel in a Language "Understanded of the People"
by Louis R. Tarsitano

The Culture of Hope & Glory
Passing on Christian Culture on the Verge of the Third Millennium
by Janine Langan

A Small Step of Faith
Introduction to The Gift of Salvation
by J. I. Packer

Another Step Forward
A Sidebar in J. I. Packer's "A Small Step of Faith"
by Ralph Mackenzie



Cultivating "Christian Anger"
by Theodore Pulcini

Joan Andrews Bell
by Patrick Henry Reardon



Every issue of Touchstone also contains short commentaries by our editors, notices of books you should know about, and our spirited letters section.