For complete online access to
new issues of Touchstone, subscribe today!
---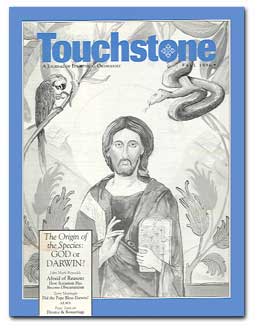 He Did Become Man
by Patrick Henry Reardon

Taking the Creed Personally
by David Mills

Reply to David Mills
by Louis R. Tarsitano



Practical Christianity
Men of Violence
by Thomas S. Buchanan



Ecumenical Bioethics
Bioethics: A Christian Primer by Gilbert Meilaender
A review by Allyne Smith



Afraid of Reason
Has Scientism Become Obscurantism?
by John Mark Reynolds

Did the Pope Bless Darwin?
A Sidebar in John Mark Reynolds's "Afraid of Reason"
by Terry Mattingly

A Sin Which Can Be Forgiven
Toward a Biblical Perspective on Divorce and Remarriage in the Churches Today
by Peter Toon

The Prayer of the Publican
A Simple Parable Shows Us the Heart of the Gospel
by Patrick Henry Reardon

LatCons Revisited
Further Thoughts on Latitudinarian Conservatism
by David Mills

Oh, For Some Saints
A Sidebar in David Mills's "LatCons Revisited"
by John Thompson



Liturgical Revival?
Gillis J. Harp on Two Evangelical Approaches with the Same Mistake

Which God?
S. M. Hutchens on the First Commandment



Every issue of Touchstone also contains short commentaries by our editors, notices of books you should know about, and our spirited letters section.