For complete online access to
new issues of Touchstone, subscribe today!
---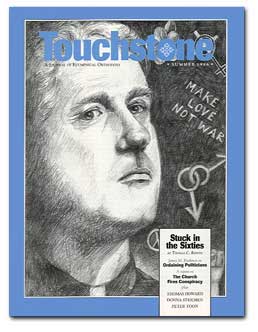 Let's Stop Ordaining Politicians
by James M. Kushiner



Practical Christianity
Listening for the Right Frequency
by Thomas S. Buchanan



Church Fires Conspiracy: Caught Red-Handed?
by Michael F. Gallo



A Deeply Protestant Lewis?
A Challenge to C. S. Lewis By Peter Milward, S.J.
A review by Adam Schwartz



Stuck in the Sixties
An Excerpt from The Empty Church: The Suicide of Liberal Christianity
by Thomas C. Reeves

Brideshead Revisited Revisited
Moral Imagination & the Catholic Faith in Evelyn Waugh's Modern Novel
by Thomas Howard

Embers of Truth
The Struggle for Faith in Chesterton's "The Ballad of the White Horse" and Eliot's "Ash Wednesday"
by Adam Schwartz



A Reply to S. M. Hutchens's "Abreast of the Times"
by W. Bingham Hunter

Staying with the Lemmings
by S. M. Hutchens

Are Values the Same as Virtues?
by Peter Toon



Every issue of Touchstone also contains short commentaries by our editors, notices of books you should know about, and our spirited letters section.