For complete online access to
new issues of Touchstone, subscribe today!
---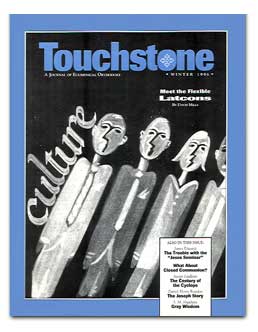 Gray Logic, Gray Wisdom
by S. M. Hutchens

Never the Twain?
by Patrick Henry Reardon



Practical Christianity
Dress for Success
by Thomas S. Buchanan



A Churchman & A Prophet
Georges Florovsky: Russian Intellectual, Orthodox Churchman edited by Andrew Blane
A review by Brian McDonald



Meet the Latcons
The Long and the Short of Latitudinarian Conservatives
by David Mills

New Quest, Old Errors
The Fallacies of the New Quest for the Historical Jesus
by James R. Edwards

The Joseph Story
Narrative, Theology, & the Christian Hope
by Patrick Henry Reardon

The Century of the Cyclops
On the Loss of Poetry as Necessary Knowledge
by Steven Faulkner


A View From the Keyboard
Thomas S. Buchanan on The First Church of Cyberspace



Every issue of Touchstone also contains short commentaries by our editors, notices of books you should know about, and our spirited letters section.