For complete online access to
new issues of Touchstone, subscribe today!
---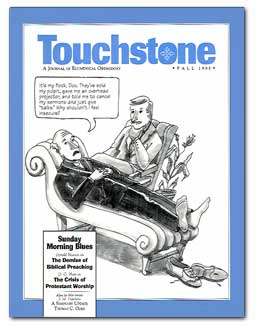 Giving the Devil His Due
by S. M. Hutchens

Has the Shooting Stopped?
by James Hitchcock



Practical Christianity
Moving Mountains
by Thomas S. Buchanan



No Cure in Sight?
An Encounter with an Evangelical-Roman Catholic Impasse
by James M. Kushiner



Recovering Ethics
Ethics after Christendom: Toward an Ecclesial Christian Ethic by Vigen Guroian
A review by Allyne Smith



The Demise of Biblical Preaching
Distortions of the Gospel and its Recovery
by Donald G. Bloesch

Reforming Worship
Reverence, the Reformed Tradition, & the Crisis of Protestant Worship
by D. G. Hart

Abreast of the Times
The Quiet Modernization of a Divinity School
by S. M. Hutchens


Wolves in Shepherds' Clothing
Marcia Segelstein Gives a View from the Pew



Turning Hearts to the Fathers
A Conversation With Thomas C. Oden



Every issue of Touchstone also contains short commentaries by our editors, notices of books you should know about, and our spirited letters section.