For complete online access to
new issues of Touchstone, subscribe today!
---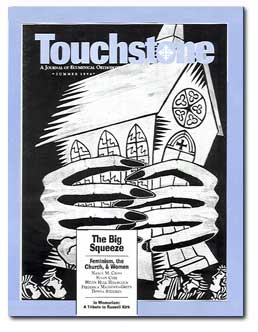 A Tribute to a Friend
by James M. Kushiner

Promising Men
by James M. Kushiner



Practical Christianity
Outside the Turmoil of Men
by Thomas S. Buchanan



Right Worship in Moscow?
by Michael F. Gallo



A Treasure from Scribes Old, Not New
The Orthodox Study Bible: New Testament and Psalms Nashville: Thomas Nelson Publishers, 1993.
A review by Peter Toon



The Gospel & Our Culture
Two Views
by James Brownson
& David Mills

Twice Liberated
A Personal Journey Through Feminism
by Frederica Mathewes-Green

The Autonomous Woman
Feminism's Incompatibility with Christian Faith
by Susan Cyre

Behold, the Woman
What Will the Catholic Church Teach About Women?
by Nancy M. Cross

Entrusted to Woman
The Challenge & Mission of Christian Women Today
by Helen Hull Hitchcock

Hidden Agenda
What Do Feminists Want? Does the Bishop Know?
by Donna Steichen



Every issue of Touchstone also contains short commentaries by our editors, notices of books you should know about, and our spirited letters section.