For complete online access to
new issues of Touchstone, subscribe today!
---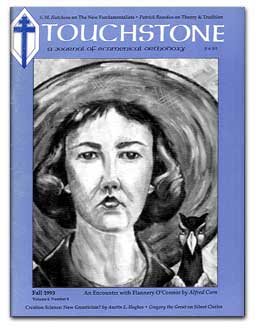 Practical Christianity
The Ascetic Christian
by Thomas S. Buchanan



Blinded by the Light?
A Light Too Bright: The Enlightenment Today: An Assessment of the Values of the European Enlightenment and a Search for New Foundations
A review by Brian McDonald



The Reforging of "Fundamentalism"

by S. M. Hutchens

Creation, Science and the New Gnosticism

by Austin L. Hughes

Theory & Tradition

by Patrick Henry Reardon



Every issue of Touchstone also contains short commentaries by our editors, notices of books you should know about, and our spirited letters section.