For complete online access to
new issues of Touchstone, subscribe today!
---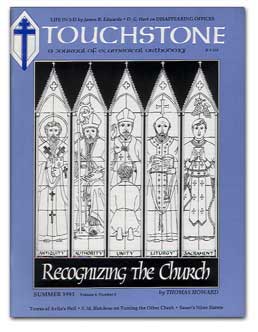 The Joy of Conservatism
by James M. Kushiner



Practical Christianity
Christian Community
by Thomas S. Buchanan



Recognizing the Church

by Thomas Howard

Whatever Happened to Office?
Ordination and the Crisis of Leadership in American Protestantism
by D. G. Hart

Life in Three Dimensions

by James R. Edwards



On Turning the Cheek & Giving the Cloak
by S. M. Hutchens

Three Sisters & the Puritan
by James L. Sauer



Every issue of Touchstone also contains short commentaries by our editors, notices of books you should know about, and our spirited letters section.