For complete online access to
new issues of Touchstone, subscribe today!
---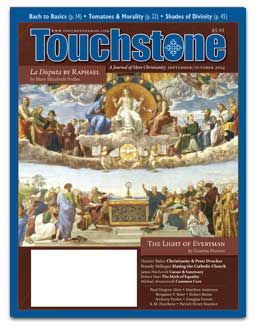 Eyeing the Sanctuary
by James Hitchcock



Mortal Remains
Ministry & Learning
by S. M. Hutchens

Contours of Culture /
From Heavenly Harmony
Bach to Basics
by Ken Myers

Communiqué
Once Seized, Fits All
by Michael Avramovich

Illuminations
What Did He Do?
by Anthony Esolen

A Thousand Words
La Disputa, Raffaello Sanzio
by Mary Elizabeth Podles

As It Is Written...
Vineyard of the Son
by Patrick Henry Reardon



No Offense Taken
What Is Marriage? Man and Woman: A Defense
by Sherif Girgis, Ryan T. Anderson, and Robert P. George
A review by Douglas Farrow

Shades of Divinity
On the God of the Christians (and on one or two others) by Rémi Brague
A review by S. M. Hutchens

Wesley's Partisans
Methodism and Politics in the Twentieth Century by Mark Tooley
A review by Robert Benne

In Yonder Stalled
The Silence of Animals: On Progress and Other Modern Myths
by John Gray
A review by Matthew Anderson



The Light of Everyman
Benedict XVI's Regensburg Lecture, St. John's Proemium & Intercultural Understanding
by Graeme Hunter

The Hundred Years' War
The Culture of Death's Campaign Against the Catholic Church
by Brantly Millegan

The Business of Spiritual Man
The Role of Christianity in Peter Drucker's Early Work
by Hunter Baker



Thou Shalt Now Covet
Robert Hart on Spiritual Evolution & the Myth of Equal Rights

Songs Without Borders
Paul Gregory Alms on Why Springsteen's "The River" Couldn't Be Written Today

Absence of Evil
Benjamin V. Beier on the Surprising Augustinian Grammar of The Great Gatsby

Food for Thought
Rachel Lu on Growing Vegetables as a Primer in Moral Philosophy



Every issue of Touchstone also contains short commentaries by our editors, notices of books you should know about, and our spirited letters section.