For complete online access to
new issues of Touchstone, subscribe today!
---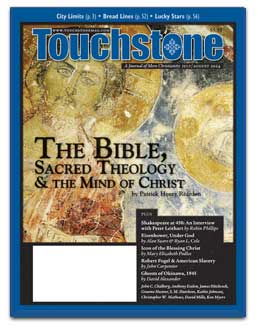 The City Limits
by Patrick Henry Reardon



Mortal Remains
Lemuel's Manhood
by S. M. Hutchens

Contours of Culture /
From Heavenly Harmony
Howells' Continuum
by Ken Myers

First Books
Saints for Children
by Kathie Johnson

Illuminations
Bread & Ruminations
by Anthony Esolen

A Thousand Words
The Blessing Christ
by Mary Elizabeth Podles

As It Is Written...
The Stars of Abraham
by Patrick Henry Reardon



Hindsight
The Twilight of the American Enlightenment: The 1950s and the Crisis of Liberalism
by George M. Marsden
A review by Greame Hunter

Not So Far
Writing from Left to Right: My Journey from Liberal to Conservative
by Michael Novak
A review by John C. Chalberg



The Things Freely Given
The Bible, Sacred Theology & the Mind of Christ
by Patrick Henry Reardon

One President, Under God
The Measure of Dwight D. Eisenhower's Christian Faith
by Ryan L. Cole
& Alan Sears



The Very Rev. Allen
James Hitchcock on the Passing of Bishop Pike's Celebrated Convert

An Unexpected Apologist
John Carpenter on Robert W. Fogel & the Christian Legacy on Slavery

Rest for the War-Weary
David Alexander on a Marine Chaplain & the Legacy of Okinawa

Duly Noted
Christopher W. Mathews on the Necessity of Song in Worship

Through Others' Eyes
David Mills on the Limited Virtues of Reading



The Art & Craft of Shakespeare
An Interview with Peter Leithart



Every issue of Touchstone also contains short commentaries by our editors, notices of books you should know about, and our spirited letters section.