For complete online access to
new issues of Touchstone, subscribe today!
---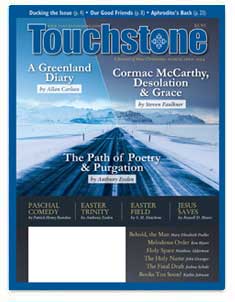 Jesus Saves
by Russell D. Moore

Ducking the Issue
by S. M. Hutchens



Contours of Culture /
From Heavenly Harmony
Melodious Order
by Ken Myers

Mortal Remains
The Transcendental Canon
by S. M. Hutchens

First Books
Too Much, Too Soon
by Kathie Johnson

Illuminations
An Easter Trinity
by Anthony Esolen

A Thousand Words
Ecce Homo by Tiziano Vecellio (Titian)
by Mary Elizabeth Podles

As It Is Written...
The Paschal Comedy
by Patrick Henry Reardon



Holy Space
The Church Building as a Sacred Place: Beauty, Transcendence, and the Eternal
by Duncan G. Stroik
A review by Matthew Alderman

The Ineffable
Hallowed Be Thy Name: The Name-Glorifying Dispute in the Russian Orthodox Church and on Mt. Athos, 1912-1914
by Tom Dykstra
A review by John Granger



Heaven, Hell & Christ On Ice
What I Encountered During a Geological Expedition in Greenland
by Allan Carlson

Poetry Above Compulsion
Higher Education Should Advance the Glorious Liberty of the Sons of God
by Anthony Esolen

Cormac McCarthy & the Ironwork Elm
The Dark Novels of an Enigmatic Writer Show Signs of Embedded Grace
by Steven Faulkner



The Chosen Book
Patrick Henry Reardon on Reading the Hebrew Bible as Philosophy

Our Final Draft
Joshua Schulz on the Revisionist Narrative of Christian Hope

The Rights of Aphrodite
W. E. Knickerbocker on C. S. Lewis & the New State Paganism

Easter Field
S. M. Hutchens on an Old Cemetery Opening Soon



Every issue of Touchstone also contains short commentaries by our editors, notices of books you should know about, and our spirited letters section.